Whether Mr. S is onboard or not, I'm all about setting the mood in the mansion for Valentine's Day. If I have to drag him with me kicking and screaming, or by lighting a fire under him (best to unplug the televisions in the house and make him think the cable is out), it will get done.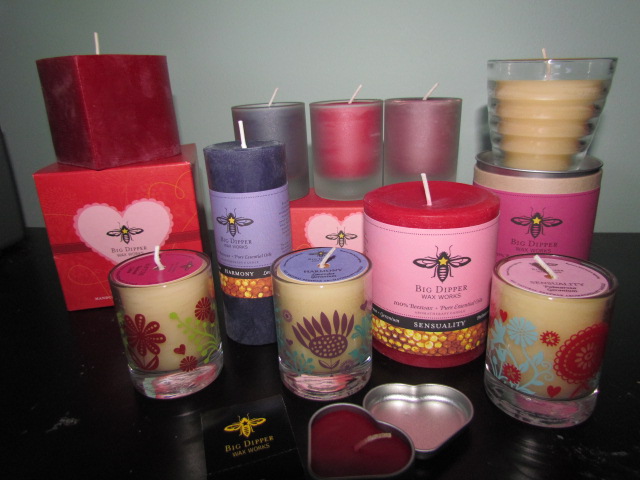 Candlelight and a romantic meal is the order of the evening and I've already got my wonderful Valentine's Day candle collection from Big Dipper Wax Works ready to set out around the mansion.  I figure that the smell of filet mignon, candles and a bottle of Freixenet and he should get the hint.
For those men looking for an incredibly romantic way to set the mood for the love of your life – why not buy the collection of Valentine's Day candles including a beeswax heart shaped pillar, some romantically scented, retro-inspired beehive glass candles, and more.  Position them all around the bathroom, add rose petals to the bath that you've drawn and add a chilled bottle of sparkling wine and she'll know that you really went out of your way to make her feel special.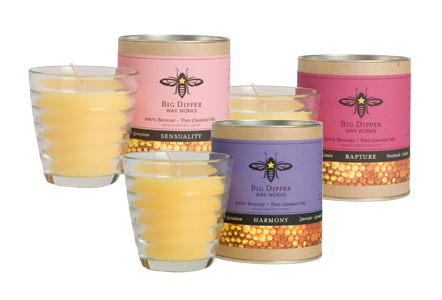 Stay true to the elements of nature and harness the luminous beauty of beeswax with Big Dipper Wax Works candles. From votives and pillars to tea lights and tapers, Big Dipper Wax Work's candles are a hand-made treat exquisitely crafted from the highest quality products nature can provide. Their line of Valentine's Day candles make for the perfect gift for loved ones. From heart shape pillars to passionate blends of aromatherapy giftsets, Big Dipper Wax Works will heat up the senses this Valentine's Day. Beeswax is a dripless and smokeless wax that is non-toxic when burned and completely sustainable. Its beautiful organic yellow coloring comes straight from the pollen the bees collect and differs in every small batch they make. Big Dipper Wax Works tries to stay local to their Washington roots by purchasing wax from beekeepers in the Pacific Northwest and British Columbia.
Big Dipper Wax Works offers beautifully hand made candles in scents that will have you using them DAILY, not just on this day of romance. Shipping is only $8.00 or FREE if you spend $125. For my friends looking for a bargain…check out their clearance and seconds at up to 50% off.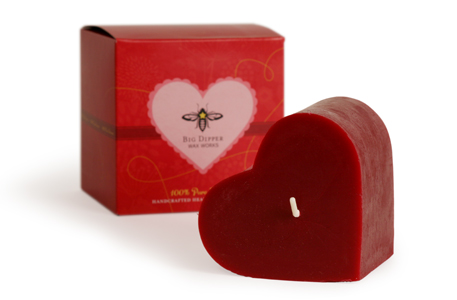 I received product to facilitate this review. All opinions are my own.