This post is sponsored as part of my ambassadorship with Rocky Mountaineer. All opinions are strictly my own.
It's funny how a year or more without travel I want to go to very specific places. I thought that once I got the go ahead that it wouldn't matter. I thought that I would love to hit up NYC or drive down to Miami. But the truth is, that after living in this bubble for over a year, I want to see beautiful mountains, expansive vistas, I want to see big skies and waterfalls. I want to get that "ahhhhh" feeling back again.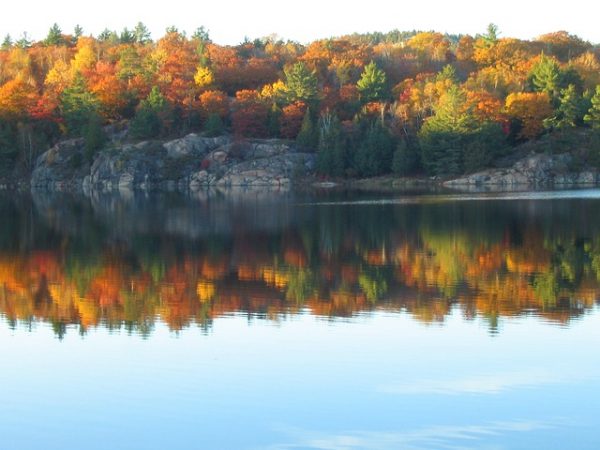 My FAVORITE ahhhhh travel has always been traveling through the Canadian Rockies on Rocky Mountaineer, and beginning this week (July 5th) they're firing up the engines and riding the rails once again. They'll be beginning the opening their routes slowly by catering to a Canadian audience on a partial schedule and ramp up to their full schedule in August, but for those of us who miss seeing Big Horn Sheep on the mountainside while sipping a glass of Okanagan Valley wine or beer, this is the light at the end of the Spiral Tunnels.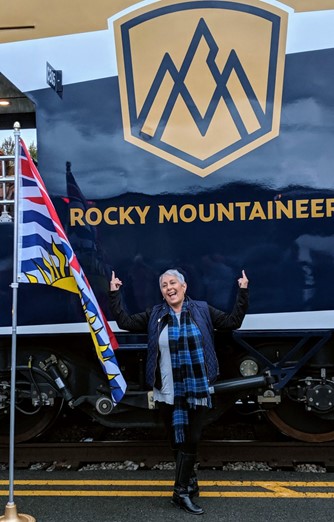 This year, Rocky Mountaineer is introducing a new partnership with Aeroplan exclusively for Canadians to encourage travel this summer.
Fairmont promotion:

They have partnered with Fairmont to offer savings of up to $2,900 per couple on packages that pair the train with overnight stays in Fairmont properties.
Alberta-BC resident offer: travel on a rail journey this year and receive a voucher to travel again within the next five years.
Canadian resident offer: Save up to $1,400 per couple on vacation packages of five days or more.
Of course, they have instituted new safety features such as
Requiring guests to wear masks during transfers
All guests and team member traveling on the train must undergo extensive health screening, including a rapid COVID-19 screening test before the start of the train journey.
Thorough sanitization and disinfection procedures in place.
Train cars are equipped with high-end air filtration systems that remove 99.9% of airborne viruses and bacteria and ensure a steady intake and circulation of fresh air.
RM has adjusted its operations to ensure more space between travel groups and they have added glass barriers between tables in the dining room.
Plated food service, served individually with personal use condiments
And an air filtration system that provides complete circulation every 3.5 minutes and removes 99.9% of airborne particles including viruses and bacteria
And more
After eating my own cooking this past year I can't wait for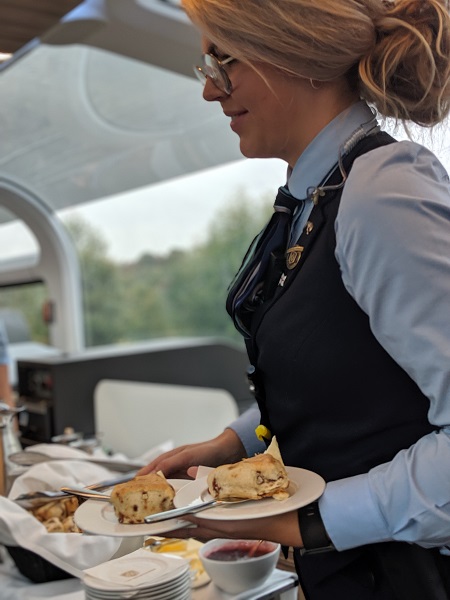 Saying Yes to Scones
Starting the day with scones before breakfast, enjoying white linen tablecloths and fine dining service, and not saying no to dessert. It's such an elegant experience and at the same time, you can be as casual as you like and be yourself. I NEVER DIET on Rocky Mountaineer. Life is too short, the food and experience are too good to deny myself anything.
Getting to visit
Kamloops,  Jasper, and Lake Louise again and explore the natural beauty, quaint towns, and nature in all her glory. Standing on the viewing car looking at this….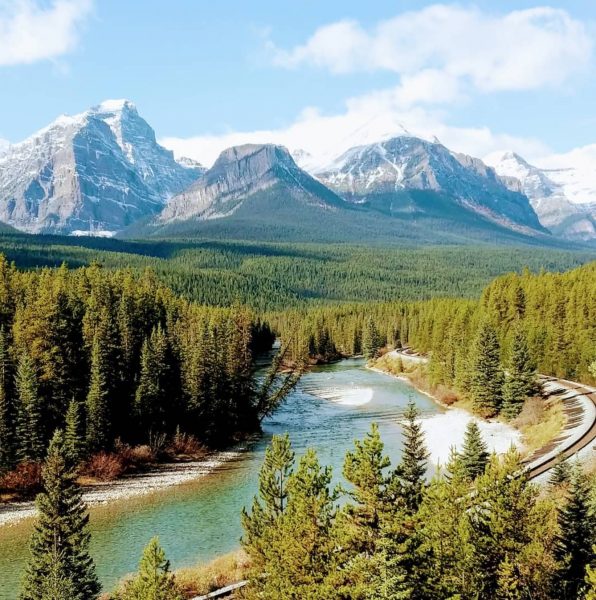 It's all coming back.
So, get ready to get YOUR ahhhh back.
Visit Rocky Mountaineer online for more details
….and save me a scone
….and a bear sighting