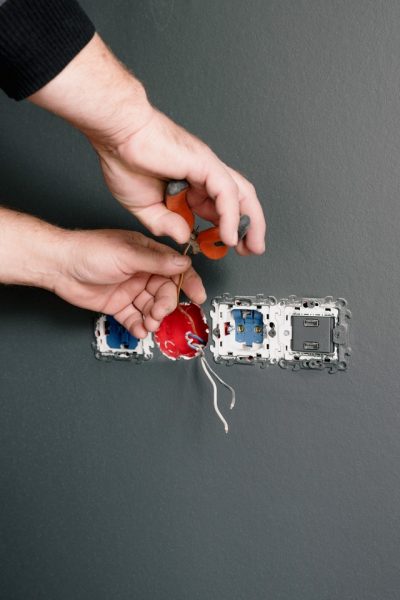 When you have damaged or faulty electrical wiring in your home, it poses a huge safety hazard.
Unless you are a qualified electrician, it's important that you don't try and fix it yourself. The slightest error in your movements could cause the electrical circuit to trip or spark.
When you hire an electrician, you can rest assured knowing that any damages can be fixed quickly and safely. Electricians have the expertise and professional tools from https://www.bigelectricsupply.com/ that will resolve any problems to restore your electrical circuits.
Even if you'd rather save your money and try fixing things yourself, it's never worth the risk of trying to fix your electrics as a DIY home project. The safety of you and your family is priceless, after all.
There are many electricians out there and some are better than others. Taking the time to find a qualified, credible, and trustworthy electrician is important.
Here are some top things to look out for when you're hiring an electrician to fix the wiring in your property.
Qualified
Electricians must go through training and obtain certifications to legally practice as qualified electricians. It's vital that any electrician that you hire is able to show their qualifications and certificates to you upon request.
Depending on the country you live in, electricians will require specific qualifications. Make sure you know which qualifications to look out for when checking the credentials of an electrician before you hire them.
Credibility
You can check the credibility of an electrician by looking at their website. Their site should be professional and it should showcase their credentials.
Their website should also have a range of reviews and testimonials from previous clients. Take a read through their testimonials and determine whether others would recommend the electrician or not.
Remember that most electricians will display their best reviews and they can censor bad ones. To get a less biased overview of the electrician, take a look at third-party review websites too.
Prices
Every electrician will have a unique price list. Generally, the longer an electrician has been practicing, the higher their prices are going to be.
However, there shouldn't be huge differences in the prices between professionals. Be wary of electricians charging you more than necessary to fix a problem on your property.
Determine an average price by getting quotes from multiple electricians. Choose the person who appears to be the most professional and has the most reasonable prices.
Friendly
The friendliness of an electrician might seem insignificant. After all, if they get the job done, you might not care about how chatty they are when they enter and leave your home.
However, when you hire a professional to complete some work in your home, you want to see a friendly face. You should feel comfortable welcoming them into your home.
When you call the electrician's number to get a quote, take note of how chatty they are and their ability to converse on a human-to-human level.