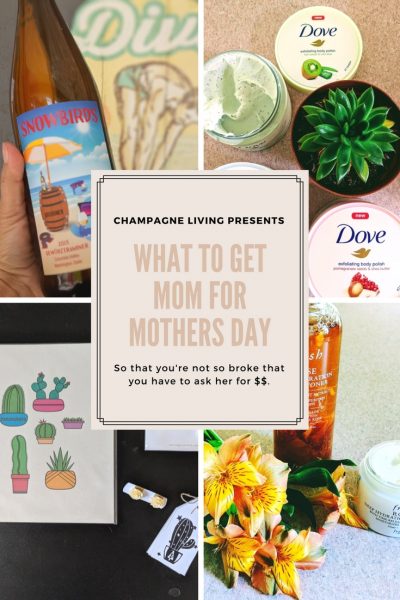 Written by a mom who loves nice things, but doesn't want you to go overboard. I know that if you spend too much that you'll be asking me to borrow money to pay your bills next week. So forget the fine jewelry and $200 dinners, and get me something that I really want!
Remember my Hobby
You see the paper products around the house when you visit, I write about them here on Champagne Living, and you've known me for 34 years now…so, you know that I love notebooks, art, cards and beautiful papers. I also know that you have NO CLUE when it comes to these things so a subscription to the Print Kit from Pop Shop America.
Give me a day to myself
Because even if I can't get to the spa, I certainly can give myself a spa experience at home with the Dove Exfoliating Body Polish. The varieties come in delicious scents like Crushed Macadamia and Rice Milk, Pomegranate & Shea Butter, and my favorite for summer Kiwi Seeds & Cool Aloe. Best of all, you can run into CVS, Target, Walmart or wherever you're stopping to get my card when you're on your way here and pick for under $6 (OK, so I'd expect you to get ALL 3 to impress me).
Leave me a bottle & call my friends
You know how I'm always sending you and dad to the movies? It's not me being nice, it's me calling my friends and uncorking a bottle of wine to have fun. WIN-WIN.  You can stop off at the market and get me a bottle of Snowbird Vinter's 2015 Gewurztraminer. Since it's already HOT here in Florida this sweet/acidic wine has the perfect balance of fruit and spice so that even the pickiest wine lover like Aunt Shelley will love it (don't forget to call her too or I'll never hear the end of it). Make sure to pick up some salsa and chips to go with it please….and you can go see the new Avengers movie without me.
If you HAVE to bring me Roses
Make them from the FRESH Rose line of products (unless you want me to start sneezing). I've been using them for about a month now and LOVE the way my skin is so much softer and all of those flare-ups I was having are gone. It is is such a calming and luxurious formula, and living in THIS household…anything calming is a real treat.
You know that I love you no matter WHAT you give me…oh, and show this list to dad, because he'll buy me chocolates and I started my diet yesterday.