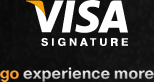 Just a thought, since I know that you love trotting around the globe as much as I do, you might want to spend a little time on Twitter this Friday (actually for the next 5 Fridays).
Why?
Because @VisaSignature is giving away FIVE (5) $500 Signature Perks packages away each and every Friday through September 30th.
The prize package includes:
One night stay at any Hilton property
$150 Restaurant.com gift certificate
$50 Fandango bucks
Now THAT's MY kind of prize – a mini vacation!
Directions:
Follow: @VisaSignature on twitter
Check for the WEEKLY question on Friday.
Tweet your answer using the hashtag: #PerksFriday or   RT the original tweet from @VisaSignature
For full details go to the RULES page. I'll see you there….Now the BIG decision is which Hilton do I want to stay at???