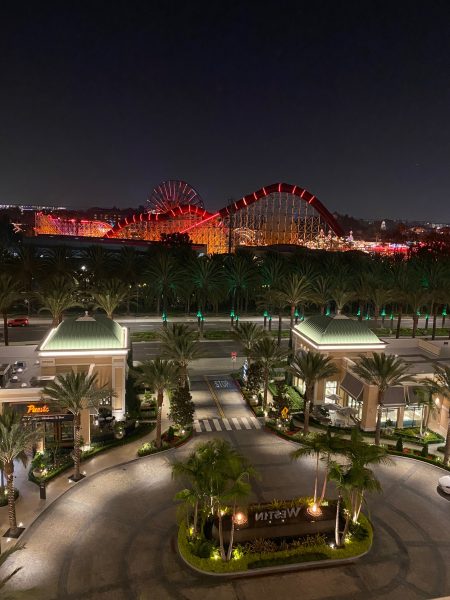 Let's get real. People go to Anaheim, Calif. to hail The Mouse. Recently I paid a visit to the new Westin Anaheim to pay homage to …The Bed. The trademarked Westin Heavenly Bed on the market since 1999 is still a hot seller, and Westin is betting that guests will arrive for a good night's sleep, and admittedly, to fist-bump Mickey whose address is Disneyland, less than a mile away.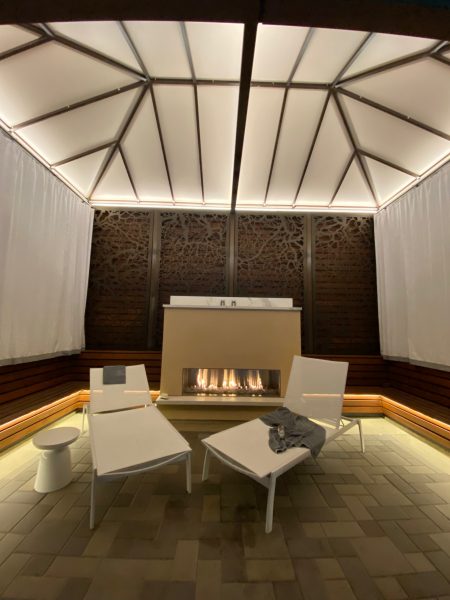 Unveiled in June, the grand Westin Anaheim with 618 guestrooms and suites is banking on its opulent design, service, and amenities to distinguish itself from the litany of lodging types jockeying for tourist dollars. This one rises to the top.  Driving to the property, Uber drivers gawk at its sheer size.  You get eight floors of luxury at this AAA-Four Diamond hotel. With an epic water fountained, turnaround entry, and celestial palms flanked by shops and eateries, it has a vibe that is reminiscent of the Bellagio in Las Vegas.  Oh, we didn't tell you? Michael Hong Architects is the same firm that designed the Bellagio, so the ensemble of arches, lush plants and flowers, and Mediterranean aesthetic feel familiar.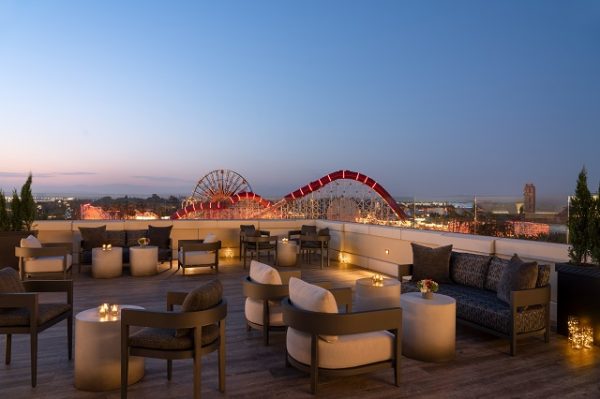 These days the Westin chain is obsessed with the "wellness experience" for the target guest known as "The Achiever." This ideal customer is "driven to succeed in everything they do," according to company marketing materials.
And, just as other hotel builds are hyping wellness agendas, Westin management has had five years to hone in on what it means for this brand.  The Anaheim property is capitalizing on all that it has learned thus far.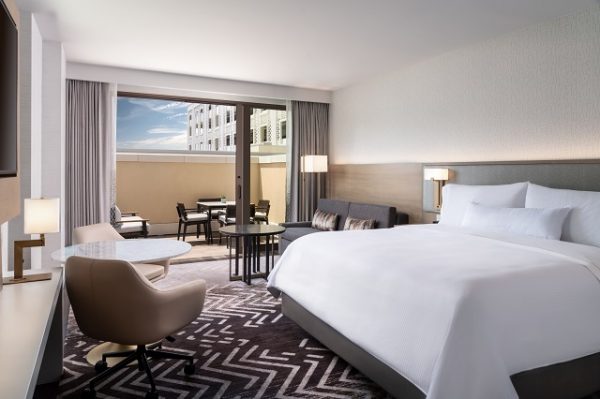 Westin's six pillars of wellness are emphasized throughout your stay.  Every employee seems to know the mantra (ahem) well. "Eat well, play well, sleep well, move well, work well, feel well."  While it may seem gimmicky to some, the property is taking it VERY seriously. Every detail is purposeful so ordinary guests can transform into wellness superheroes.  In the Covid era, every room comes with a Personal Wellness Kit in a sealable bag comprised of a face mask, hand sanitizer, hand wipe, and a sanitizing wipe to clean off an item or two. Under the "sleep well" pillar, for a good night's sleep, you can select from the SleepWell menu with suggested foods to induce REM.  Apparently, tryptophan, says the menu, is good for making you relaxed so a chopped turkey salad may help you get some quality ZZZs.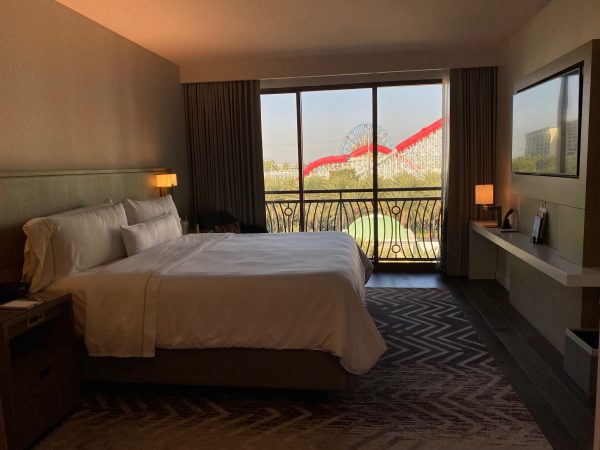 And that bedside vial of lavender balm is for rubbing on your wrists or pillow to ensure calm.  Chamomile tea bags are stacked by the coffee/tea maker, ready for service. The turndown amenity is dark chocolate because we all know that cacao provides antioxidants beyond compare. And you get four pillows so that you can choose the down or synthetic one that suits you best. On the wall is a small tablet with lighting and dimming options for ideal rest.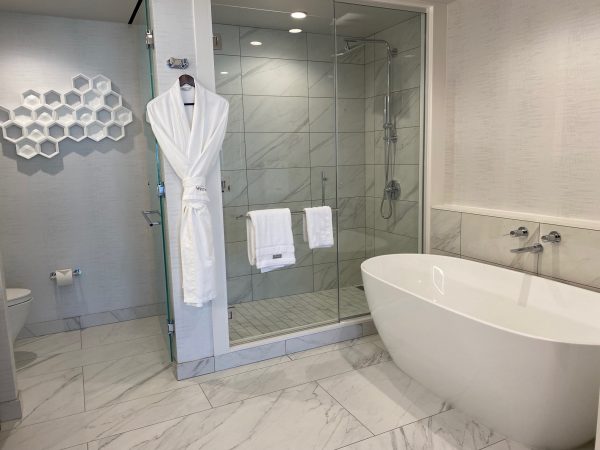 If you book a suite, and I recommend you do, the marble white bathrooms come with a gleaming white soaking tub, so you can immerse before bedtime.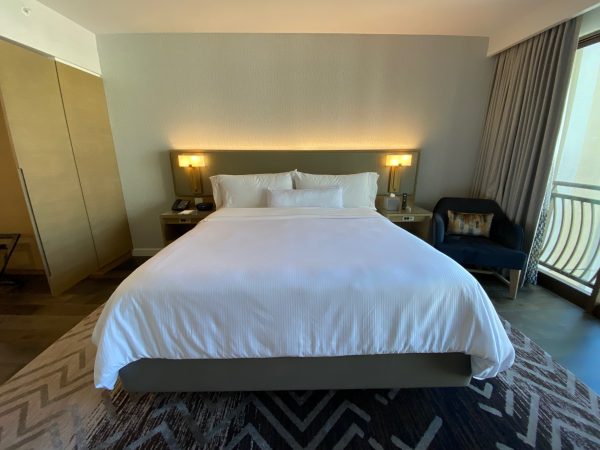 The signature Heavenly Bed mattress touts ten layers of magic fluff, designed to destress. Windows are installed to a high grade of soundproofing, so you don't hear the screams of roller coaster aficionados outside.  In the materials that promote the amenities, you learn a little something such as: "Relaxation can protect your heart and strengthen your immune system."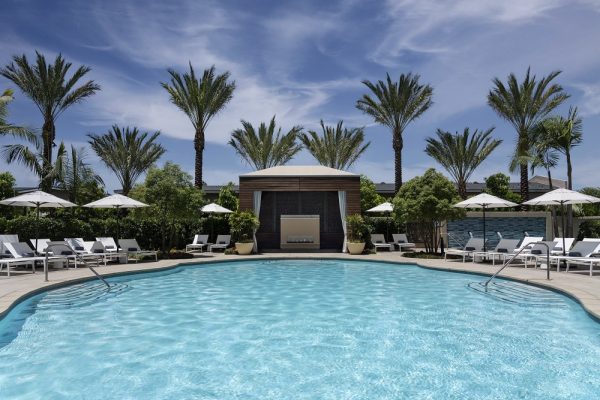 For the Move Well theme, you can begin each day with a serious gym workout at the fully-equipped and spacious Westin Studio.  This is the first time I have seen a handheld massage booster, the Hyperice Hypervolt, at a hotel gym.  This little gun with a black ball at one end vibrates and is designed to pummel sore muscles.  Another special gym feature is a faucet (the only one in the hotel) that provides sparkling, hot, room temperature water, or cold filtered water at the touch of a button.  At this property, the RunWell concierge leads guests on local runs upon request, or you can obtain your own running map.  You can also go swimming even though the pool is not very large, and laps will be short. What it makes up for in size is tropical lavishness.  A fire pit, cozy seating areas, and a large cabana may make you feel, for a moment at least, that you are in Hawaii.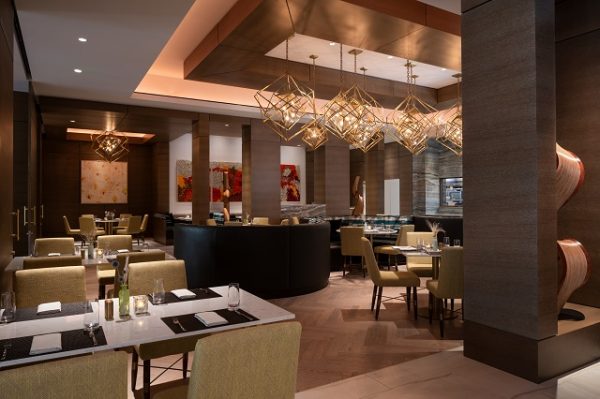 Eating and drinking well have been taken to the next level.  The menu itself is curated to include plenty of locally-sourced fruits and veggies that boast antioxidants and a boatload of nutrients.  Sure, you can order your hangar steak and potatoes, but also on the dinner menu is a delicious Jidori chicken and Branzino fish, lower-calorie options that pack a punch when it comes to protein.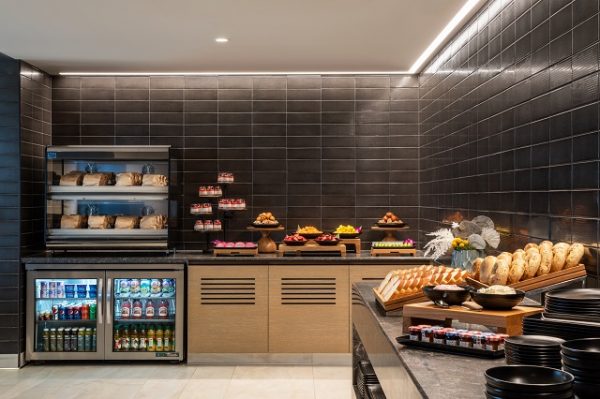 Of the "well" pillars, the vaguest is the "feel well" priority, but for that, turn to the décor and ambiance, unique at each Westin.  The hotel has addressed all the senses based upon the philosophy of "biophilia" which refers to the human need to connect with nature for optimal wellbeing. There is a signature "white tea" scent, so when you enter, the whiff of citrus hits you right away.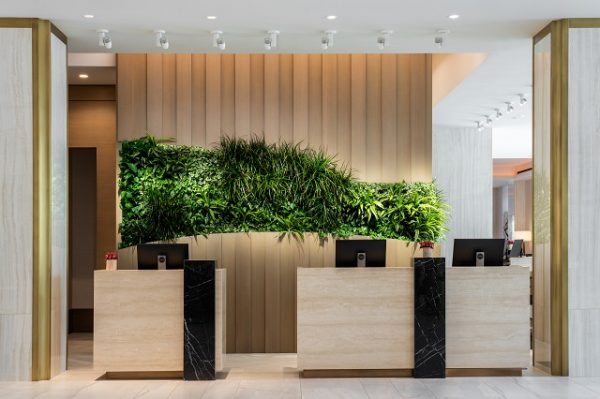 Indeed, biophilia starts in the lobby.  Guests can get their green fix admiring the dense plant wall or park themselves next to a potted citrus tree which harkens to the history of the orange groves in Orange County.  The flat metal ceiling cutout of leaves is a 2-D artwork that gives the effect of sitting beneath a tree. Lights shine from the sculpture and emit dappled shadows.  Matching that are the dappled gray and cream carpets below.  Side tables hold live succulent plant boxes that invite touching to stimulate tactile senses.
In Suite 6069, my contemporary room with a separate bedroom and living/dining room area provided an abundance of closet space and drawers. This is intentionally done so that guests can put away their clothes and close the doors so they are out of sight. Less clutter adds to mental rest.  Other hotels are going for the open closet look with no doors, which is also less expensive.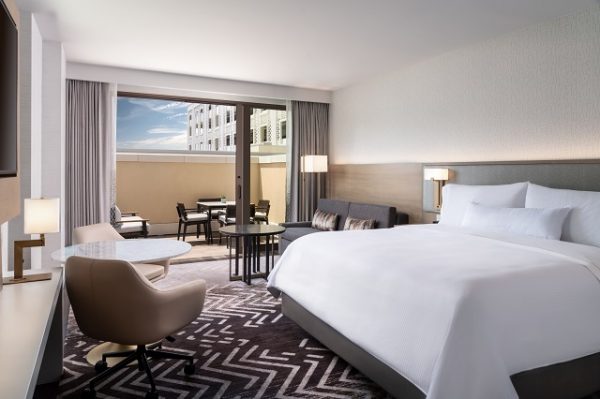 The neutral palette of whites and grays gives ease to the eyes.  Walnut plank flooring, gray and white area rugs, and soft gray bed headboards, and one or two art elements complete the look.  Blue side chairs offer a pop of color.  Heavenly Bed mattresses lull you to sleep. Even the sofa beds have mattresses that are exceptionally comfortable and hypnotic.
Luxury is not sacrificed for the sake of wellness, I assure you. In my one-bedroom suite were two bathrooms – one in the master with an oval tub and shower, and a separate powder room near the entry. The rooms with balconies have sliding doors that stack and cascade to open to a maximum width, so that you get as much fresh air and sunshine as possible.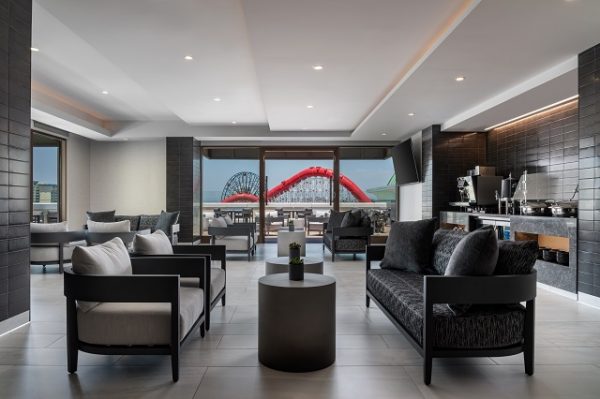 In the Westin Club Lounge on the 8th floor, only Bonvoy Elite members are allowed unless others purchase a day pass.  Members get 24-hour access to this lounge with a computer center, large flat-screen television, and outdoor umbrella seating areas.  It also provides snacks and continental breakfast and a substantial cocktail hour from 5-6 p.m. with wine, cheese, sweets, breads, and meats.
The "feel well" aspect also lies in superior service. When I asked for a cardboard box, the concierge immediately found one.  When I requested the whereabouts of a local pharmacy, she quickly researched the answer and pointed in the right direction.  In the lounge, Michael the attendant made sure to whisk away used plates and asked if there was anything else I needed.  When I hung the room service order on the door the night before, I requested the meal come between 6 and 6:15 a.m., and it came promptly at 6 a.m.  Attentiveness to service, such as delivering a blanket for the living room couch, came quickly and with a smile, which is a pretty tall order to fill when you have over 600 rooms.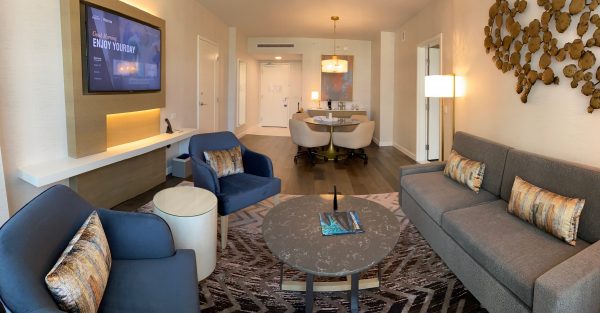 The only thing missing is a full-service spa, but when you look at all the services and amenities the hotel already offers, you can forego the treat.   There is a rooftop bar, a full-service restaurant, and many comfortable zones for reclining and watching TV. Room prices are competitive with the Disney Grand Californian hotel. Rooms here are considered larger at about 355 to 434 square feet at the smallest and suites nearly 800 square feet.  If you are really going to shoot the wad, opt for the Presidential Suite at over 2,000 square feet which will set you back about $5,000 to $10,000 per night.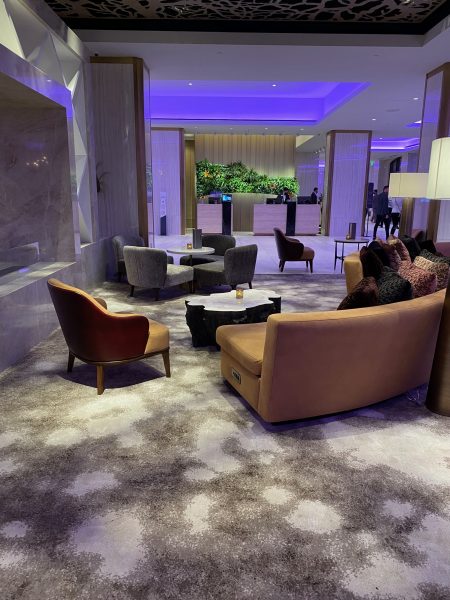 The bottom line: 
Hankering for a luxury hotel in the middle of Southern California close to Mickey Mouse? Treat yourself to a couple of heavenly nights at the brand new, heavenly Westin Anaheim.