This post was written by our roving travel reporter, Kathy Chin Leong. We want to tag a long when she travels.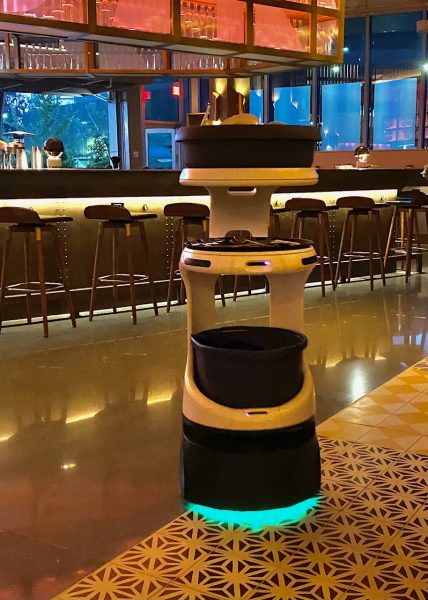 Robot busboys, virtual trainers, and smart TVs – oh my! Donna, my digital concierge, greets me the morning of my arrival at the all-new Ameswell Hotel, a  multi, multi-million dollar property eight years in the waiting.  Based in Mountain View, the epicenter of Silicon Valley, California, this boutique venture mirrors the pioneering spirit of rocket scientists at NASA Ames space research center and tech titans at Google, both right next door.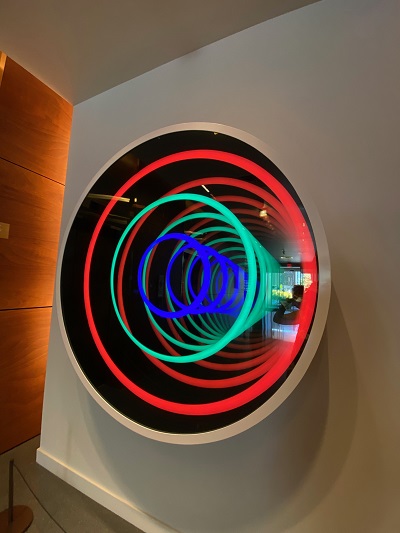 Such wireless wizardry is only the beginning. You'll discover digital artwork, QR code menus, and motion-sensor lights which integrate seamlessly into this curated environment.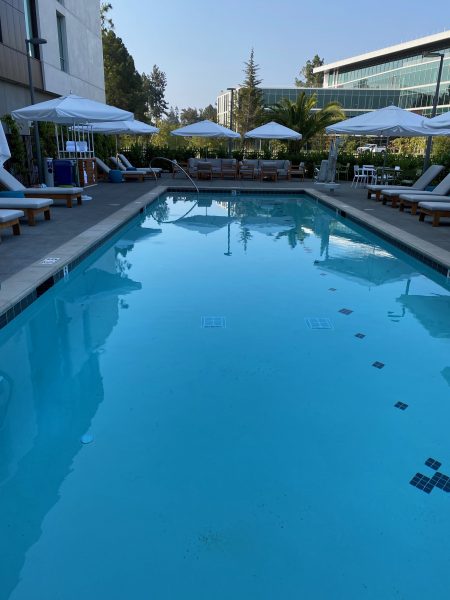 Obviously, there are gizmos for the gadget geek but don't get me wrong, there's plenty of dialed-up luxury here for hotel mavens like me who appreciate details.   Free sparkling filtered water in the lobby and a saltwater swimming pool and plush cotton weave robes make you feel like a king (or queen) for a day.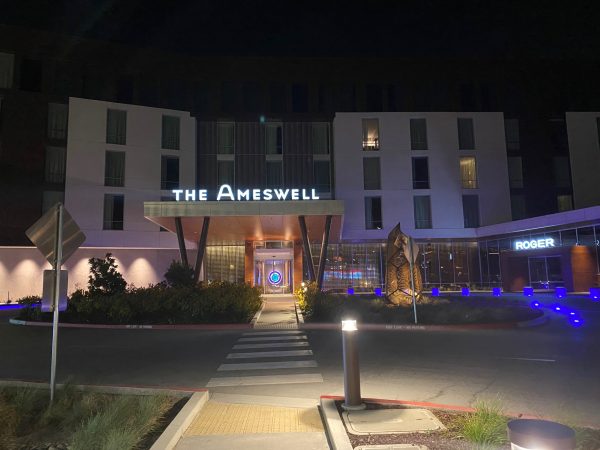 The Ameswell, named after NASA Ames, delivers another play on the word "well," for its priority of wellness. The Wellness Wing features eight guestrooms with close access to the swimming pool and gym.  Rooms are outfitted with energy drinks and a state-of-the-art Lululemon, full-body-length workout mirror with hundreds of televised and live workouts with a trainer.  And while I nailed the squat jumps, these workouts are no joke!
The LEED-certified building was constructed with wellness in mind.  The 255 rooms and suites are equipped with medical-grade filters so guests never share a whiff of the same air.  The hotel adheres to a high soundproofing standard so all can rest peacefully.
But wait, that's not all.  Water goes through a high-grade filtration system and when it comes to the drinking water on tap, those faucets come with additional filters so you get double filtering. Such "advanced" filtration spigots with still and sparkling water are available at key stops within the hotel. One tap also offers a hot water dispensing lever. I loved that ability to replenish my tea thermos.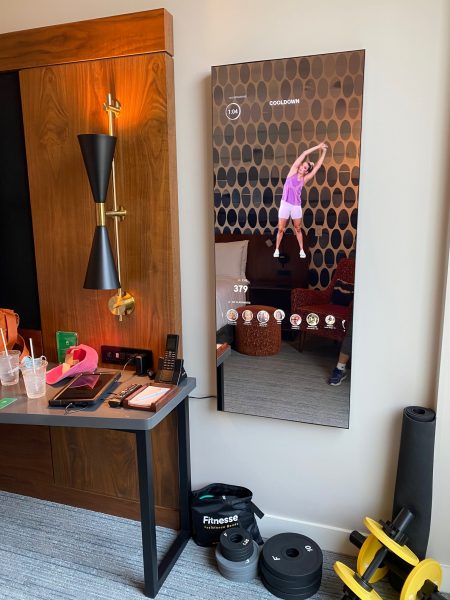 Whenever I travel, I love to work out in new places. The hotel's fitness center will not disappoint. The 1,600-square-foot gym is the first one I have seen that provides the Lululemon exercise mirror that delivers classes on everything from ab exercises to yoga stretches. Take a spin on the Peloton bicycles, the latest in bicycle training with live on-screen classes.  An expansive lawn area provides yoga mats and corn-hole games. 
And in keeping with its sustainability ethos, electric car charging stations are available to juice up your Tesla while solar panels on the entire rooftop power light fixtures. In the restrooms are refillable dispensers containing organic Juice Beauty bath products endorsed by celebrity Gwyneth Paltrow.  All disposable goods from the restaurant are recyclable or compostable. 
DESIGN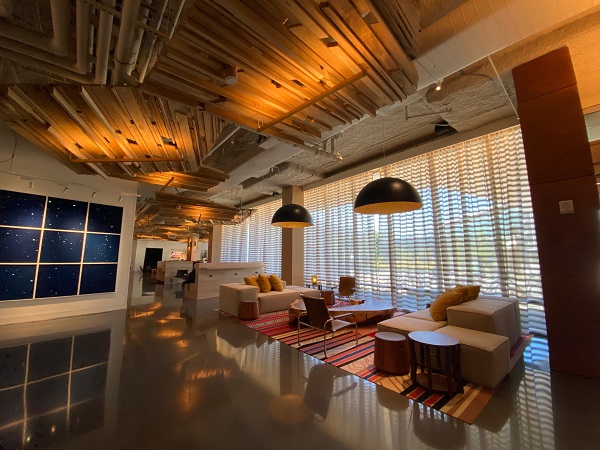 In addition to sustainability, striking décor should win some design awards. Bold, colorful floor tiles from Nicaragua and reclaimed crates that have been transformed into wooden 'clouds' are definitely wow-factor elements. 
Themes of flight and space travel are repeated throughout. Actual blue runway lights illumine the path to the hotel. How cool is that? The library is festooned with NASA astronaut and airplane models, black and white images of dirigibles, photos of the cosmos. Board rooms are each named after a NASA space mission such as "Pioneer," "Discovery," and "Curiosity."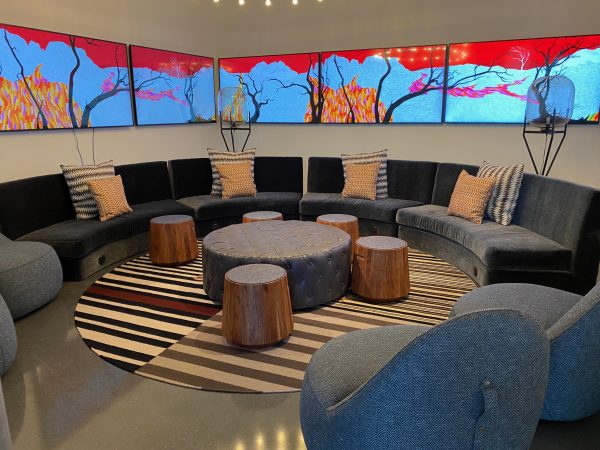 The hotel also honors the historic era of Silicon Valley when computer and chip stalwarts such as IBM, Hewlett-Packard, and Intel began popping up in the 1960s and 1970s. Hence, Mid-Century Modern wood chairs, plush couches, and wood tables are similar to styles found in corporate board rooms back in the day.  Oh, and that cute custom Airstream trailer by the front lawn? Yep, it opens up to serve drinks on weekends.
The hotel's custom art pieces are absolutely museum-worthy. Most memorable is the neon infinity spiral that changes colors every few seconds in the entry.   Then there's the clock that tells the time by lighting numbers spelled out in text.  A living room features animated digital art such as flapping birds flying across seven screens. On another wall is a grid of framed images taken in space from the Hubble telescope.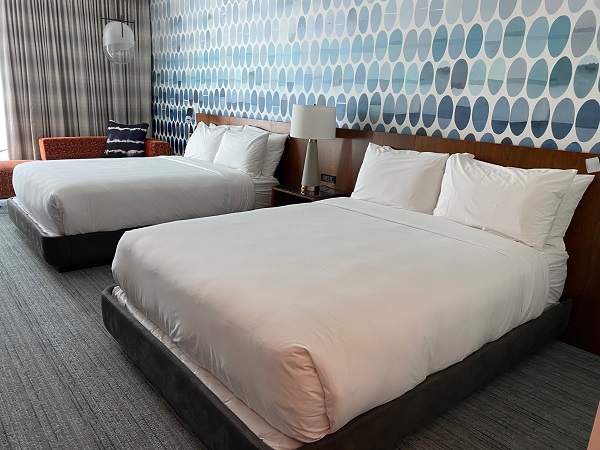 You know how we all complain about that love-hate relationship we have with technology? Admit it…we love technology, and that's why the rooms at The Ameswell are so inviting. A whopping 65-inch Smart television features Netflix and YouTube, excellent for binge-watching and eating popcorn in bed – just sayin'.  And you can bet we took advantage of the bedside tables and desk outlets for our cell phones and laptops.  The gorgeous black Fellow Stagg electric kettle with a digital readout let me select my ideal water temp for coffee. 
For food and beverage, the hotel boasts an indoor/outdoor bar and a fine dining restaurant called Roger which means "received" in aviation lingo.  On the menu are small and big plate eats, mostly casual American fare. The tomato and mozzarella flatbread was bursting with basil pesto flavor, but our favorite was the roasted salmon dish accented with a just-tart-enough dill yogurt sauce.  While here, you'll be amused by the quiet busboy robots that stream about from dining room to kitchen, carrying soiled dishes and utensils without a spill.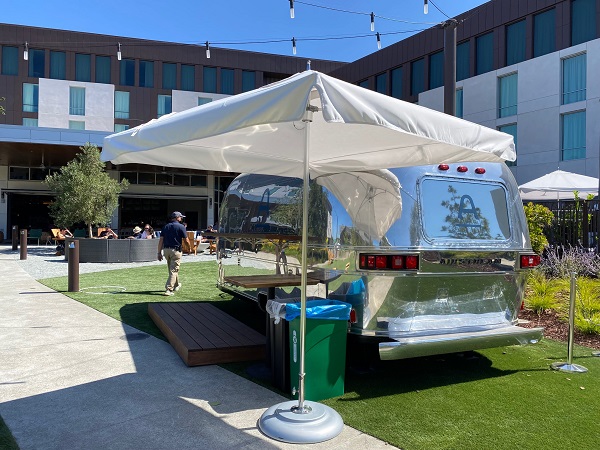 The space is integrated with Flyby, a grab-and-go counter that sells coffees, drinks, snacks, and simple breakfast and lunch fare, each item selected with intentionality whether it be a small batch cookie vendor or ethically sourced coffee farmer. Right for this time and age is the communal butcher block table with outlets, perfect for coffee, computers, and companions!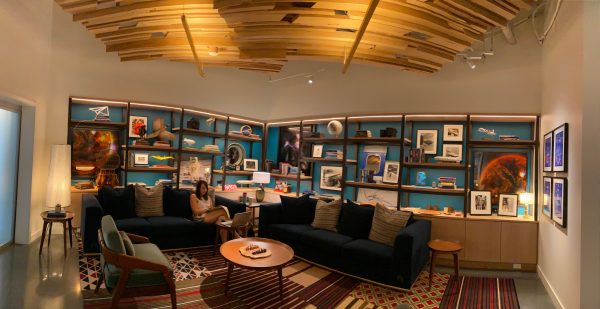 At The Ameswell, the intersection of tech, design, and wellness just proves that pixels and poshness can successfully work hand-in-hand.    
Check them out at:

http://theameswellhotel.com/




The Ameswell Hotel




800 Moffett Boulevard




Mountain View, CA




650.880.1000