We received a subscription box from Pop Shop America. All opinions are strictly our own.
I can't think of a single person who doesn't love getting a new box in the mail each month with some of their favorite things. While there is no shortage of fitness, beauty and clothing subscriptions, this week I found one that feed my PAPER LOVE needs from Pop Shop America.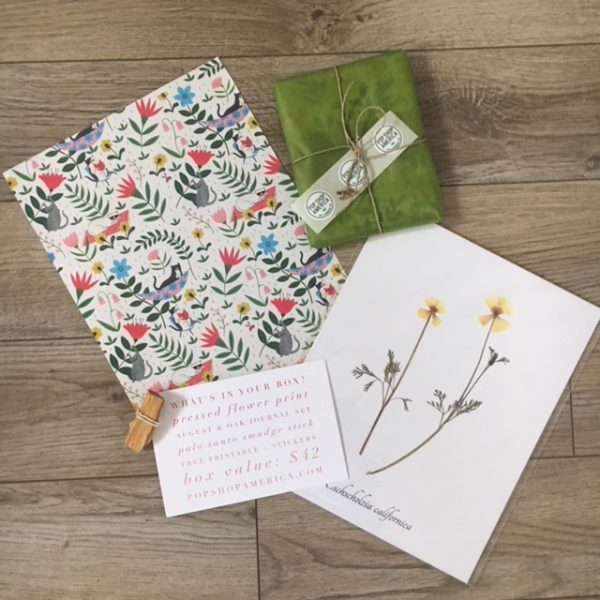 For those who love handmade
Pop Shop America is one of our favorite sources for subscription boxes with a handmade twist. From fashion boxes of jewelry or t-shirts, to DIY boxes, and a beauty subscription and yes, even a print box like the one that I ordered, you can feel good about supporting artists and artisans who have created collections with all of the things that you love.
I love cards and ephemera
So, it was a no-brainer when I saw the Print Box in their list of offerings.
you will receive a thoughtfully curated monthly subscription box filled with 2 high quality art prints and a complimentary goodie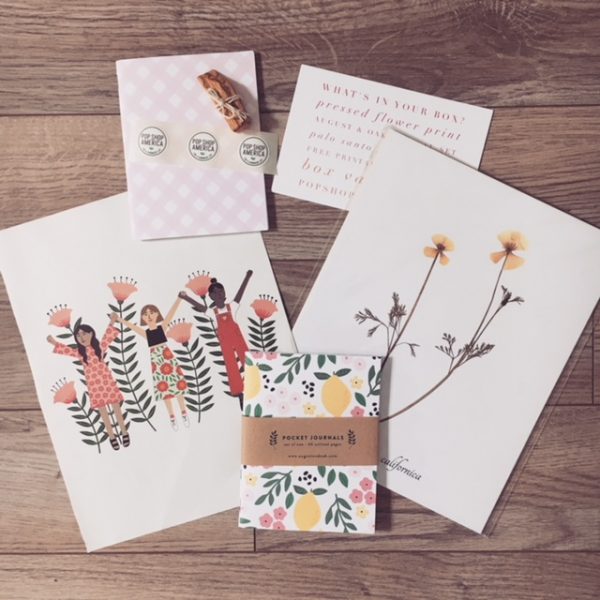 My box included
A pressed flower print that's ready to frame – going into my guest bath
2 August & Oak Journals – perfect for slipping into my purse
A Gorgeous printable that has graphics on both sides – thinking about framing for the guest bedroom
Stickers – because who DOESN'T love stickers?
A Palo Santo smudge stick – can't decide whether to smudge my office or the room that Clem's crate is in
Subscription boxes make the BEST gifts and…
Each box ships within 2 business days of your purchase! You don't have to wait to receive your box! Before you are charged for the month you will receive a payment notification. Upon shipping, you will receive a shipping notification with tracking number. We aim to keep your subscription easy to manage and totally fun! 

  

Ships worldwide from United States
Subscriptions automatically renew. Cancel anytime
Priced at $24 per month

To order the Print Kit or any other of their beautiful handmade subscription boxes visit: Pop Shop America