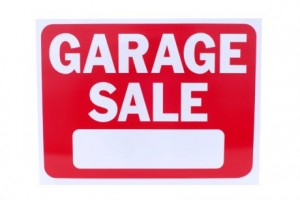 I had a good friend and neighbor named Jenn. Each spring we had a ritual. We'd hit craigslist to find the yard sale listings in our area during the week, and then spend weekends going from sale to sale. After we'd go out to a LONG lunch at our favorite restaurant, and spend every cent we "saved.". It was SO much fun. Jenn passed away unexpectedly this past year, and to tell you the truth I haven't gone to a yard sale since.
Next weekend I'm thinking of honoring her and heading out to see what I can find. I'm sure she would have wanted that. If you're in my area I might even show up at YOUR yard sale, but you've GOT TO GET MY ATTENTION FIRST!
Here's how to get the most out of your craigslist post & your weekend garage sale:
1. Write a clear headline.
Most people on craigslist are looking for something specific. Write a detailed headline for what you're offering, and don't YELL AT YOUR AUDIENCE or use annoying characters (*#$$+@&*&*).
2. Balance creativity with clarity in your post.
Write a clear, descriptive post about what you are selling. Include all item details and dimensions.
3. Use lists.
When posting a garage sale, list all of the items for sale in the post. Lists are also good for including details about one particular item for sale.
4. Include images.
Use your own pictures instead of linking to similar items on websites. People prefer seeing photos of the exact item for sale.
5. Price your item(s) right.
Do a bit of research to see what the market rate is for each item you are selling, and be open to negotiation and bartering.
6. Have your garage sale outdoors with family & friends.
Don't invite strangers over when you're alone or invite anyone into your home. Keep your doors locked as you will likely be distracted during the sale.
7. Accept cash only.
Don't use a cash box; keep the cash on you.
8. Be open to meeting new friends.
We have heard countless stories about people meeting friends and significant others while buying/selling items via craigslist. Be friendly!
*It's very important to take the same common sense precautions online as you would offline. Read all of the craigslist safety tips  and familiarize yourself with common online scams.
So…who's having a sale that I can come to this weekend?