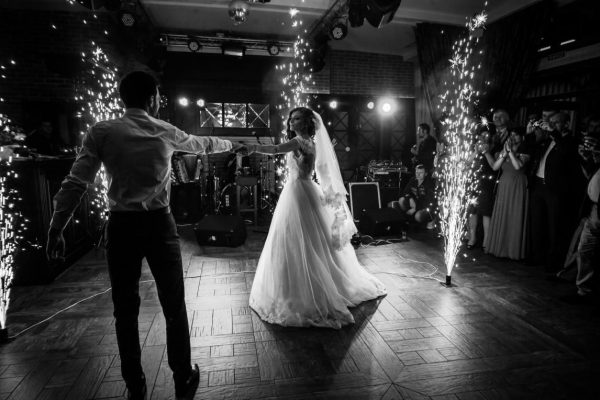 Planning a wedding takes a lot of work. 
In fact, the average couple spends two hours per week planning their wedding leading up to the big date. From choosing the right food to picking out the perfect dress to setting a guest list, there's a lot that needs to be taken into consideration when planning a wedding.
But, perhaps the biggest thing to take into consideration for your big is the music.
The music you choose for your wedding reception helps set the tone for the evening. And, the right music can help bring everyone to the dance floor for a night of partying.
When deciding on wedding reception music, the biggest question you need to ask yourself is whether you should hire a wedding band or a DJ.
Which is right for you?
Check out this wedding band vs DJ guide to learn how to decide.
Wedding Band vs DJ
When deciding between a wedding band and a DJ, it's important to know that there's no right answer, and your decision will ultimately come down to personal preference.
That being said, to make an informed decision, you should know the pros and cons of each option. Let's dive into those right now.
Pros of Hiring a Wedding Band 
Here are the biggest advantages of hiring a wedding band:
Live Music is Fun and Exciting 
If you've ever been to a wedding with live music, then you know how much better it can make the day. Even if the wedding itself wasn't the greatest, you probably stuck around a little longer just to hear the band play and sway to the music.
Your guests will undoubtedly love the energy and spontaneity that a live band brings, and so will you. With a live band, you never know when a musician might break into a roaring saxophone solo or when the lead singer will tweak the song lyrics just for your special night.
Memorable
When looking back on your wedding day, your guests probably won't remember the flavor of cake you choose or the color of your bridesmaid dresses.
However, they will remember the talented musicians that played at your wedding reception.
Good live music can take your wedding from a run of the mill event to the day that people will be talking about for years to come.
Adaptable 
Another major benefit of hiring a wedding band is that wedding bands are adaptable.
Wedding bands can easily read the mood of the room and decide whether they need to kick things up a notch with some fast songs or slow things down with a romantic song.
Cons of a Wedding Band 
Here are the drawbacks of hiring a wedding band:
Expensive 
Wedding bands are almost always more expensive than DJs. With a DJ, you're just hiring one person to man the music. However, with a wedding band, you're hiring multiple people to bring in instruments and perform for hours at a time.
This can quickly add up, so if your budget is tight, a wedding band may not be the best choice for you.
Takes Up Extra Space 
While a DJ just needs a small booth to get the job done, a wedding band is going to need a lot more space. If your venue is already tight in space as it is, a wedding band may not be an option.
Less Variety
Perhaps the biggest drawback of hiring a wedding band is that you won't get the same variety of music you would if you were to hire a DJ.
A wedding band is limited to playing the songs they know, which means they likely won't know some of the most current hits and may not even know some classic songs you want to hear.
Venue Regulations 
Some venues simply don't allow wedding bands. So, before you set your heart on hiring a band, check with your venue to see what their rules are.
Pros of Hiring a DJ 
Here are the top advantages of hiring a DJ:
Good Balance 
When you hire a DJ, you'll be able to play everything from smooth jazz to the latest pop hits at your wedding.
Unlike bands, DJs aren't restricted in what they play, as all the music they need is at the touch of their fingers.
Take Up Less Space
Another great thing about hiring a DJ is that a DJ will take up less space in the venue. This means that you and your guests will have more room on the dance floor to bust a move.
Fewer Breaks
Playing live music takes a lot out of you, and there's no doubt that hiring a wedding band means the musicians are going to need to take breaks from time to time.
DJing, on the other hand, is a lot less strenuous, and your DJ should be able to play the whole night without needing a break.
Cons of Hiring a DJ 
Lastly, here are the drawbacks of hiring a DJ for your big day:
Not as Appealing to Non-Dancers 
For a wedding reception to be as fun as possible, you need as many people as possible hitting the dance floor. However, some people are shy to hit the dance floor.
For some reason, shy dancers seem to feel a bit more comfortable hitting the dance floor when a live band is playing. So, keep your guests' preferences and personalities in mind when choosing music.
If you have a bunch of shy dancers, hiring a band may be a better idea.
Personality 
Even if a DJ is great at selecting music, if they have a lame personality, it can put a serious damper on your wedding night.
Typically, people who play in wedding bands are outgoing by nature, but this isn't always the case with DJs. To figure out if a DJ has the right personality, check out this guide on what to ask a DJ before hiring.
Wedding Band vs DJ: Which Will You Choose? 
Now that you've read this wedding band vs DJ guide, it's time to choose which option is right for you.
And, be sure to check back in with our blog for more wedding-related tips and tricks.