This post brought to you by Phillip Gavriel. The content and opinions expressed below are that of Champagne Living.
The moment I saw it on the front page I knew that I wanted it. I clicked through to get a closer look at this bracelet by Phillip Gavriel at Ross Simons.  From my first pair of gold studs to my wedding ring I've been shopping there (they are a local RI company), so when I see an unusual piece of jewelry that I LOVE on their page I had to do a little "RESEARCH."
This "RESEARCH" (yes, that is my code name for shopping) brought me to the most delightful jewelry by Phillip Gavriel. With New Year's Eve and holiday parties on the horizon, as well as Ben's wedding coming this summer, I wanted an accessory that would stand out from the crowd. Of course, that's what I always want, and if I'm investing in a piece of good jewelry it has to be:
Unique
Timeless
Make a Statement
Like my Breton striped shirts that I've been wearing for decades now, a piece of jewelry that I wear day in & out…to upscale my casual looks and give my cocktail dresses a focal point is like the perfect slice of chocolate cake and cup of espresso after a great dinner….something you enjoy again and again. They stand the test of time and they have become statement pieces of clothing for me. That's what I want in jewelry. With two collections, Popcorn and Woven Collections crafted beautifully in gold, sterling silver with precious gemstones as accents Phillip Gaviel's pieces are a perfect accent to both classic and modern styles.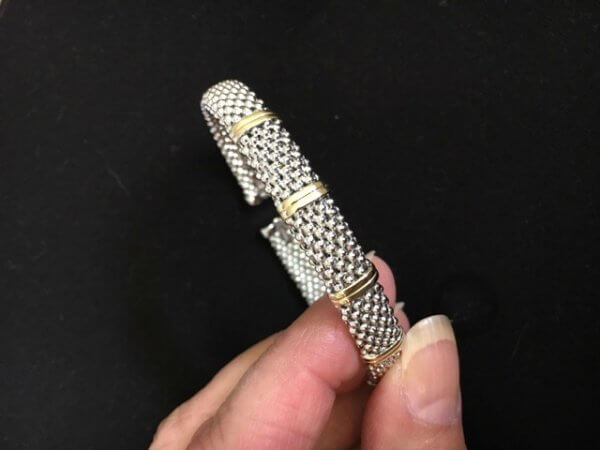 I can easily wear these pieces every day with a pair of jeans and a white t-shirt as well as with the cobalt blue gown I plan to wear as mother-of-the-groom this coming July. The Phillip Gavriel New York woven collection includes necklaces, earrings, rings and bracelets made by hand, and inspired by the Italian Renaissance (maybe THAT is why they are timeless).
The Cuff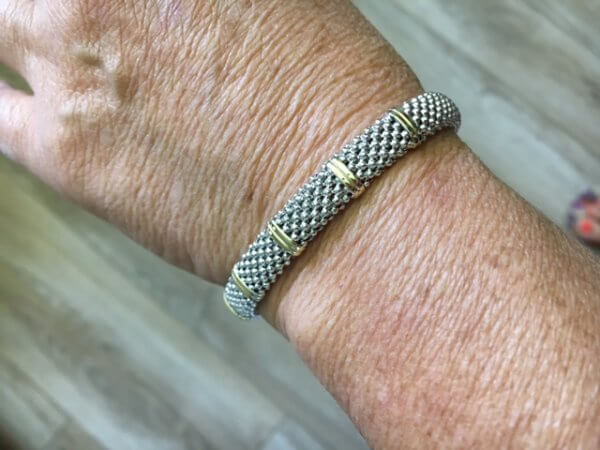 Sophisticated, elegant and at the same time casual, the cuff that I had wanted slipped onto my wrist as if it had been made uniquely for me. I'm sure that's just what I love about Phillip Gavriel…that each piece that I put around my neck, my wrist, fingers or ears feel like a piece of jewelry that I've had commissioned, only at a more affordable price than their competitors.
The necklace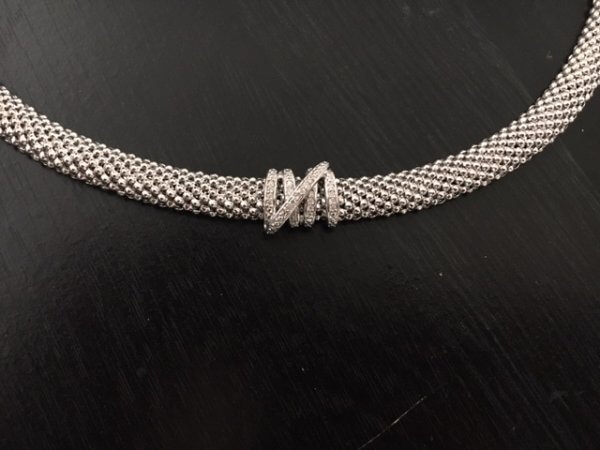 If the elegant sterling silver with 18kt gold accent bars was my entry, the 17″ sterling silver popcorn necklace with diamonds that seem to be tossed in a ça m'est égal (I don't care) attitude that you often see in fine modern art is my finale. I had gotten it on consignment and immediately knew that this is the piece that would set off my dress for the wedding (this is my usual case of putting the cart before the horse…as I haven't bought a dress yet).
Shhhh….don't tell the bride-to-be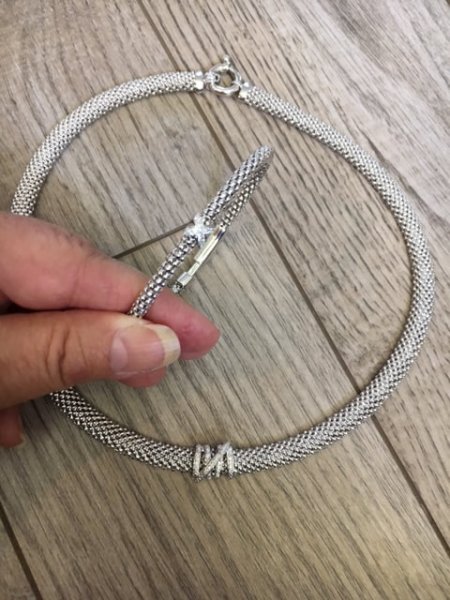 A KISS (X) of diamonds for my daughter-in-law to be on their wedding day.  I remember that my mother gave me a set of pearls on my special day. She chose each one separately and had them strung and hand knotted. I still wear them, and hope that this beautiful Phillip Gavriel Popcorn bracelet with diamond X in the center reminds Allyson of how much we love her and how she is truly a part of our family each time she looks at her wrist, just like my mother's pearls remind me of my family's love.
A gift to be remembered
Whether you're looking for a holiday, anniversary, birthday, wedding or just an "I deserve this" gift for yourself, a piece from the Phillip Gavriel woven or popcorn collections will be appreciated forever. Find your perfect signature piece of jewelry at a store near your or online using the Phillip Gavriel Store Locator.