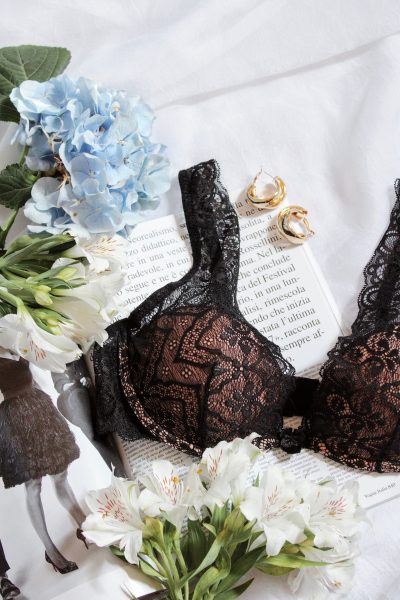 There's a belief out there that to be sexy, one must sacrifice comfort. We've all seen those extravagant lingerie pieces that look enticing but seem more like a puzzle to put on than actual clothing. But here's the thing: comfort and sensuality are not mutually exclusive. In fact, they should go hand in hand. After all, confidence – undeniably sexy – often comes from feeling comfortable in one's skin and, by extension, in what one's wearing. As the age-old adage goes, "When you look good, you feel good," but let's modernize that a bit: "When you feel good, you look even better." Let's dive into the world of intimates that promise a tempting look and a cozy, snug fit that feels like a second skin.
The Bralette Revolution
The bralette has revolutionized the world of intimates. Gone are the days when underwear and stiff materials were the standard for sexy. The soft, often lacey material of bralettes is reminiscent of vintage lingerie with a modern, free-spirited touch. Bralettes offer ample support without compromising on sensuality. Plus, with so many designs available, from racerbacks to deep V-necks, there's a style for every taste.
High-Waisted Wonders
The high-waisted trend isn't just for jeans and bathing suits; it's also made its mark in the intimate world. These pieces, reminiscent of old Hollywood glam, ooze elegance and charm. The beauty of high-waisted intimates isn't just in their vintage appeal but also in the way they hug the body, offering a flattering silhouette irrespective of body type. And let's not forget that comfort is key. The extended waist ensures that there's no digging into the skin, and the material smoothes out, offering a seamless look and feel.
The Lacy Bodysuit
Bodysuits have transitioned from being just an outerwear piece to a sultry addition to one's lingerie collection. Especially the lacy variants. They're an entire outfit rolled into one — effortlessly sexy. And the best part? The snug fit ensures that everything stays in place so that you won't be tugging and adjusting all day or night. It's luxury and allure, with the ease of a one-piece.
Booty Shorts Underwear – The Balance Between Playful and Cozy
Now, let's talk about a piece that's flattering and fun: booty shorts underwear. They might sound cheeky (pun intended!), and they are! They give just the right amount of coverage while still making one feel daring. The playful tease they offer has made them a favorite among many.
Their cut ensures that they sit just right without riding up or becoming uncomfortable. They're the epitome of casual meets sexy. Imagine lounging at home, reading a book, or watching your favorite show, and feeling utterly alluring without being wrapped up in complicated, restrictive lingerie. The freedom they offer, both in terms of movement and expression, sets them apart. Not just restricted to casual settings, they're also perfect for date nights or intimate evenings. The balance between comfort and sexiness is what makes them a must-have in every woman's wardrobe. Plus, the choices are endless with a diverse range of materials, from cotton to lace to even satin.

The Magic of Layering
One might wonder, how does layering fit into the world of intimates? Think of silky camisoles worn under sheer tops or lace bralettes peeking from under a low-cut blouse. Layering intimates isn't just about the reveal but also the hidden mystery. It adds depth and intrigue to an outfit, making even the most casual look a tad bit more tantalizing. Plus, layering means more soft fabric against your skin, which spells comfort.
The Final Touch – Robes
If intimates are the cake, then robes are the cherry on top. They complete the look, adding an extra layer of allure. Picture this: soft, flowing material hugging your body, swaying with every step you take. The experience is almost ethereal. While there are various materials available, the best silk robes offer an unparalleled blend of luxury and comfort. They're lightweight and breathable, and the smooth texture against the skin feels nothing short of divine. A robe isn't just an afterthought; it's an essential part of the intimate ensemble, elevating the overall experience.
The world of intimates has evolved, understanding and respecting the balance between allure and comfort. It's no longer about choosing between looking good and feeling good; it's about having both. The intimates we've discussed today aren't just pieces of clothing; they're experiences, each unique in the feeling they evoke. The options are endless, from the freedom of the booty short to the luxury of the best silk robes. So, the next time you shop for intimates, remember that you deserve comfort and sensuality. And in today's intimate fashion world, you can have it all.