Thank you Kathy Chin Leong for covering West Coast travel for us here at Champagne Living. Travel posts are sponsored by DMO's, hotels, and more. All opinions are strictly our own.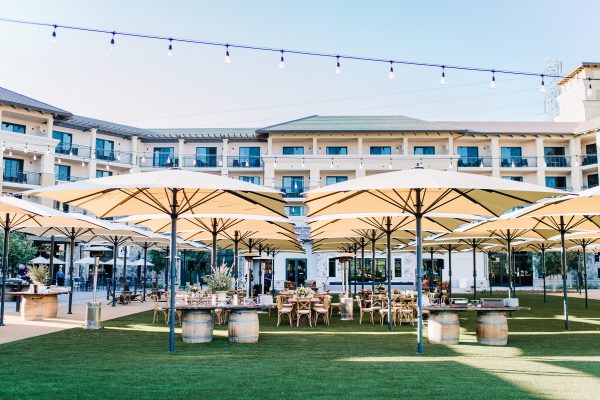 "All work and no play makes Jack a dull boy."
This proverb is said to have originated as early as 1659. And, in these unprecedented times, we find it so true. As the year drags on, people are discovering doses of travel an essential medicine. Napa Valley, Calif. resorts such as the Tuscan-styled Vista Collina, on the outskirts of town, understand that. Since the lift of the shelter-in-place ordinance, the relatively new all-suite, multi-level hotel realizes that kids and parents must work remotely, but it doesn't mean they have to stay at home. That said, the hotel is touting the Workations package that integrates work and play. Guests book a room on a weekly and monthly basis, which is a completely different type of model since the average booking is for one or two nights, industrywide.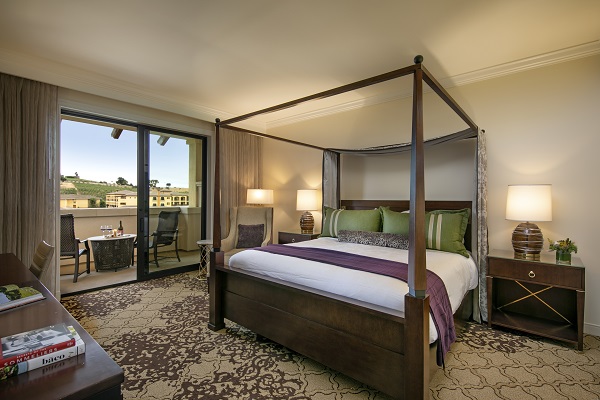 Not only are the suites are generously sized at 850 square feet, these new babies feature giant HD televisions (estimated at 60 or more inches) equipped with Hulu, Chromecast, and Netflix. The screens are built into custom cabinetry so that they grace the room without overpowering it.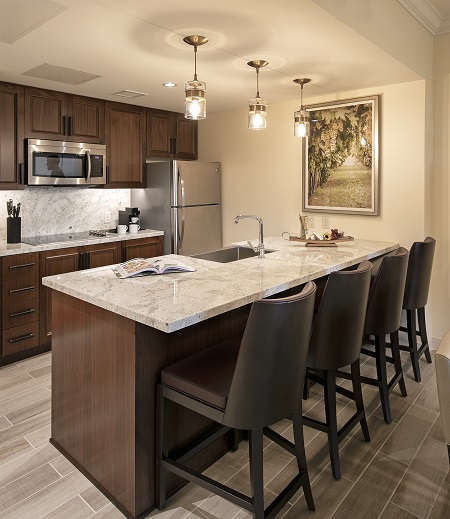 There's a kitchen, and unlike other places that feature mini-kitchens, this one boasts a full-sized refrigerator, stovetop, microwave, dishwasher, high-end All-Clad pots and pans, and matching white dishes and utensils. The dining table seats up to four. With room to sprawl, the uncluttered suite is luxurious and comfortable for two adults and two kids. The couch turns out into a bed at night. Rolling white modern barn doors separate the bedroom from the living room and the bathroom from the kitchen. Gray plank tile floors with faux wood grain complement dark wood furnishings. Some bedrooms feature four-poster beds with the ubiquitous high-thread-count white linens.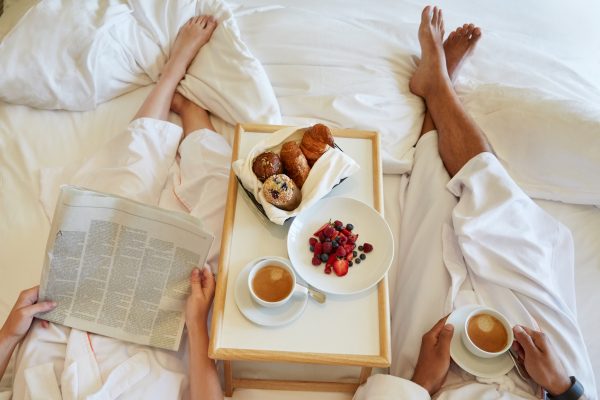 When my husband and I stayed, I had the option of working on the desk in the bedroom, on the balcony, or in the dining room kitchen area. The package includes Wi-Fi and a complimentary bottle of wine. As of this writing, rates run $300 daily for a weeklong stay and $200 a day for a month. Each of us was able to log in and be present at Zoom and Google meetings flawlessly. Friends were actually jealous when they saw our hotel bed in the background. What makes everything convenient is the fact that the new resort supports its own village enclave, comprised of a grocery store, wine rooms, retail, and restaurants, which are located downstairs. These small enterprises surround a large central lawn with plenty of umbrellas for shaded picnics and concerts. Off to the side is a swimming pool which was fully occupied when we arrived.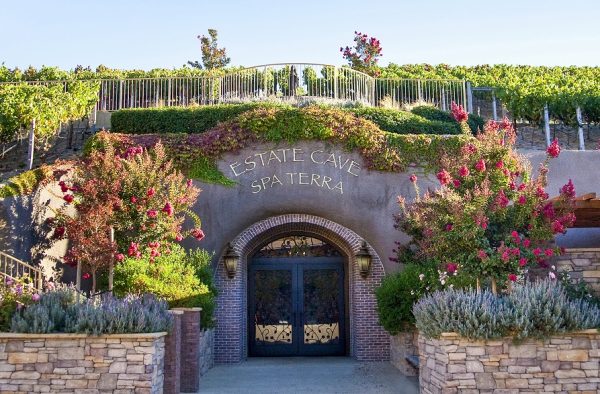 Across the street, guests have access to the amenities of the Meritage Hotel, the sister property with similar Italian design features in a garden setting. The property offers an adult-only pool, a kiddie pool, a full-service cave spa, a vineyard, and a handful of bars and restaurants. After a full day of work, you can order room service, cook in, or treat yourself at the Meritage's new Olive + Hay restaurant. Olive + Hay, featuring pizza and plates of pasta, also takes it up a notch with a fresh catch of the day, house-roasted chicken, and a pan-seared New York strip. Casual but elegant, the restaurant is open for outdoor dining, and indoors when the county permits. Just don't leave without ordering the tiramisu and the Italian donuts with dark chocolate sauce. You'll inhale it, I guarantee.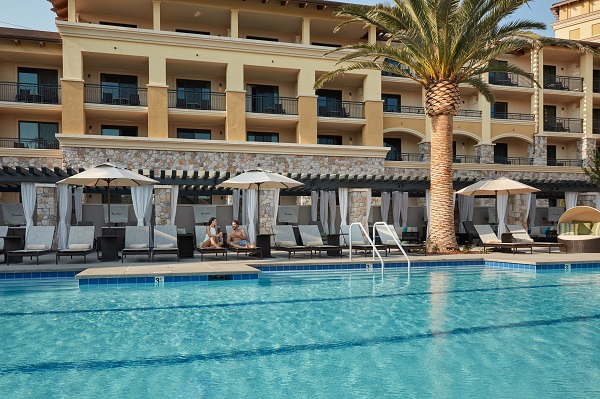 The fall and winter season arrives with tantalizing programs of all sorts. For this month, the Meritage will offer a Thanksgiving feast to-go, perfect for those staying put at the Vista Collina. For December, Meritage will host tea parties with Disney princesses and cookie decorating. Weekends promise to be festive with holiday brunches in tow. At the same time, the Vista Collina will showcase artists at its Sunday afternoon craft fairs. While on the premises, guests staying at least two nights will have the chance to book a holiday photo session with local photographer, Courtney Stockton. The $150 includes photoshoots in the hillside vineyard or the Vista Collina lawn.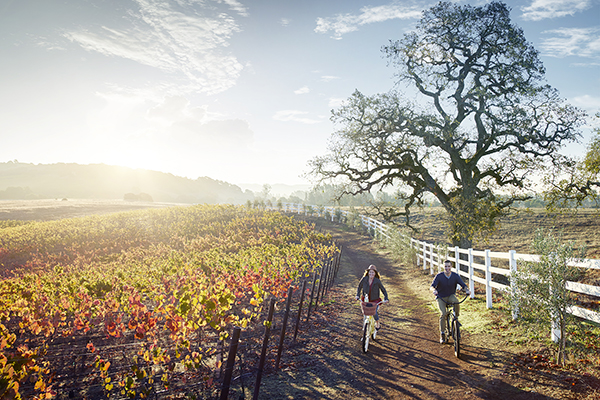 Meanwhile, what did I think of the Workation package? Pounding away on my keyboard in Napa Valley with a vineyard panorama is a whole lot better than staring out the window past the fence at my neighbor's bland side yard. If there is a downside, the worst part for me was trying to concentrate because I wanted to go outside for a swim and later binge-watch my favorite Netflix series. Napa Valley has been squeezed through the crucible. Earthquakes, fires, pandemic, fires again. Over the last six months, wine country tourism has been slammed. The loss of property, enterprises, and, worst of all, lives, cuts like a dagger. Delicately and carefully, people are regrouping and moving forward. Hoteliers, vintners, and chefs are jumping into recovery mode. And I for one, am happy to be jumping back into travel, even if it means working while on the road.
For information or to book your Workation package visit https://meritagecollection.com/vista-collina