Welcome back, Kathy Chin Leong who has the tough job of covering luxurious getaways on the West Coast for Champagne Living. Sigh….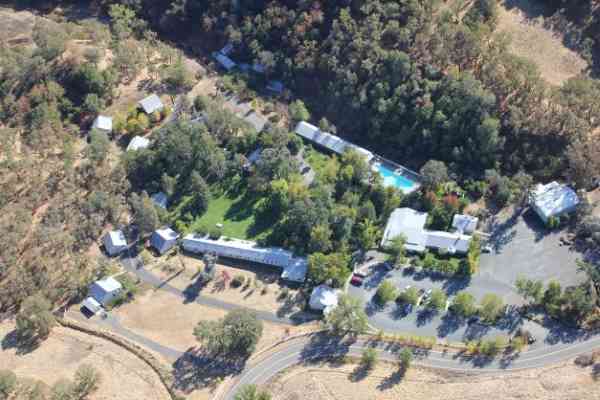 A decadent ritual can be found here in the heart of Northern California, in the unassuming town of Ukiah: the champagne immersion. Here at the hidden Vichy Springs Resort, you have access to rare carbonated waters found only in France and Africa.
You do not drink these waters, you detox in them.  And, as a guest, you can lay prostrate in a tub at the resort's dedicated bathhouse until your toes and fingers prune up.   The early Native Americans enjoyed these springs for thousands of years. In 1848, Frank Marble discovered the naturally alkaline, carbonated waters here on the property, and years later in 1854, William Day capitalized on the find and opened the resort.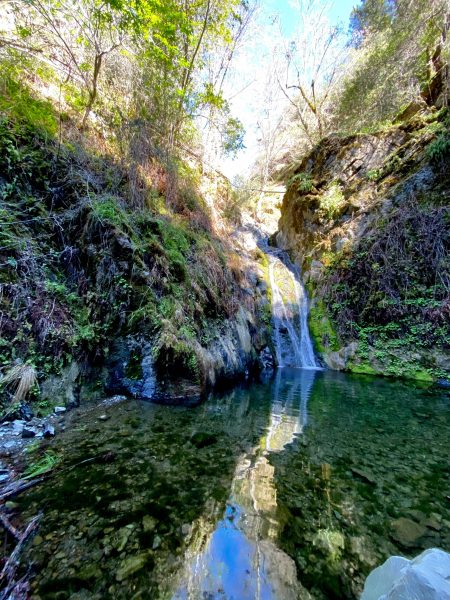 Today, the hydrotherapy happy place sits on acres of forests and hills. Much has been left undeveloped.  With an abundance of hiking trails, the most popular and scenic one is the 45-minute hike to the waterfalls.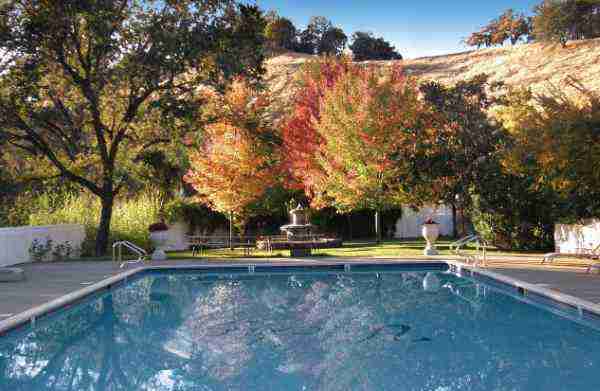 While the word "resort" appears in its name, don't compare it to the deluxe Ritz-Carlton or Fairmont Hotel resorts you have been accustomed to in the past.  Vichy Springs has the vibe of a family-friendly retreat center with hotel rooms, cottages, a basketball court, pool, and game room. The large lawn features picnic tables and barbecue pits. There is no restaurant on the premises, so bring your own food, or go into Ukiah's town center, about ten minutes away.  As a side note, up-and-coming downtown Ukiah is undergoing beautification, so you can shop at refreshed boutiques, try out new restaurants, and explore a few select museums and galleries.  Vichy Springs is ideal for a family reunion, girlfriend getaway, or, in my case, a mother-daughter weekend.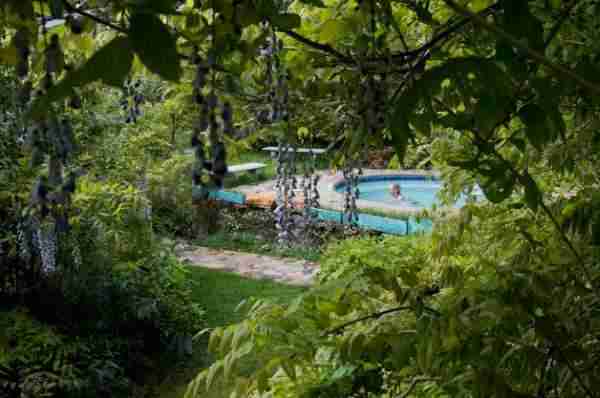 But really, the fizzy water is why you've booked this place. You're bringing the other folks as an excuse to come here. The clothing-required resort offers three different types of mineral pools at three different temperatures.  One is the outdoor hot tub, and the other two are found in two adjacent barnlike bathhouses. Each covered, wooden structure is built with individual rooms featuring a latched door that opens to a pair of tubs.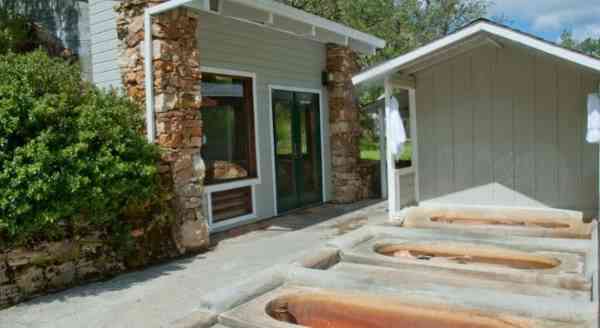 At first glance, the bathtubs look shocking, for they are yellowish with large brown stains etched by the minerals and carbonation.  There are no water faucets.  The water spigot in each one features a long, heavy metal column called the "standpipe" that you lift on one end in order to release the warm spring water.  And you lug the same giant stopper to plug a similar hole at the foot of the tub.   Don't worry. It's all worth it.  As you lay there, infinite colonies of clear bubbles cling to your skin, providing a gentle and therapeutic tingle.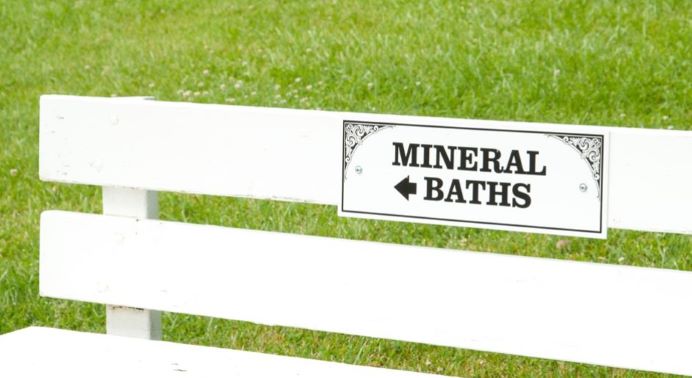 The mineral pools have a slight sulfur smell, but it is not off-putting. You can bring snacks and drinks to make your experience multi-sensory if desired. Just make sure you tidy up, for the next person is probably waiting outside your door.  It is recommended you immerse about 30 minutes in each pool for maximum benefits, but you are pretty free to do what you wish. You cannot reserve tub rooms, so you must wait your turn in line. The day we went was low season and mid-week, so most of the rooms were empty.  The bubbles feel like tiny massages on the skin, and when you are feeling stiff or achy, the baths cannot be beaten.  The tubs and pools are open until 2 a.m., so you can soak under the stars if you wish.  Just so you know, the public can also book time at the pools for two-hour increments.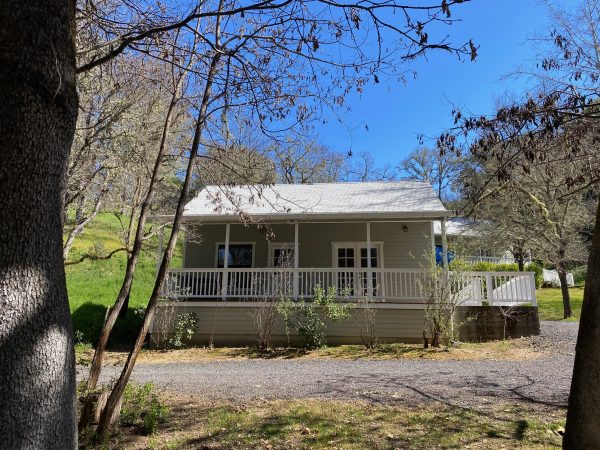 We nestled ourselves in Cottage 27, a gray-and-white clapboard cabin with a deep front porch much like the others nestled on the hillside. Our two-bedroom abode came complete with hardwood floors, a fully-equipped kitchen, living room, and bathroom. For you tech pundits, yes, wifi is available, but no smart TVs here. Country décor is simple: blond wood cabinets, matching kitchen table, Victorian-style lampshades.  Bedrooms featured high beds with extra deep mattresses. My favorite was the living room's iconic iron-leg, gas stove that kept us warm at night and toasty in the early morning.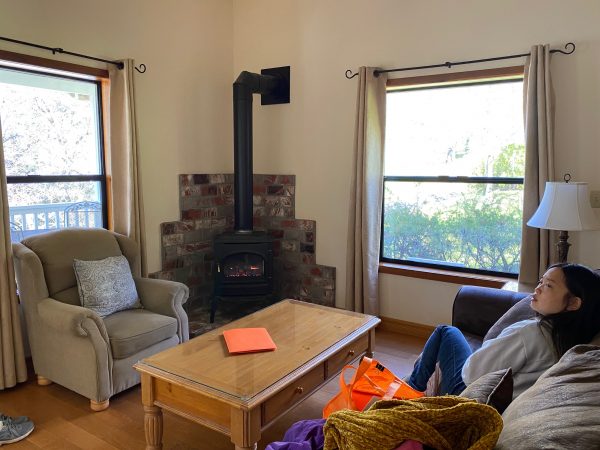 In addition to dipping into the spring waters, my adult daughter Gwen and I found great pleasure in the coziness of our cabin as we dedicated time to reading our beloved books with no noise and no distractions. Gwen plunked down on the living room couch. I stationed myself on the gray side chair by the stove. In silence together, we were happy.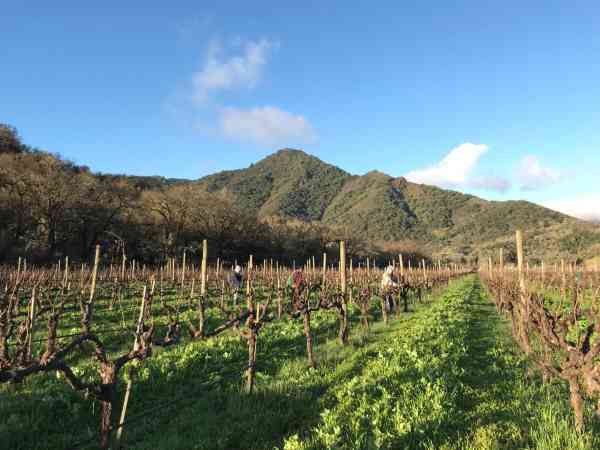 Want to continue on the "bubbles" thread? I suggest a trip to nearby Terra Salvia winery for its sparkling wine made with organic grapes and also to Rivino Winery for its Boujee estate rose brut.
When you book a stay at Vichy Springs, reserve at least two nights to truly enjoy the premises.  The resort is only two miles from the freeway, but you feel as though you are thousands of miles from civilization and a stone's throw from heaven.
For more information, or to make your reservation visit Vichy Springs