This post has been sponsored by Verizon. All opinions are my own and you should know by now how much I love working with them.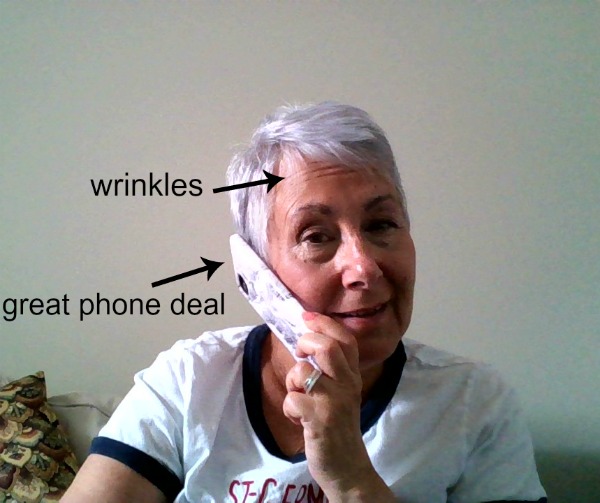 Ask anyone and they'll tell you that getting older is a mixed bag. While a look in the mirror can be the prequel to a scream, those early bird dinners I always made fun of actually make going out happen a lot more often. I figured that I'd tell you some of the bad and the good when it comes to aging.
BAD
Wrinkles – every time I look in the mirror I see them. I walk around pulling my skin back, but it doesn't help. I either have to give in or get them "taken care of" (in my best mafia voice).
Aches and pains – it hurts. What hurts you ask? Lately, EVERYTHING aches when I do too much. Of course, I'm out of shape, so that may have a little to do with it…but, darn it…working out hurts.
I am forgetful – and it scares me. I keep thinking that I'm losing my mind and think it's because of aging. Then I remember that I was forgetful at 35…whoops, I forgot that.
GOOD
I can speak my mind – OK, so I could ALWAYS speak my mind, but now I do it without the fear of being called out because…well, I'm OLD and no one talks back to me (with the exception of my family who has figured out that I'm using "age" to give them a hard time).
Social security – WHOO HOO, I love getting a check AND healthcare every month without having to do anything. Of course, I probably work harder and longer hours now than I did when I had a "real" job. But still…WHOO HOO…FREE MONEY.
Discounts – While Ben and his wife pay $150+ for their mobile phone service, Mr. S and I only pay $80 (plus tax & fees) for TWO LINES with the Verizon 55+ plan.
I get
Unlimited 4G LTE Data 
Unlimited Talk & Text
DVD-Quality Streaming
Unlimited Mobile Hotspot (600 Kbps) 
Verizon Up Rewards 
Mexico & Canada Included 
$50 for 1 line, $80 for 2 lines on auto pay
Whether it's just YOU or you and someone special (like Mr. S is to me), you may be eligible. Check to see if your area has the service yet at: Verizon 55+
Now, where did I put my phone?