NOTE: We received product to facilitate this post. All opinions are strictly my own.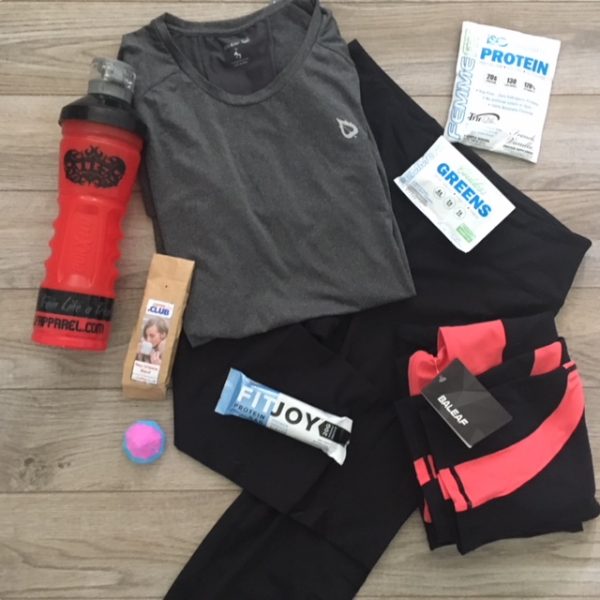 It was one of the resolutions – AS ALWAYS, I need to get this body back to fighting condition. OK, well maybe I never fought, but I definitely need to keep the momentum going that I began at physical therapy, drop about 30-35 lbs and get back into my dance shape that I miss so much. I knew that by setting myself up with the right gear and the right attitude was key.
My physical therapist said: YOU HAVE TO DO YOGA
I guess that was my Rx, because he said that it is the best way to stretch and exercise evenly. With nothing to wear that fit for working out, I began looking for subscription boxes of workout wear and came across the Workout Clothing Club and was intrigued.
What's in the box bag
In case the video went too quickly for you – here's what I received
Workout bands (just like the ones my PT suggested)

A Baleaf t-shirt

Baleaf Capris

Baleaf Leggings

Smoothie bottle

Protein Packets

Greens Packets

Tea

Coffee

Bath Bombs

and MORE!
Figuring I would have spent at least $50 for a t-shirt and ONE pair of capris at a discount store, Workout Clothing Club is a BARGAIN.
Quality
This was my first experience with Baleaf workout wear and the quality is impeccable. I figure that the value runs a bit over $100, so you're getting all of this for around half of the retail price. That saves me enough to pay for that gym membership!
Ordering
Workout Clothing Club takes you the the ordering process with ease. You choose size, style preferences, and more. It is available for both men and women, so his and hers subscriptions would be a great way to jumpstart BOTH of your fitness goals.
Subscription
This is a monthly subscription service, so you will be mailed a new Club package each month. It's very easy to cancel if you decide that it's not for you (it's right in your e-mail update telling you that they will be mailing on a particular date), and they give you plenty of time to do so.
The 411?
I'm LOVING not having to try on fitness wear under flourescent lights (just sayin' – it's not all that pretty) and these are JUST the types of workout wear that I'd buy.