NOTE: I am a Try the World Ambassador and receive a FREE subscription in order to tell you about their products. All opinions are strictly my own.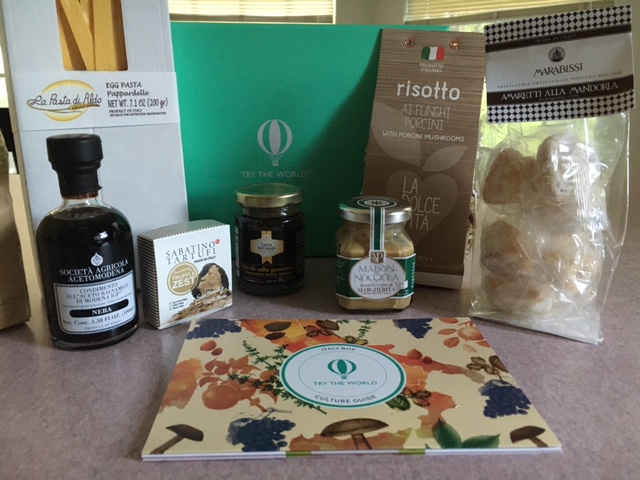 I have to admit that the only time I visited Italy I was rushed. I had hours, the rain was falling, and the little town that our ship had pulled into was CLOSED. Yes, CLOSED. Not a store, museum or restaurant in site. I actually had to stop someone on the street to find out if there was any place I could grab a bite to eat….that "someone" turned out to be the mayor, who proceeded to walk me to his favorite restaurant which just happened to be open.
My food journey in Italy was brief, a slice of pizza and an ensalata. Thankfully Try the World came to my rescue this month with a box of delicious goodies that span the country.
As always Try the World includes a guide to using all of the ingredients in the box including the most sublime recipes.


Price: $33 per box (1 year subscription), to $39 per box (2  month subscription)
Single boxes available for $49
Plus: Free Shipping, Free Returns, Cancel Anytime
Let The world come to you, the easy way to go on a global foodie trip. Subscribe now!
Get 15% off ALL subscription types and gift boxes too with code: CHAMPAGNELIVING15