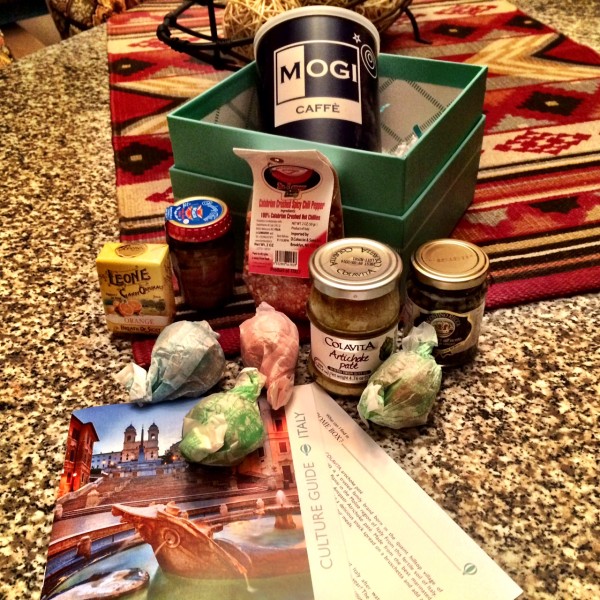 I'm driven to travel
I suppose it stems from my mother. She always said she had a gypsy spirit. We traveled a lot as children, and within months of graduating high school I left the country to explore and work in France. Now, I find myself traveling to bring you the inside scoop on the best places to vacation, where to find those hidden luxury getaways, and how to spend your days living the life you've always dreamed of without waiting for that "one day."
Balancing wanderlust & being a homebody
Mr. S can no longer travel with me, so I make a conscious effort to be home with him in between jaunts.  While he may not have had dinner in Savona, Italy or Aix en Provence, France with me this year, he still gets a taste of my travels at home.
When I first began my travel writing journey, I'd bring him the typical souvenirs – hats, t-shirts, and trinkets. One day I had an AHA! moment. I began scouring the street markets and grocers for spices and food items that I could bring back with me to try and recreate some of the meals that I'd eaten.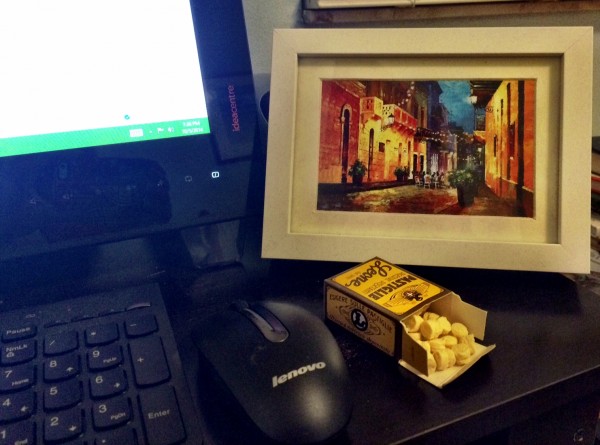 Like ARMCHAIR TRAVEL only sensory
When I'm not travel, you'll find me with my head in a book of travel essays, or sopping up my pasta puttanesca with a crusty end of Italian bread.
TRY THE WORLD
What if I told you that you don't have to travel to Italy, France, or Istanbul like I do, to have the pleasure of dining on authentic food? I recently received a box of foods from Italy to review from Try the World. When they said they were sending the "ITALY" box, I thought…oh, I'll probably get a package of pasta and a can of tomatoes.
NOPE…
What I received were JUST the types of food products that I'd have picked up if I were traveling. The little items that make a dish authentic.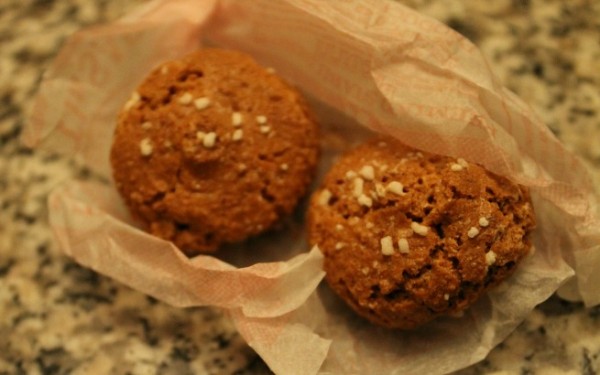 My Italy box was filled with
Mogi caffe – A true Italian espresso, this coffee ends with a beautiful crema and a low amount of caffeine. One whiff and you'll start looking for the Amaretti (it's in the box)
Artichoke Paté – Spread your bruschetta with this paté and open a bottle of Chianti before you dig in to your dinner.
Lombardo – peperoncino Calabrese – I love my Sicilian dinners spicy, and this crushed red pepper will fire up your Fra Diavolo sauce!
Scalia anchovies & Pantellerian Capers – It's funny, but there are some food items that you TEAR into the minute you get home. My pasta puttanesca SHINED when I added these (my recipe is below)
Lazzaroni – For some reason, these amaretti di Saronno cookies always bring me back to when I was a child. I remember the red tin sitting on the kitchen counter. Yes they're small, but they pack a GIANT sized flavor.
Leone pastigle – there are pastilles and there are PASTILLES and these small orange candies are made with true essence of orange giving them a flavor that lingers.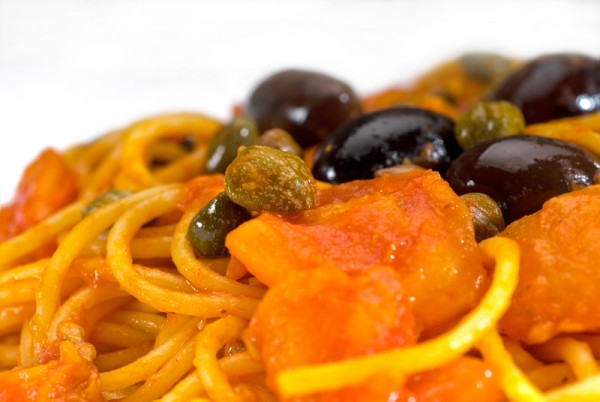 Mr. S's Pasta Puttanesca
Ingredients
Salt
3 TBS extra virgin olive oil
3 cloves fresh garlic – peeled and crushed – I use the slightly milder "Elephant garlic"
3 – 4 Scalia anchovie filets
1 – 28 oz San Marzano tomatoes
Cracked black pepper
1 can pitted black olives (in oil) cut in half
2 TBS Pantellerian capers
Lombardo peperoncino Calarese (crushed red pepper)
1 lb spaghetti or linguine
Directions
Bring pot of water to a boil – add a pinch of salt
Sauté the anchovie filets and garlic in 2 TBS of olive oil over medium-low
Cook til the garlic is a golden color
Drain and crush the tomatoes (I use my hands, but you can use a fork)
Add the tomatoes to the garlic & anchovies stirring
Add salt & pepper to taste
Increase the temperature to medium high and cook the tomatoes down to a sauce like consistency (15 min)
Stir in the black olives, crushed red pepper, and capers – continue stirring occasionally
Simmer the sauce cooking the flavors together
Put pasta in the boiling water and cook according to the box (al dente)
Drain pasta and toss into the sauce
Serve with a great class of Chianti and a loaf of Italian bread
You can TRY THE WORLD just like I did.
Inside each box is a booklet filled with history, recipes (I'm going to try their Panna Cotta next), and the opportunity to delve into the culture that you've tasted by enjoying their online magazine. Order your first box and you can enjoy the flavors of MY FAVORITE city – "PARIS" (including products that you've seen me write about on Champagne Living like Le Palais des Thés).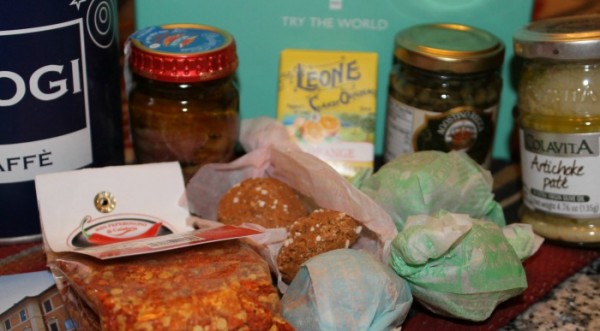 Subscriptions options include
>ONE time box
>>Bimonthly – your palate will travel to a new culinary destination every other month
>>>Yearly – save and subscribe by the year
SPECIAL SPECIAL SPECIAL
Coupon codes: 
Champagne Living – start with Rome 
CHAMPAGNEROME30
Champagne Living – start with Paris
CHAMPAGNEPARIS30
Champagne Living – start with Tokyo  
CHAMPAGNETOKYO30
For pricing and more information visit:
Website: Try the World
Facebook: TrytheWorldBox
Twitter: @trytheworld
Pinterest: @TrytheWorld