Disclosure: My friends at Megan Media and Tropicana sponsored this #MixedWithTrop post, but I made the drink and enjoyed every drop of it.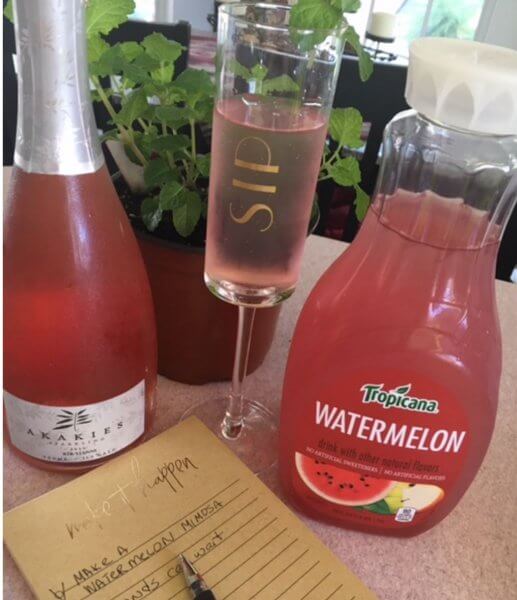 Life here at our house has revolved around ONE THING. It's not the guests who want to escape the cold weather (although they should be showing up soon enough) or being outdoors more as the HOT SUMMER humidity has been replaced with tropical breezes and perfect shorts & t-shirt weather. NO…it's
Wedding Planning
As Ben and Allyson are planning the where, what and how to's (you know Ben from his posts right here on The Gin Joint and Allyson is our spa writer), all available days are spent together with both families.
So, when the two moms and the bride-to-be get together, drinks are in order, and if they're pink, they get even MORE points from these three Florida gals who live for flamingos, bougainvillea, and of course watermelon (now THERE'S a wedding theme).
In honor of sitting down to map out the plan
I decided that since it was morning and there would be bagels and cream cheese involved that we needed a cocktail that brought us together. Knowing that Allyson LOVES her Watermelon drinks…THIS happened.
Watermelon Mimosas – AKA: Pink Morning
1 part Tropicana Watermelon
1 part sparkling rosé (I used Kir Yianni Akakies – it pairs very well with the watermelon)
Mint for garnish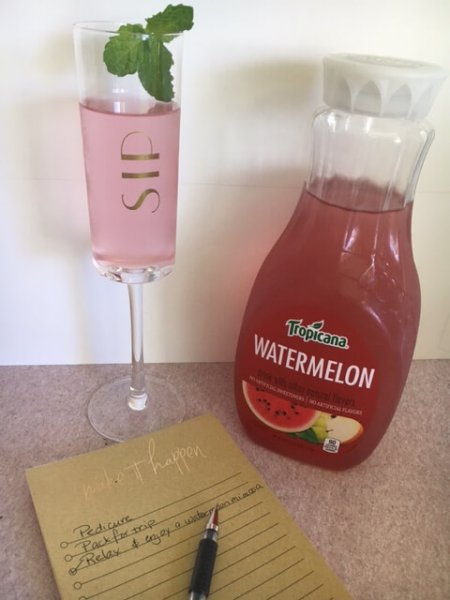 It doesn't get any easier than a mimosa. Two ingredients of equal amounts, so whether you're making a flute (as I did) or a pitcher, there's no guessing. Plus the Tropicana Watermelon Drink is a blend of juices that really balance the flavor. If you've ever tried to make watermelon mimosa's with real watermelon, you'll know that unless it's peak season and you're lucky enough to cut into one that's sweet enough, that you have to add all sorts of sweeteners to make it drinkable. Tropicana takes all of that out of the equation, making each glass you make perfectly sweet…WITHOUT any artificial sweeteners or flavors, making it perfect for the home bartender.
If you've got kids around, you can easily make this into a mocktail since Tropicana Premium Drinks are great on their own. Just pour into a champagne glass with a garnish off mint (or if they want bubbles too, a little sparkling water added will make it look like your mimosa).
Tropicana Premium Drinks add a signature touch to your parties and get togethers. I'd love to hear your ideas for cocktails made with Tropicana Watermelon or Tangerine Lemonade.