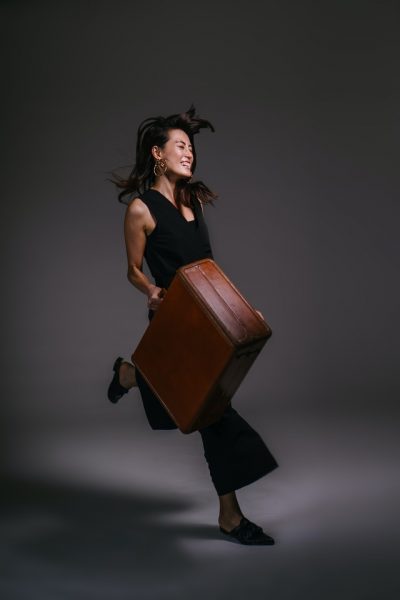 You don't need to be a jet-setting influencer to know how to travel in style or like a professional. Whether you're going on an extended vacation or just visiting family for the holidays, they are definite essentials you need for traveling to not only look your best but feel your best too. Because we all know there's nothing worse than stepping off a plane looking like you just had a wild night in Vegas. So, without further ado, here are the essentials every woman needs to make traveling a breeze.
Reusable Water Bottle 
Ditch the plastic single-serve and opt for a lux reusable water bottle. You can go plastic if you want (make sure it's BPA-free), but if you really want a bottle that will last you for years, stainless steel is your go-to. While many brands have come out with their versions of a stainless steel travel water bottle, buy one that most matches your personal style and fits easily in the bag you typically travel with. You'll look effortlessly chic stepping off the plane holding onto your rose gold water bottle, and your skin will glow from the hydration. 
Speaking Of Skin 
Speaking of your skin, if you're going on a long flight, your skin is going to get dehydrated from being up in the air for so long. So, make sure you have products you can put on to keep your skin hydrated and refreshed from take-off to touch down. Products like under-eye patches for your delicate under-eye area and skin elixir to keep you dewy are excellent choices for your carry-on. Just make sure if you're wearing a mask on an overnight flight, you have wipes to remove the mask before landing, but you'll look stunning when you're exiting that ramp. It would be best if you also considered a nice hand cream to keep your hands clean and moisturized during travels, and they help keep cuticles at bay as well. 
Your Luggage Says A Lot 
While you don't have to go out and purchase a Louis Vuitton trunk set, it is worth investing in a matching luggage set if you plan on doing a lot of traveling. Most luggage tends to last a lifetime, so they are a solid investment too. Make sure you pick something reasonably timeless, and styles and preferences do change but invest in a nice set if you can. Additionally, having your matching luggage set makes things much easier picking up from baggage claim than trying to remember what all the mismatched pieces you checked in look like. 
Never Underestimate The Power Of A Scarf 
A giant, oversized scarf is a must-have for traveling in style. Not only does it double as a chic alternative to a jacket when getting on or off of a plane, but it's also a great alternative to the not-so-soft blankets that you get offered by well-intentioned flight attendants. So, investing in a gigantic and comfortable scarf is a must. Opt for natural fibers like cotton, cashmere, or silk; not only will they look and feel better, they'll last you longer than their synthetic counterparts. 
Speaking Of Sleep 
Speaking of sleeping on a plane, while your giant scarf makes a great blanket, other sleep essentials are must-haves too. We already covered the importance of creams or elixirs to keep your skin hydrated and looking its best. Still, eye masks and neck pillows are never a bad idea, especially if your carry-on or purse can handle the additional items. 
Something For The Senses
While we can't bust out our aromatherapy oils on a plane, we can bring these for one essential sense – our hearing. So, make sure you not only have a freshly charged pair of AirPods but curate some playlists that you know you'll enjoy in flight. Maybe download some podcasts that you want or even just a white noise app. Being able to drown out the other sounds on the plane is essential to have the most leisurely, most comfortable flight. On top of those reasons, some people, no matter how much they fly, are anxious on planes. Having relaxing music to listen to dramatically helps in this department. 
So there you have it, it may seem like a simple list, but sometimes when we're excited about a trip or procrastinated and are rushing to pack, we forget travel essentials that we later regret knowing they would've made things much more manageable. Not to mention, you want to look fabulous when you get to your destination. Happy Trails!