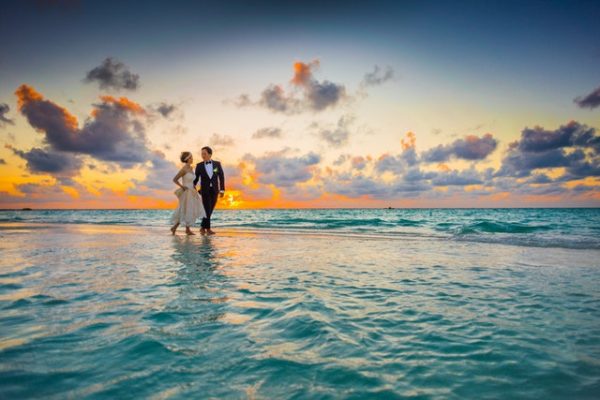 Planning a wedding is a momentous task. You have so many different aspects of the big day to bear in mind that it can seem nigh on impossible to choose where you should start. Many people will procrastinate, putting big investments off in favor of choosing out more novel and less integral parts of the day, such as wedding favors, table toppers, and the type of paper you want to be incorporated into your invites. But when it comes down to it, you really do need to get the ball rolling with some major decision making sooner rather than later. It is generally recommended that the first part of a wedding that you should book is the venue. This, of course, can be extremely difficult. After all, you're going to have to make sure that the venue looks how you want it to look, that it provides features that tick your boxes, and that it's big enough to accommodate your guests (or isn't excessively big, making the event look empty). That's all before you even get to availability – some venues are fully booked for months or even years in advance. But let's really start at the beginning – deciding exactly where you want your wedding to be held. While many people are happy to get married close to home, many of us are willing to stray further afield in order to find the perfect place to tie the knot. So, if you're feeling a little more adventurous, here's a quick look through some top destinations for truly luxurious weddings!
The Bahamas
The Bahamas are renowned for being one of the world's most stunning locations, with over 700 islands and over 2000 rocks and cays spread over 100,000 square miles of ocean. Pure white sand beaches line aqua blue waters. It truly is the picture of paradise. So, it's not all too surprising that this paradise features pretty highly on many people's' lists of luxury wedding destinations. There are plenty of churches where you can get married on the islands, but if you're feeling more adventurous, you can also get involved in alternative weddings, such as underwater weddings!
The Philippines
If you're looking for another option when it comes to paradisiacal beach weddings, you might want to take a look at options within the Philippines. Pangalusian Island, in particular, is extremely popular. Not only is it an eco-friendly haven (increasing numbers of us are starting to take note of how weddings and disposable items associated with wedding celebrations are impacting the planet in a detrimental way), but it has pristine white beaches with lush green forests as a backdrop. The contrast is stunning!
Bali
If you're looking for a taste of luxury that comes hand in hand with a more mysterious air, Bali might cater better to your needs. Beyond the contrast of white sand and black sand beaches, this destination has natural riches. From waterfalls to emerald paddies and verdant highlands, you'll find yourself in a truly astounding location when it comes to saying "I do". If you get your timing right, you could even say your vows during a memorable sunrise or sunset.
Iceland
As you can see, many people will automatically opt for hot and sunny destinations. They want to be on a beach with the soothing sounds of the sea lapping in their ears. This also makes for a convenient honeymoon – you'll already be on location as soon as your wedding is over. But remember that these aren't the only options on your plate. You could host your wedding in a chillier destination with truly stunning effect. If you are picturing an otherworldly scene for your wedding, you could always consider getting married in Iceland. Iceland is a stunning place for various reasons. Not only does it have some of the world's most breathtaking landscapes, but you can rest assured that your wedding is taking place in a country that is entirely run on green energy and in the world's highest ranked country in terms of gender equality. It truly is bordering on being a perfect place! The time of year that you visit will largely determine the scene you set. Winter can be a snowscape, while summer sees Iceland become lush and green. You can tie tourist attractions such as a visit to the Blue Lagoon into the lead up to your wedding day, but if you're planning on your wedding being a little more private and free of tourists, you may want to head to some lesser known, but equally stunning, locations.
Paris
We can't have a list of luxury wedding venues without mentioning the city of love. Paris may well be a city, so it doesn't have the same scope when it comes to stunning landscapes as previously mentioned destinations, but it sure does have a lot of romantic cultures. Getting wed with the Eiffel Tower glittering in the background can create a truly cinematic scene and the stunning architecture of the city will complement every moment. Just prepare for a fair amount of paperwork to see this wedding through! The French are renowned for extensive amounts of paperwork when carrying out any form of work!
India
India doesn't tend to be the first place to spring to mind when considering luxury wedding venues, but the country has some truly stunning hotels and venues that are in extremely high demand. Stunning venues tend to have astounding color schemes and great attention to detail. You can also count on some top class cuisine to tide guests through the day!
These, of course, are just a few different destinations that you might want to consider if you're planning on hosting a truly beautiful wedding ceremony in the lap of luxury. There are plenty more out there, but hopefully, these will get the ball rolling in the right direction and should get you off to a good start! Conduct a little more research into any destination you consider in order to really know what to expect when you arrive!