Note: I am a Lenvovo Insider and as a result was sent a computer to work with for my participation. It is NOT the Yoga – that one I already had and love, so I'm sharing my honest opinion.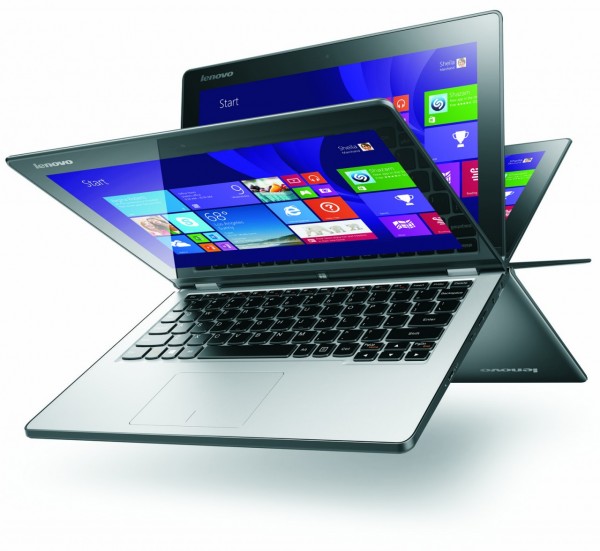 Once upon a time we all had laptops…along came tablets and once again we all rushed out to buy one. I don't know about you, but I find that more stuff = more clutter + more that I have that I didn't really need. Which is why instead of a laptop and a tablet, I've switched to the Lenovo Yoga.
Lenovo Yoga series has been a revolution from the very first day when it got introduced to the world. This innovative series of flexible computers with fully rotatable screens allow users to enjoy their Yoga machines in four modes- tablet, laptop, tent and stand. Thanks to these four design modes, the users can enjoy their laptops in more ways than ever.
As an E-Book Reader
Lenovo Yoga combines seamless engineering with productive and versatile design in order to allow users to make the most of their computers. Rotating the screen by a complete 360 degrees allows you to use your Yoga laptop like a portable tablet and read your favorite books on it anytime and anywhere. Its comfortable screen size ensures that you need not strain your eyes too much while reading and its light weight makes sure that it doesn't feel too heavy in your hands. Reading your favorite books on your laptop was never this convenient!
As a CookBook on the Kitchen Counter
Place your Lenovo Yoga laptop in the tent mode by rotating its screen somewhere between 270-360 degrees and use it like a cookbook on your kitchen counter. Play the recipes on YouTube or open up your favorite food blogs comfortably by navigating through the touchscreen; this flexible computer by Lenovo promises to become your favorite cooking companion instantly.
As a Movie Player in the Bedroom
Your television screen is in the living room but you want to watch your favorite movie in your snug and cozy blanket in the bedroom? Simply place your Lenovo Yoga computer in the stand mode by rotating its screen by 270 degrees and enjoy the movie snugly! The stand mode makes Yoga laptops ideal for comfortable and enjoyable media playing.
As a Photo Slideshow
Sharing photos from a recent vacation with your friends and family has become even more fun with these flexible computers by Lenovo. You can place your Yoga laptop in the tent mode or the stand mode and play the slideshow of your pictures for everyone to view and admire.
For Easier Web Surfing and Video Chatting
The 2-in-1 functionality of Yoga laptops as both traditional notebooks and portable tablets make them perfect for both work and play. Rotating the screen by a complete 360 degrees transforms your work-serious notebook into a playful tablet which you can use for comfortable web surfing and video chatting with your loved ones. The ultra responsive touchscreen makes Lenovo Yoga the best tablet series out there.
For more details about this and other Lenovo products