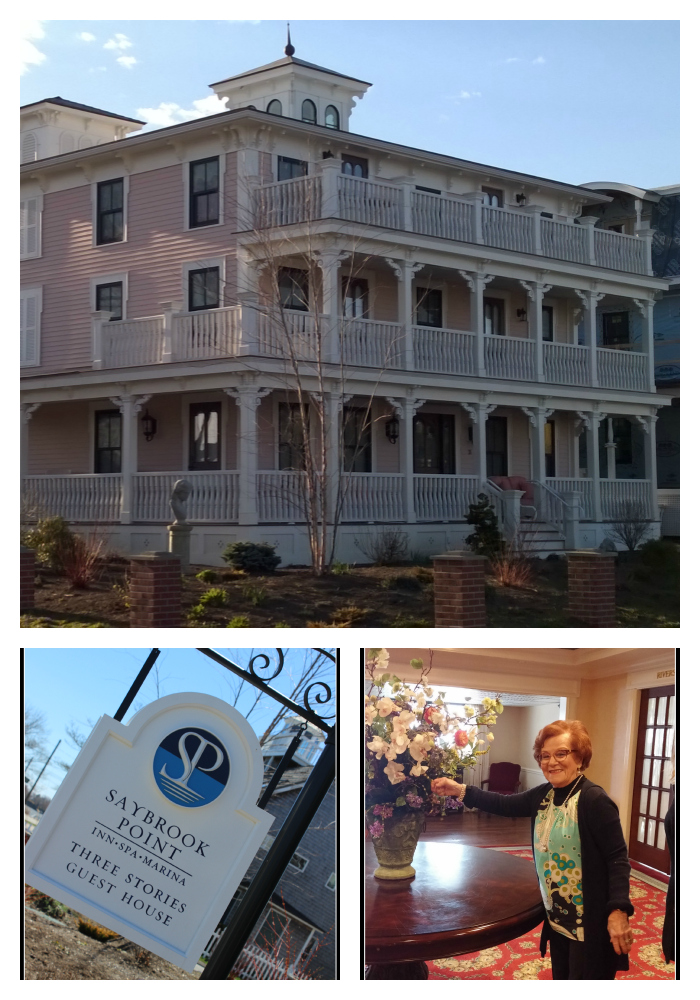 Luxurious Guest Rooms
Each room in the Main Inn is more beautiful than the next. Whether you choose a standard room or luxury suite you will be surprised and impressed with the elegant touches throughout. Rooms are decorated with attention to detail using rich warm colors, quality linens and perfect blend of old and new accents. Every room has either a wood or gas fireplace which is always a win in my book. You instantly relax and are transported when you arrive.
The walls of the Inn are lined with pictures of the town and Inn in its earlier days and you honestly feel as though you have stepped back in time when you wander the halls soaking in the history of this majestic place. If you are lucky, you may even run into Mrs.Tagliatela the matriarch of the family. Her son Stephen owns and runs the Inn but she still spends her weekend there. We ran into her arranging flowers in one of the banquet areas. I was thrilled to have the pleasure of meeting this lovely lady and hear a bit about how she still to this day enjoys tending to the little details that make this Inn an extraordinary find.
While the Main Inn offers you the convenience of having all your amenities under one roof, I must say the Three Stories Guest House is an ideal spot for an intimate couples escape. Now that my kids are grown, I like to get away once in a while and enjoy some adult only time. The Main Inn is perfect for kids, families and even pets are allowed but Three Stories is grown-ups only and is right across the street from the Main Inn. A completely restored guesthouse that was originally built in 1892 and maintains all of the charm of that era. Rooms are quiet and lavishly decorated each named after local area resident like Katherine Hepburn. There are several common areas to enjoy and it was so odd that even with a fully booked house you never feel as though you were crowded or sharing the house.
The most amazing feature of the house was the basement which had a full living room, bar area, billiards table with a flat screen TV and surround sound and was available any time you wanted to get away. Yale memorabilia covered the walls and shelves making you feel like you just entered the ultimate man cave. It was the perfect hang out after dinner each night to share a bottle of wine and play some pool and right outside the billiards rooms was a patio area where the guys could enjoy a cigar after dinner.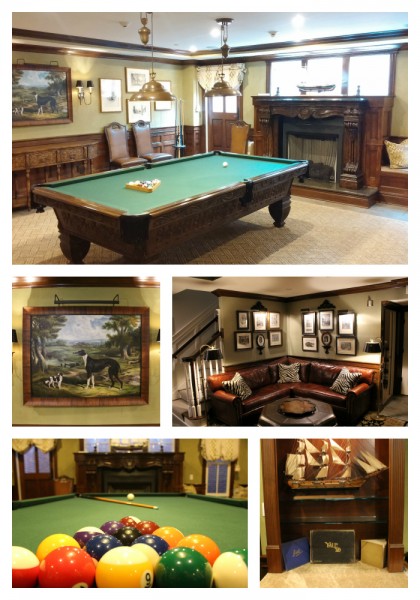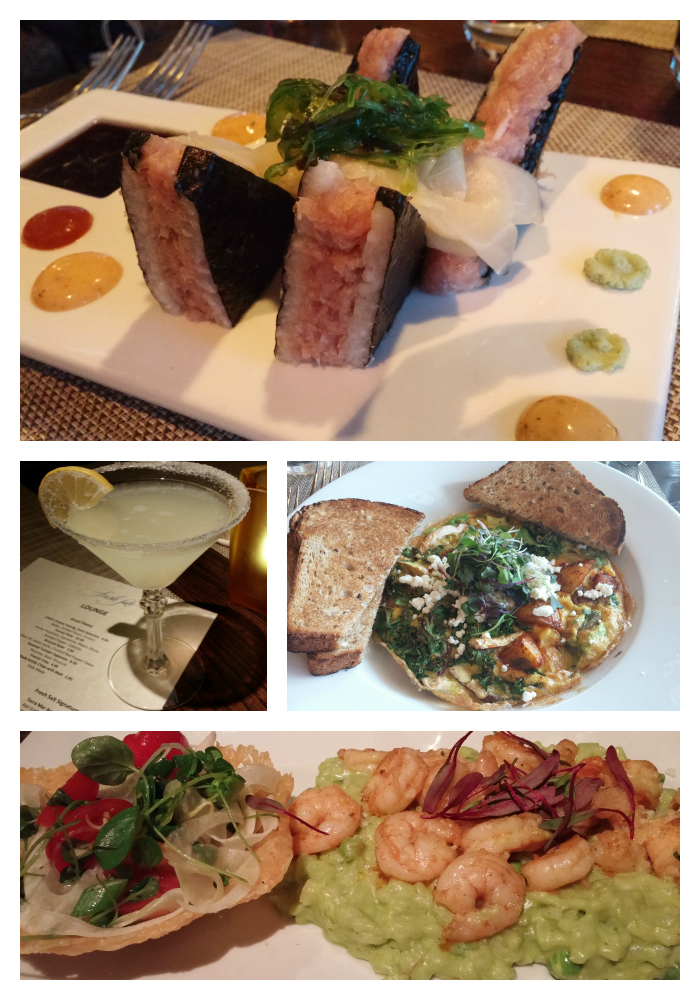 Creative Menu
I love to eat so I can happily tell you I dined from every menu Fresh Salt had to offer. Yes that means breakfast, lunch, dinner, lounge menu and let us not forget the almighty brunch menu. You will not be bored with your choices and can easily eat all weekend without leaving the Inn or ever having the same thing twice. Whether you like to try fresh new things or prefer standard staples you will not be sorry here.
A lot of time with Inns or large establishments you think of banquet style food and that could not be further from the truth here. I was really surprised to see how much local produce is used and of course they have a great partnership with the local fisherman so each menu has notes about where some of your ingredients are coming from. It made me feel like I was doing my little part to support the community by sampling as much as I could. My favorites were the Sanno Spa Frittata (Kale, shiitake mushrooms, avocado and goat cheese) the Sweet Pea Risotto and the Sushi Tuna Triangles. My only regret was that I did not plan my brunch visit to be longer so I could have better paced my choices. I mean honestly jumbo shrimp cocktail and sushi at brunch?? Who could have prepared for that? A day trip just for brunch would be well worth the trip from anywhere.
Outstanding Water Views
Views of the Long Island Sound and the Connecticut River are breathtaking from every angle. Each day when dining at Fresh Salt you can look out over the Marina and watch the activity and the sunsets were beautiful as you sit and sip cocktails in the evening. Many of the rooms at the Inn have balconies and Three Stories has an awesome rooftop fire pit area where you can enjoy the views of the Cove and take in the fresh air. Pool area also allows you to relax and enjoy the views. You can also work off dinner by strolling along the waterfront walkway.
Sanno Spa
Having a full service Spa on site just puts this get away spot over the top. Sanno Spa has several wonderfully relaxing waiting areas that allow you to get into the mood before your services. I went with a Customized Swedish Massage chose the scents of earth to provide me with a sense of strengthening and grounding. Sandalwood, Siberian fir and frankincense were the scents that sweep me away. It was great to see so many men also taking advantage of the pampering and they offer most massages as a Couple Experience. You can spend the day and take advantage of the steam room, indoor and outdoor and outdoor heated pools.
Feels like Family
Now here is the thing I didn't expect when visiting an award winning Inn and Spa; you feel like you are with family when you are there. I know it's crazy, how is it possible in such a big place? You are welcomed by people who genuinely seem happy that you have arrived. At dinner, Annamaria the Restaurant Manger really wants to see if you are enjoying your meal and Darcy our server helped with some custom cocktails and offered to customize some of our meal choices. If you stay at Three Stories, you are greeted by Mrs. Pratt who is a cross between your favorite great aunt and Mary Poppins. I have never met a nicer woman. She welcomes each and every guest as though she is having you to her home for Sunday dinner. You can feel the genuine hospitality in every conversation you have with her and you know she means it when she says she doesn't want you to just stay in the house she wants you to fully enjoy it.
Well I did enjoy, from the moment I stepped in the door to the moment I waddled out after brunch. I loved every minute and you will too.
About the author

40+ mom of two grown sons, enjoying living life with my soulmate while working FT in a demanding position. Her passions are family, crafting, and cooking insane amounts of food and entertaining. She coordinates a yearly craft exchange and runs a seasonal holiday Boutique called Boutique In The Barn in CT which has now grown into an annual Winter Wonderland. Tracy believes in raising well rounded young men who know how to handle themselves around the home and out in the world and will not need their wife to wash their clothes or cook dinner!