As a high schooler and an adult I spent many a week/weekend on "the Vineyard," first with girlfriends in an attempt to get away from life as we knew it, and later with my family. My sister-in-law has a summer home there and we'd visit at least once a season, if not more. Since my family had our second home in Narragansett, RI, taking the ferry over to the island was not only a treat, but life there is so very different than the way we normally lived.
I returned for a quick day on Martha's Vineyard a few weeks ago as a guest of the island, and made sure to hit some of my favorite spots. Here are my TOP TEN picks for visiting Martha's Vineyard.
1. Chill out on the Seastreak Ferry  – New Bedford to Martha's Vineyard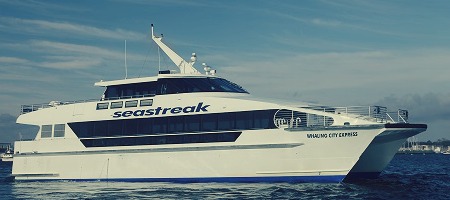 Leave the car behind and take the Seastreak Fast Ferry from New Bedford to Martha's Vineyard.You can always rent bicycles or mopeds when you get to the island. Once the ferry is underway and you feel the wind in your hair, and the occasional splash from the wake on your face you'll forget about work. The ferry ride sets the mood, and takes you away from your work & troubles quickly. Use that time to sight see from the upper deck. You'll pass through Somerset and parts of Cape Cod on your trip.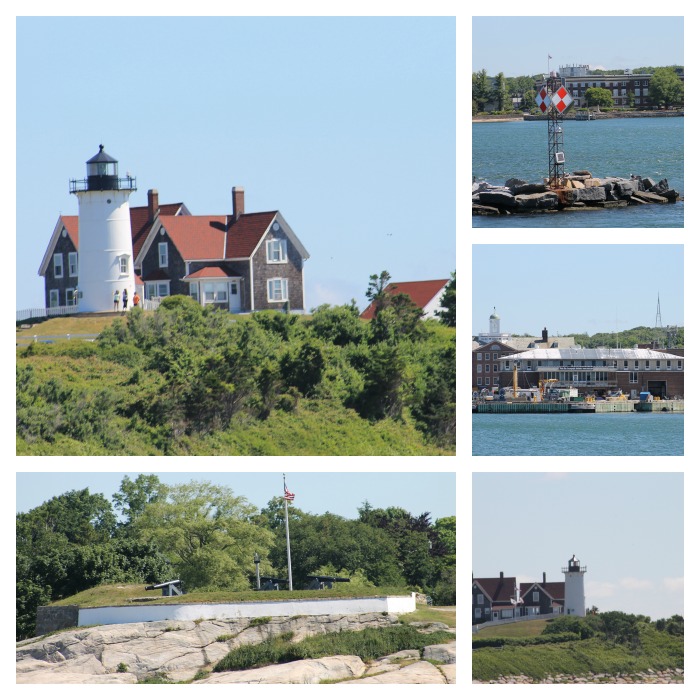 Kids Ride FREE
There's a snack bar on board
It's a quick one hour SCENIC trip
Best of all – no Cape Cod traffic to deal with!
2. Gingerbread Cottages – Oak Bluffs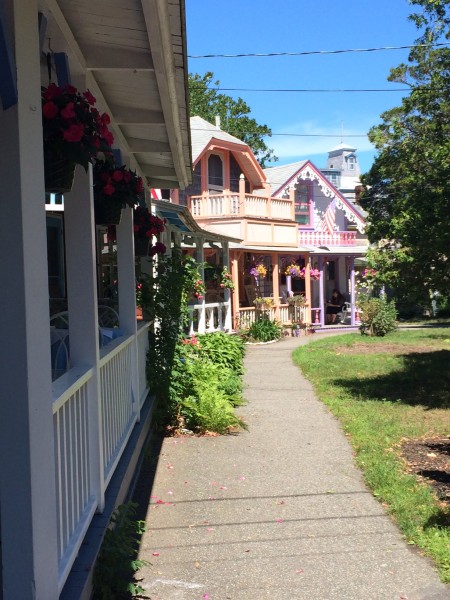 A quick walk from the ferry and you're in the heart of the MV Camp Meeting Association Area that's dotted with the historic Gingerbread Houses that were built in the 1830's, and kept to their original beauty. Over 300 of them, in brightly colored hues surround the Methodist Tabernacle, and were originally built by members who came to the Vineyard to celebrate their religion in a beautiful outdoor church.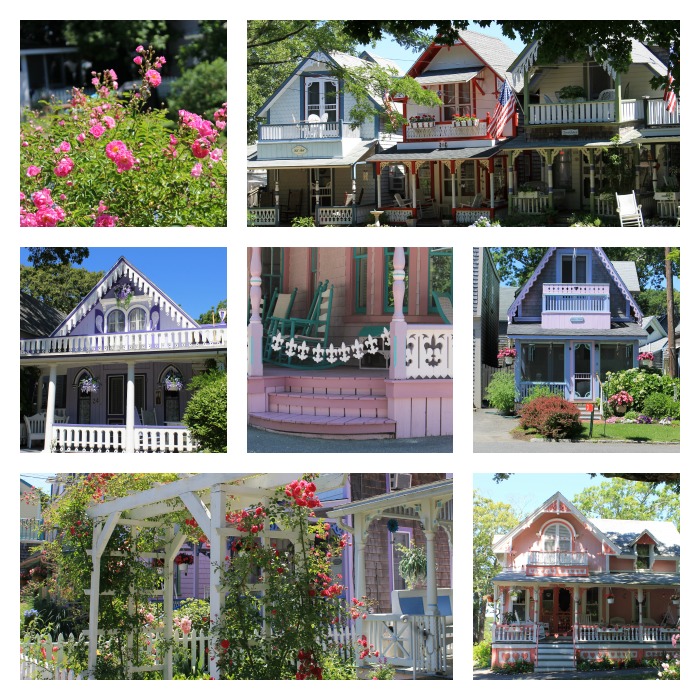 The Tabernacle still hosts church revival meetings, concerts and more all summer long. If you get lucky, you might find one for rent for your vacation!!
3. The Flying Horses Carousel – Oak Bluffs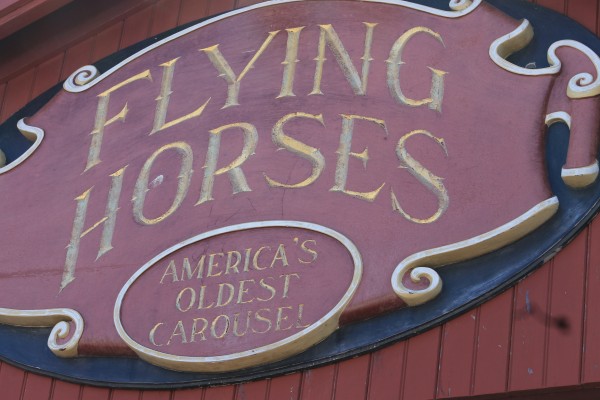 Kids AND adults squeal when they see the horses fly by on the countries OLDEST carousel. Make sure to grab an outside horse, so that you can try to grab the brass ring and win a free ride! It's still a bargain at $2.50 a ride.
4. Stop in for a lobster roll – Larsen's Fish Market – Chillmark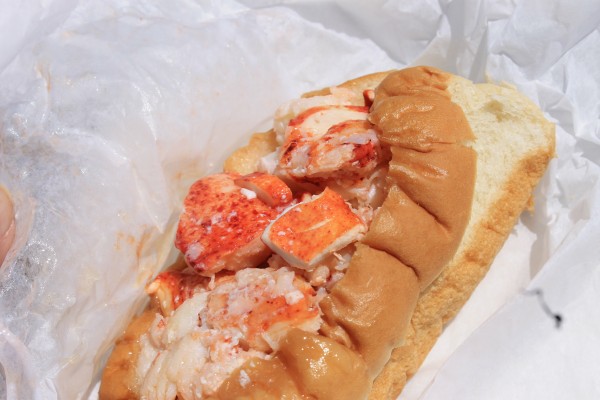 You're in LOBSTER TERRITORY, so find a little lobster shack that overlooks the water, grab a lobster roll or some littlenecks and a soda and sit on the dock as you bite in to the seriously sweet meat. No condiments needed, just the sweet taste of fresh caught lobster on a hot buttered hot dog bun ($13). Check out The Bite across the way, a favorite of Rachel Ray when she's in the mood for fried clams.
5. Browse a General Store – Alley's in West Tisbury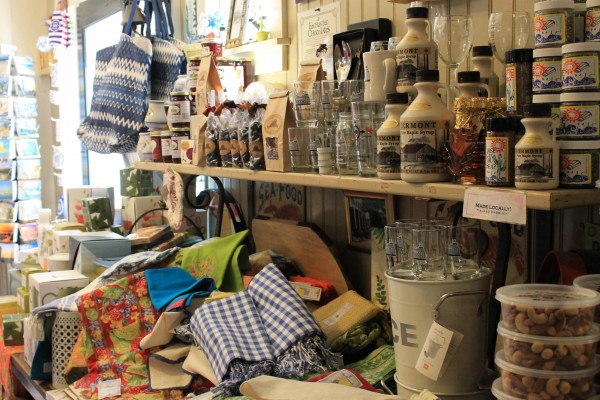 It seems that most general stores have become kitschy places to buy the same old cards and tchotchkes for the house….but not Alley's. While you'll certainly find great gift items in this over-stuffed store, you can also pick up groceries, beach toys, household items and yes even your MAIL. THE in-town meeting place since 1858, you'll find islanders and tourists alike.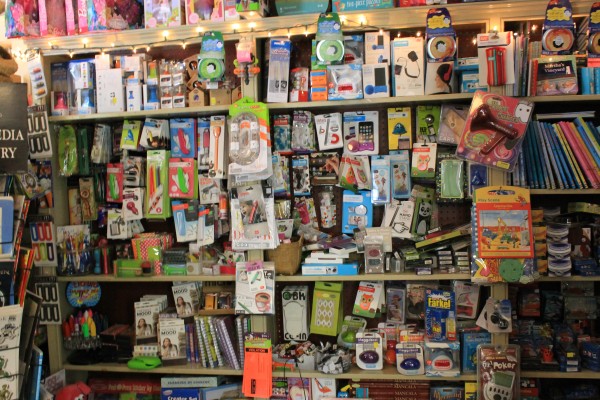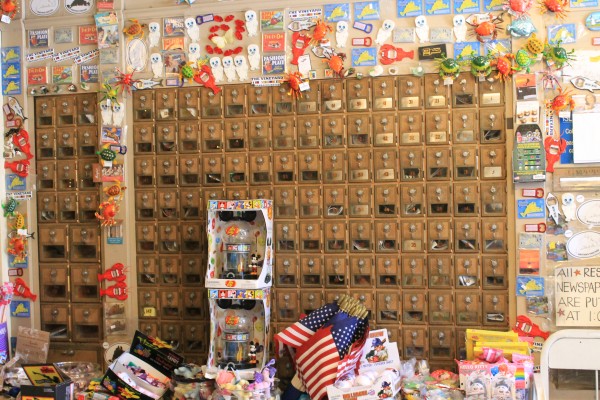 6. Climb a lighthouse – Gay Head/Aquinnah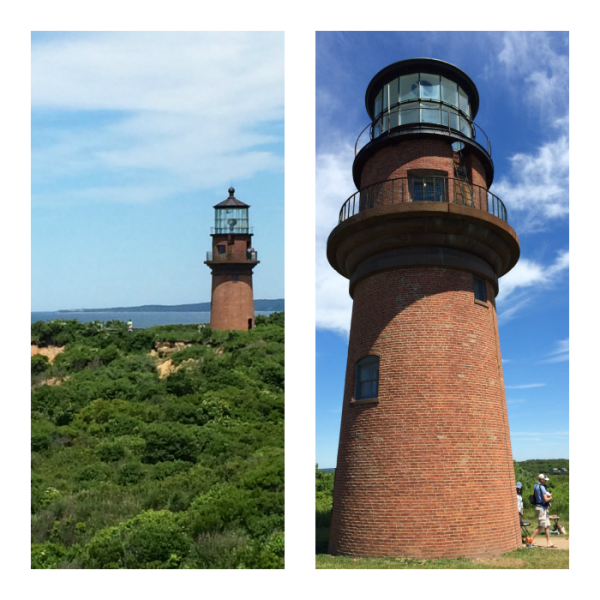 Get there quickly, because within the next couple of year's this lighthouse that has been warning sailors since 1844 is being moved due to the cliff-erosion below. A beautiful spot to look out onto the island and ocean, the Fresnel lens with its 1,009 prisms is stil lit nightly. Grab a blanket and fill your basket with wine and cheese and relax as you look out onto the island and beyond.
7. The Cliffs – Aquinnah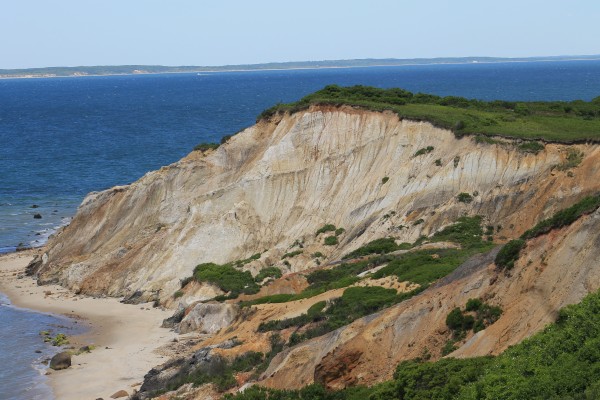 For me this is probably the #1 reason to head out of town. Nature's magnificence surrounds you. Unfortunately mother nature has taken it's toll….the cliff's that I remember were just as majestic, yet the area surrounding has gone through terrible erosion. I remember Moshup's Beach below the cliffs as "THE" nude beach to go to in the 70's, with clay baths that drew the impurities out of your skin,  but alas there were no bathers on the day that we visited, and most of the people were visiting the gift shops and food stands run by the Wampanoag tribe.
This is my DO NOT MISS stop, even if it is a little out of the way.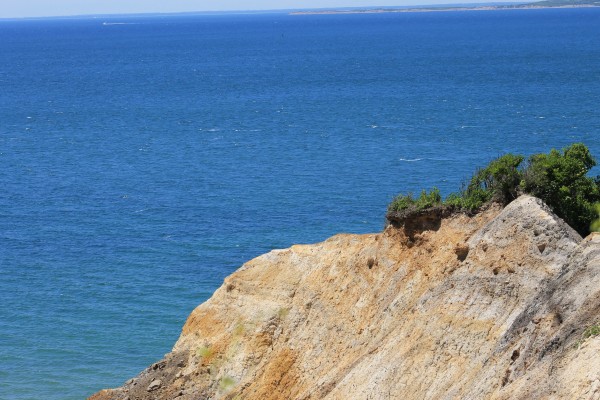 8. Art Galleries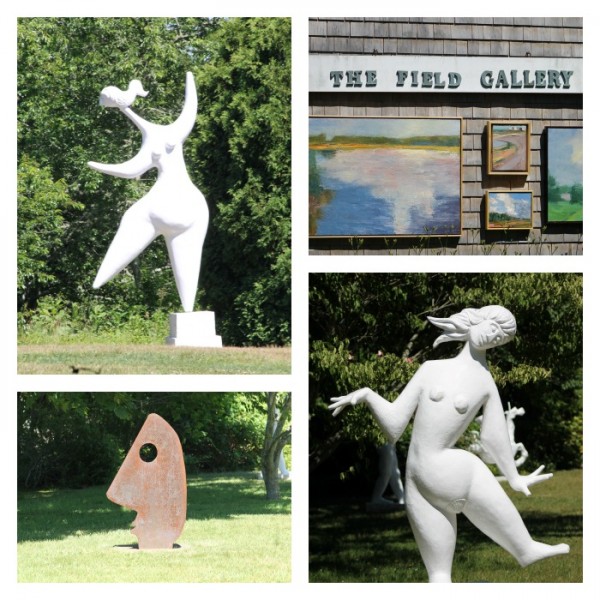 Artists flock to the Vineyard because of the natural beauty and inspiration that the island provides. Stop in any of the wonderful artist owned and cooperative galleries that you'll see as you drive or walk around. For a little whimsy, The Field Gallery in West Tisbury has an outdoor sculpture exhibit that celebrates women.
9. Do something touristy

Like have lunch and go shopping at The Black Dog Tavern in Vineyard Haven. I'm not beyond picking up a typical souvenir, and frankly, I've been buying their T-Shirts since the 70's (each year is dated on the back), and as they soften with age, they become another notch on the belt for those who visit the island regularly.
The restaurant is decent, but the bakery is better. So, grab a goodie and some coffee and shop til you drop at what has become The Black Dog COMPOUND.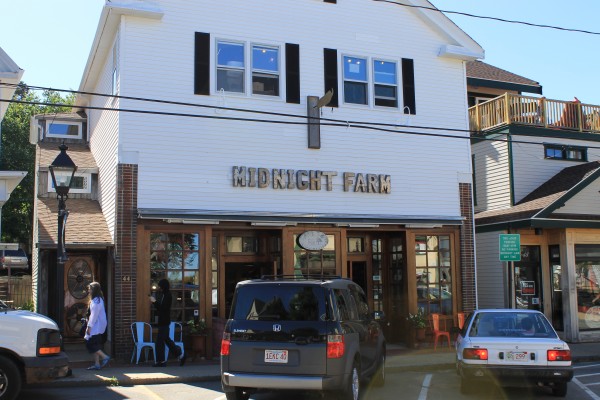 Visit Carly Simon's Midnight Farm for cute items to accessorize your home. She's one of the MANY celebrities who summer on the island. Who knows, you might even catch a glimpse of her keeping things in check or walking around shopping.
10. Get LOST
You're on your own. Whether it's the elegant Edgartown, the bustling Vineyard Haven, or the quiet West Tisbury, you can get lost, relax and forget about your cell phone, work or responsibilities. Stay a day, a weekend or even the entire summer. It's not as expensive as you'd think.
For the best deals on hotels, where to eat & what to do visit.
**Inside hint: They offer some great last minute hotel & B&B rooms at discounted prices!