Hong Kong has been on my bucket list for a while now. Last year I was invited to the Hong Kong Food and Wine festival as a guest of the festival, but couldn't make it on such short notice. I actually regret not taking them up on their offer now.
So, instead I have to sit here and do a bit of armchair dreaming about what I would LOVE to do if I were there. My hotel choice (of course) would be the FABULOUS Intercontinental on the edge of Victoria Harbor. With two celebrity chef restaurants and a presidential suite that will knock your socks off, who WOULDN'T want to stay there.
Enjoy this list that the Intercontinental has put together of their Top 10 Experiences.
1. Enjoy the view from your harborview suite as you experience Hong Kong from the hotel's extraordinary vantage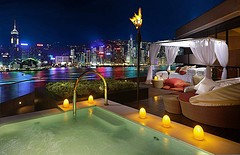 point.
InterContinental Hong Kong has always been prized for its unrivalled views of the Victoria Harbour and Hong Kong Island. (In fact, it was named "The Best View in the World" by the Virtuoso LuxeReport.)
For the ultimate indulgence, reserve one of the hotel's three specialty suites – each with a private terrace and Jacuzzi overlooking Victoria Harbour.
InterContinental Hong Kong's Presidential Suite, at 7,000 square feet, inclusive of a 2,500 square foot terrace with a rooftop infinity swimming pool with breathtaking panoramic views of Victoria Harbour and Hong Kong Island, is the largest suite in Hong Kong and one of the most spectacular in Asia. The CEO Suite and Terrace Suite also have fabulous outdoor terraces with Jacuzzis overlooking the harbor.
2. Enjoy Dramatic Dining at the hotel's two Celebrity Chef restaurants.
Indulge in world-class cuisine during your stay. As the only venue in Hong Kong to have two celebrity chef restaurants under one roof, InterContinental Hong Kong offers you a choice of SPOON by Alain Ducasse and NOBU InterContinental Hong Kong.
Succumb to the temptations of the 1-Michelin star contemporary French cuisine of SPOON by Alain Ducasse. Recipient of 1-Michelin star in the 2011 Michelin Guide to Hong Kong & Macau, SPOON showcases contemporary French cuisine inspired by world famous chef Alain Ducasse. Not to be missed: the melt in your mouth, Steamed Duck Foie Gras
Devotees of Nobu Matsuhisa's innovative new-style Japanese cuisine will love NOBU InterContinental Hong Kong, with its stylish David Rockwell designed interior. Dishes not to be missed: Nobu's signature Black Cod Saikyo Yaki. Save room for the "Sweet Bento" for dessert!
3. Sip Nine Dragon Cocktails in the Lobby Lounge, renowned for its magnificent panoramic view of Victoria Harbour and Hong Kong Island. Its signature "Nine Dragon Cocktails", best enjoyed at sunset while taking in the stunning golden hues of twilight on Victoria Harbour or during the nightly "Symphony of Lights" show on the harbor, commemorate the Legend of the Nine Dragons of Kowloon. According to the myth, the nine dragons descend from the mountains each day to bath and drink in Victoria Harbour, with InterContinental Hong Kong's wall of glass doors and windows providing an auspicious pathway which also brings the hotel good fortune and "Feng Shui".
4. Join an Early Morning Tai Chi Class.
Tai Chi has long been part of the Chinese philosophy of health and the spiritual well-being. Experience Chinese spirituality and learn the philosophy and principles of Tai Chi with a complimentary early morning class at the hotel's Pool Terrace overlooking Victoria Harbour. Tai Chi Master William Ng will show you the graceful and meaningful moves which will help calm your mind, rejuvenate your body and balance your yin and yang. It's an inspirational way to begin your day in Hong Kong.
5. Reserve a Custom Crafted Insider Experience.
From a visit to the local market with one of the InterContinental Hong Kong's acclaimed chefs or an evening harbor cruise on one of the city's last remaining junk boats, let Chief Concierge Louis Baleros and his team can arrange a variety of customized, authentic "Insider Experiences" for you.
6. Learn to make Dim Sum with Yan Toh Heen Executive Chef Lau Yiu Fai.
Dim Sum is one of Hong Kong's most popular traditional Cantonese dishes, enjoyed for both breakfast and lunch. Learn the basics of Dim Sum making with Chef Lau Yiu Fai, Executive Chef at the 1-Michelin star Yan Toh Heen, acclaimed as one of Asia's finest Cantonese restaurants. Try your hand at making local favorites such as Siu Mei (minced scallop & shrimp dumplings) and Har Gau (steamed shrimp dumplings), and receive a list of ingredients along with the traditional recipes, which you can then try at home with friends and family.
Description: Club InterContinental
7. Enjoy the exclusive facilities and services of Club InterContinental —– your private haven for conducting business or just relaxing. Located on the Second Floor of the hotel, Club InterContinental Hong Kong has sweeping views of the harbor. Access is inclusive of a lavish buffet breakfast, afternoon tea, evening cocktails, complimentary high-speed internet access and personalized concierge services.
8. Balance your Yin & Yang with an Oriental Healing Ritual at I-Spa.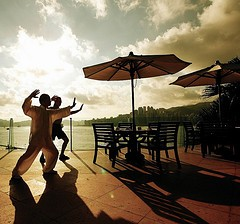 The feng shui inspired I-Spa is a retreat based on the principle of inner and outer harmony with body and facial treatments to relax, rejuvenate and rebalance your entire being. Be pampered in a luxurious private suite, clad in polished green granite from floor-to-ceiling, each featuring a sauna, steam-shower, Jacuzzi and massage facilities.
9. Take a dip in the hotel's iconic 3-temperature infinity spa pools overlooking Victoria Harbour. You'll feel like you're floating on the harbor! The Asian inspired Pool Terrace features one of Hong Kong's largest outdoor swimming pools and the unique 3-temperature infinity spa pools overlooking Victoria Harbour. There is also a teak-decked dining pavilion surrounded by lily ponds and a fountain.
10. Arrive and depart in style in the hotel's Bentley limousine.
You will feel pampered before and after you arrive at the hotel. (The hotel also has two chauffeured Phantom VI Rolls Royces and a fleet of Mercedes limousines).
To celebrate  InterContinental Hong Kong is holding a contest in association with the exclusive online travel club, Indagare and Gourmet Live, which marks its 1st anniversary this month.
One winner who successfully shares his/her favorite anniversary or birthday food & wine memory can win a luxurious trip to Hong Kong. It includes a 5-night stay at InterContinental Hong Kong in one of its signature suites, RT air tickets for 2 people on Cathay Pacific Airways, PLUS a chance to enjoy the hotel's "Top 10 Experiences".
For details of the contest and how to enter, visit  http://live.gourmet.com/anniversary-contest/.