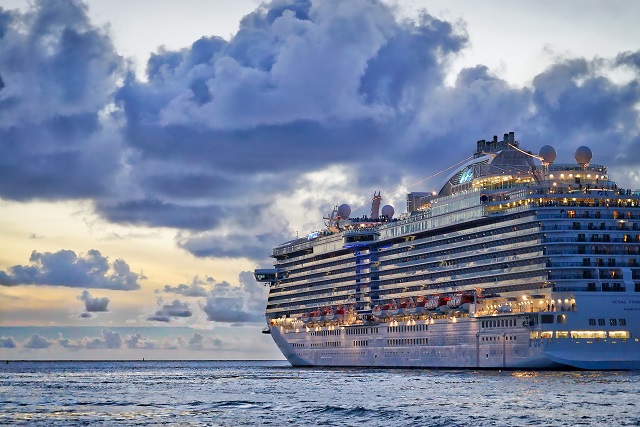 For most people, vacations are a time to kick back, relax, and indulge in things that aren't part of their day-to-day life— and that's okay. If you have a routine that you stick to and feel as though it is impossible to keep up with when you're away from home, don't worry. I have compiled a list of tips to help you maintain your wellness routine while still allowing yourself to have that vacation you deserve.
1.  Do your research
You know you want to take a cruise, now what? It's crucial to do your research on all things cruising before you book so that there are no surprises down the line. It's important to understand the modern cruise experience. The industry is offering more amenities than ever before, and you can do as much or as little as you desire. When doing your research make sure you look into itineraries that work best for you and your routine based on weather/location, type of cruise, length, size of the ship, room, and specific cruise lines.
2.  Prep your body for travel
It's extremely important to prepare your body to go overseas. You don't want to risk spoiling your cruise with an unexpected illness and while cruising has its exciting amenities, it can also come with potential health risks. It's a good idea to check and make sure your vaccinations are up to date to protect yourself from illnesses that are carried by other passengers or on land at ports. Implement vitamins and probiotics into your routine before you travel to strengthen your immune system and protect yourself from toxins your body may get exposed to.
Pro tip: Consider purchasing travelers' insurance to protect yourself in the event you do become ill while away at sea. This can save you from a large medical bill and help assure you receive the best medical care away from home.
3.  Pack the essentials
It's easy to overpack for any vacation, leaving yourself feeling more stressed than excited. Remember to pack the essentials such as toiletries, your swimsuit, and outfits to last you the duration of your trip. Additionally, you can pack items to help keep up with your wellness routines such as sunscreen and sunglasses, a reusable water bottle, and proper workout attire. If you're still feeling uneasy about what to pack for your vacation, this ultimate cruise packing list can give you ideas on what you may or may not need.
4.  Keep it moving
Too many times people get into the habit of a fitness routine to prepare for vacation and then as soon as the trip starts, the workouts stop. It's important to maintain your routine even while away from home to keep your body happy and healthy, and cruises are making efforts to help. Cruise lines such as Virgin Voyages, focus on providing their passengers with exciting new experiences and all their fitness classes are included in the price! From sweating on the outdoor track, during yoga sessions, enjoying curated hikes at the ports, or working out on an adult athletic playground that resembles Venice beach, there's plenty of ways to get your daily dose of 'vitamin sea.' Be sure to take full advantage of the amenities provided to you whether it be you get your sweat on in the gym, go for a jog, take part in sunrise/sunset yoga with a view of the ocean, or take an exercise class with one of your fellow passengers.
5.  Eat smart
When most think of dining on a cruise, they think of the traditional setup, three times a day or massive buffets that lead to overeating. Cruise lines are revamping the dining scene by offering options for everyone. Cold-pressed juice bars, that are perfect for post-workout, vegan restaurants, and elegant restaurants for when you're feeling fancy are only a few innovative additions to cruise dining. The most important thing to remember is to balance your plate. Just because you're on vacation doesn't mean you can't treat yourself a little, be mindful of where your happy medium is.
6.  Make time for sleep
There is nothing better than laying down after a long day, especially one in the sun. Sleep is one of the most important things your body needs, and your vacation is the perfect time to catch up on it. If you have a nighttime routine, stick to it! Your body will feel more at ease allowing you maximum relaxation.
7.  Stay hydrated
Water is so simple and easy to forget about, but it's really important to one's health. Additionally, it's easy to get lost in the hustle and bustle of vacation and not hydrate yourself as much as you usually would. It's important to have fun in the sun, even enjoy a couple of tropical drinks, but be careful, the harmful effects of mixing the sun and alcohol can be bad,  leading to dehydration and even sunburn! So be sure to have your sunscreen and travel water bottle on hand.
8.  Indulge
Allow yourself the flexibility to enjoy activities you normally wouldn't. Give yourself a spa day where you're treated to a massage or enjoy doing nothing but sunbathing by the pool to relax. Some cruise lines even offer exciting amenities such as outdoor deck movie theaters, Broadway shows, or onboard surfing. Allowing yourself to enjoy the extra activities without feeling guilty will help you stick to your routine in the long run.
9.  Try something new
A huge part of wellness is enjoying yourself. Sure, you could lay on the beach and watch the wave crash when your ship docks at a port, but you could also try something new that could change your life. Go for an adventure and explore the city you're in! Take a hike and admire the nature that surrounds you, learn about the culture and history of the city, or browse the local markets. You could stumble upon handmade crafts, local art, and food that you may end up loving.
10. Have fun
Allow yourself to live in the moment, you're on vacation! Make the most of your trip and have fun while you're away. You don't have to be too rigid with your routine as you typically would while you're at home. Life is all about balance and these tips can help you maintain your wellness routine while on a cruise.