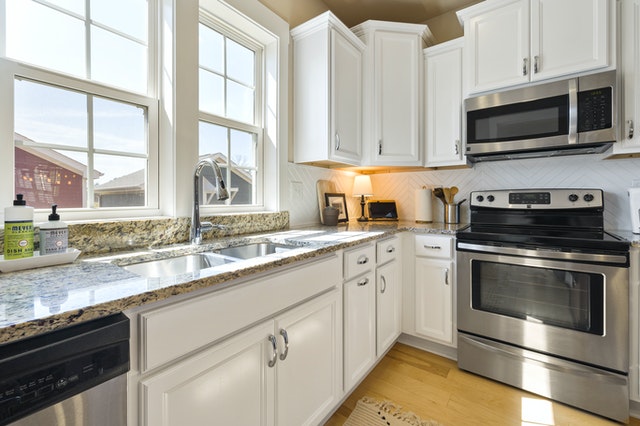 Sometimes you want to give your home a facelift or makeover but don't want to spend a lot of money. In this case, you may be looking for budget-friendly ways to enhance the look and feel of it so that it's a nicer place to live but doesn't cost you a whole lot.
Learn tips for updating and improving your home without major renovations so you can enjoy your home and still have money left over for other necessary items you need. It's wise to keep up with maintenance and updates so that you like living in your home and it's that much more ready to sell when you want to do so in the future.
Refresh Your Décor
One tip for updating and improving your home without major renovations is to refresh your décor. One idea is to invest in and place down Washable Rugs throughout your spaces to add a pop of color and texture and to make them feel cozier. Also, include fresh plants and flowers and hang colorful artwork and pictures on the walls. Only put out what you love so that you aren't creating too much clutter. Focus on the rooms you use the most and the entryway to start and then continue to make improvements to other areas as time passes.
Add New Lighting
Avoid major renovations but improve your home by adding new lighting. The right lighting can brighten up dark spaces and boost your mood. Replace old fixtures and light covers and put some lights on dimmer switches so you can set the right mood. Clean your windows and draw open your blinds and window treatments each day to let in as much natural light as possible. You should also plan on placing out a few lamps throughout your home to make it feel warm and cozy during the evening hours. If you have a fireplace, then consider adding spotlights above it so that you can illuminate and highlight the beautiful brick.
Clean & Keep it Organized
Keep your home clean and organized if you want to improve it and for it to look updated. A messy home will make you feel anxious and it'll be difficult to maneuver around. Commit to cleaning it regularly and take the time to declutter each room and closet so you can get better organized. Come up with storage solutions that keep your belongings in order and so you know where to find the items you need quickly. You'll be surprised at how much better your home looks when it's neat and tidy and you keep surfaces and your rooms free from dirt, grime, and clutter.
Landscape Your Yard
Another tip for updating and improving your home without major renovations is to landscape the yard. Curb appeal matters and keeping your home put together on the exterior will be well worth your efforts. It's a project you can do yourself or you can hire the experts to come in and revamp your yard and add more greenery and flowers. Be sure to pick up loose sticks, trim back your trees and bushes, and cut and fertilize your lawn so it stays green and free from weeds. You might also want to add mulch or stones to your beds for greater aesthetic appeal. Pay special attention to your walkway and front porch and be sure to include colorful plants and flowers and to keep the area well swept.
Spruce up the Bathrooms
The bathrooms in your home are used daily and are important areas to homeowners and homebuyers alike. Update and improve your home without major renovations by sprucing up your bathrooms a bit. Put in sconces and new mirrors, hang colorful towels, and retile your shower, for starters. All your bathrooms may need is a little attention and freshening up and they may look and feel like new. Bathrooms get dirty quite easily so keeping them clean and spotless is also in your best interest. A modern light fixture and faucet will also go a long way in helping your bathrooms to look more attractive.
Paint Cabinets
Fresh and new paint is a great way to enhance the appearance of your home. If you don't feel like painting all the walls and trim then consider focusing on the cabinets for starters. For instance, you can give new life to your bathroom vanities and kitchen cabinets by choosing the right new paint color. Depending upon your taste and style, you can either go with a bold hue or choose white to brighten up the rooms. Not only apply fresh paint to your cabinets but also update the hardware so that they look brand new when you're finished with them.
Replace Old Flooring
Your floors are one aspect of your home that can be updated without having to invest a lot of time and money. It's a fairly reasonable project that will add a lot of value to your home and make it look more modern and beautiful. Replace old flooring in certain rooms or run it throughout an entire area if your budget allows for it. At the very minimum focus on replacing old and stained carpet with new carpet or other options like luxury vinyl planks. New flooring will breathe new life into your home and most of the choices out there today are durable and easy to keep clean.
Install New Kitchen Appliances
Your kitchen is another room in your home you should pay special attention to and work on updating. You can improve it without major renovations by installing new kitchen appliances. They'll not only make your kitchen look better and fancier but if you choose energy-efficient appliances then you'll save money on energy costs as well. While stainless steel is always a good option, you might want to consider black which is also highly popular and can give your kitchen a bit more character. You'll like the way your kitchen looks when you enter the room and cooking and preparing food will be fun and enjoyable again.
Fix What's Broken
If you want your home to look better without having to do major renovations then at least take the time to fix what's broken. Keep up with seasonal and essential home maintenance projects and take inventory of which areas require your attention the most. There are plenty of DIY videos online you can watch if you want to make the repairs yourself and feel comfortable doing so. Otherwise, find a good handyman you trust to come in and complete these repairs for you. You'll not only be enhancing the look of your home but you'll be making it a safer place to live as well. You should certainly fix what's broken if not doing so is costing you money or you have pets and kids running around.
Conclusion
Make these updates and improvements to your home and in no time you'll have a better-looking and more modern property without having to spend a lot of money. While major renovations can be a game-changer when it comes to altering the appearance of your home, they aren't always necessary. You can instead make practical changes and updates that make your home more attractive inside and out and allow you to enjoy living in it more. Remember that you can save even more money-making modifications to your home if you choose to do some of the work and projects yourself. Either way, enjoy how much better your home looks once these upgrades are complete and the fact that you didn't have to invest in a complete remodel.