This post is a result of a partnership with TilePix, however, all opinions are strictly my own.
I never know what to get him
My husband is the ONLY person that I've ever met who HATES gifts. He hates buying them and he despises receiving them even more. I could easily just walk in and say Happy Father's Day and leave him alone and he'd be fine, but of course, the guilt gets me, and I'm never really sure if he really doesn't want a gift, or he's just saying that he doesn't. I've done it myself. When he's asked me what I want for Mother's Day, my birthday, Chanukah, etc., I always say "I don't need anything" when what I really mean is "Buy me something that'll knock my socks off."
I know that when I buy him anything
He tends to say "thanks" and goes back to what he was doing, making the whole process feel like I've put a lot of thought into something for nothing. Then, I thought, what gift could I get him, that he would HAVE to notice and that would actually make him smile?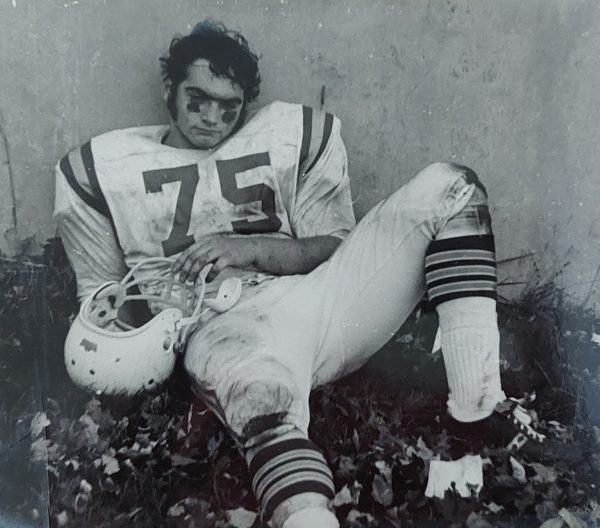 I found his high school football photos…
and had a HUGE "Aha" moment. What if I took this photo that captures a real moment in a time in his life? What if I turned this photo of my husband and made a TilePix split of it for him?
But, then I looked at the date and saw that it's only a few days until Father's Day. It only takes 3-5 days to get the TilePix sent to me via FedEx (shipping is always FREE), but if I don't have enough time to get it to him in time (if I wait a day or two) I realized that by uploading THIS photo onto TilePix that I could create a great piece of art from his past that would bring back those football memories that he loves reliving and if I procrastinate, I know that I can even get it the SAME DAY by choosing to pick it up at my neighborhood Walgreens.
It's such an easy process
Because I knew that I wanted a split (like the logo you see every week on The Compass Girls show), that I only needed to upload the one high-resolution photo. Of course, you can upload as many as you want and make a gallery wall too!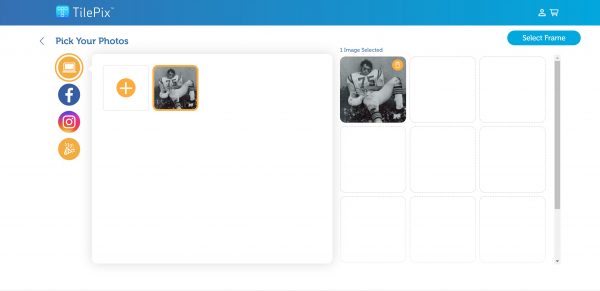 Next, I chose the frame that I wanted. 
Having done this all before, I knew that TilePix tiles are so lightweight (including the frame) that I never have to worry about the frame adding extra weight. Because it is a black & white photo, I wanted to keep the feeling dark, so I went with black with no mat. You can choose between black, white, or gray frames, as well as with or without a mat in white or gray.  You can even turn your colored photos into black & white masterpieces.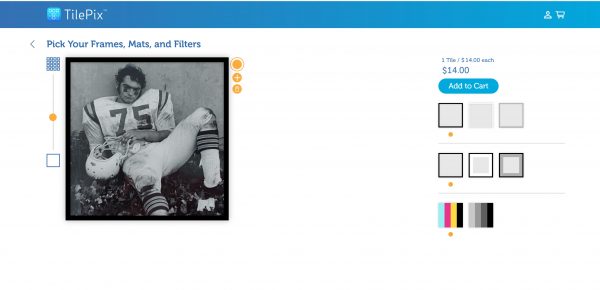 Now it was time for a little fun
I love moving the splits around to see which looks better. This is a 3 tile by 3 tile photo. I also played with making it 4 across by 3 down, but the space where I want to hang this is a bit on the narrow side, so I decided that a square would be best. The tiles are 7″x7″, so make sure to map out the wall where you're planning on placing your creation beforehand so that it looks PERFECT. You can place the tiles as close or as far apart as you like…remember, YOU are the artist!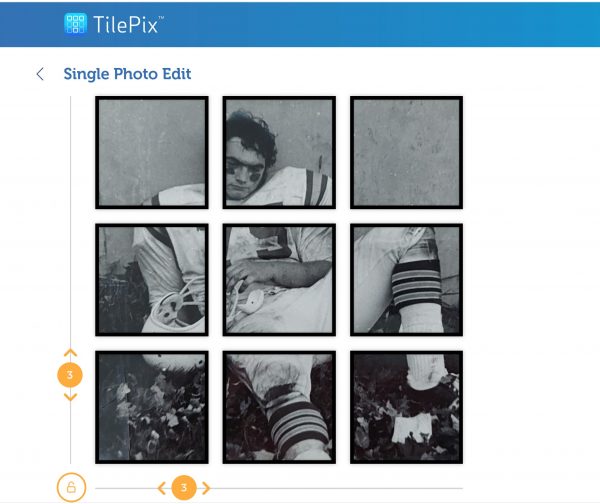 I also tried a four-tile photograph
As you can see, you can splice your photo into as many (or as few) tiles as you'd like. Being able to see them on the site (or the TilePix app) as you splice helps you to visualize exactly how it's going to look before you hit the purchase button.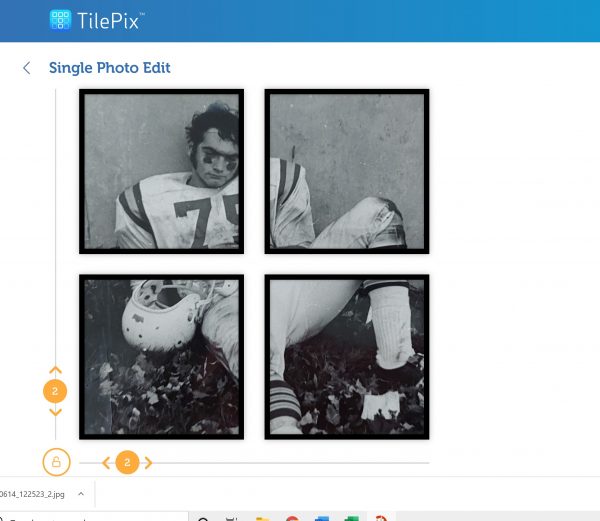 For orders of 6 tiles or less TilePix under 6 tiles opt for same-day pickup at any of the Walgreens 9,000 locations, so you can do 4 tiles x 4 tiles (like the one above), 2 tiles x 3 tiles (or vice versa), or 6 different photos, etc.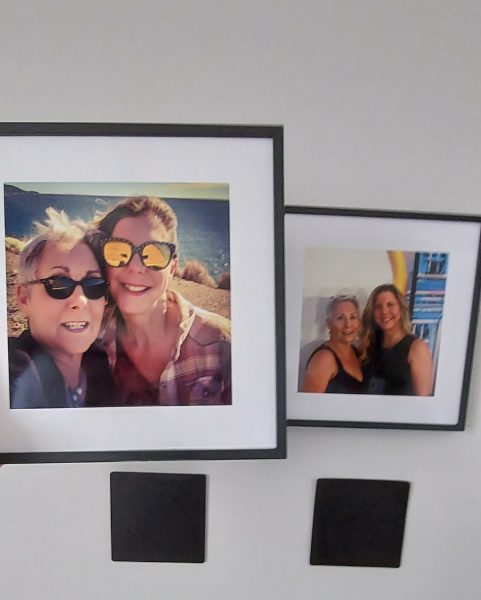 Best of all
I can actually hang this in minutes because TilePix uses a Stick&Slide™ magnetic hanging system making it quick, safe, and simple to create your wall gallery with ease. No hammers and no nails, just a removable magnetic wall-pad and a small measuring tool (that helps you space your photos with ease). I put my wall art up in just minutes, and I change it out fairly often. It's a fun way to create an ever-changing gallery of photos and art in any room in your house.
I'm thinking that I'll put this up while he's out playing golf on Father's Day. That way it will be a HUGE surprise when he walks into the room.
Do you see yourself creating LOTS of great TilePix?
Save by becoming a member and get 40% off EVERY ORDER – PLUS – get 9 TilePix tiles FREE! What a great way to save not only for Father's Day, but anniversaries, weddings, birthdays, graduations, and more.
Check out TilePix NOW and get your Father's Day order in!!!