Days in a year
Area code in Ontario, Canada
Days that I have my hand on SOME sort of technology
Legal code for executory contracts and unexpired leases
Days each year that I struggled with not having the proper software to work with
and now
You see, I've been living in the dark ages. For the past few years, I've not had Microsoft Office installed in my computer. The result has been a DISASTER. It meant that I had to open Word files in a reader, PPT files were a mass of cobbledeegoop, and FORGET about Excel. My business partners would scold me on a regular basis about having to put decks together in a free google product, that just NEVER gave me the sharp results that Power Point does.
But it's ALL different now.
Microsoft heard my frustration and sent me Office 365 to review. Now 365 means something different to me. It means having a constantly updated version of Microsoft's products 365 days per year. It means that I no longer have to apologize to clients and those that I work with. It means I can actually get my work done QUICKER and more efficiently.
The Cloud
What makes Office 365 so different than other Office programs is that it based in the cloud, meaning that I can access it from any of my own computers and tablets, and even MORE importantly I can access it from ANY computer (including that one at the business center in the hotel during my press trip) through the Office on demand service. I simply sign into my SkyDrive account and VOILÀ I have access to all of the work that I've saved to Sky Drive. That means that not only can I ACCESS presentations, but I can edit as well. PLUS, with Microsoft Office365 I get a WHOPPING 20 GB of storage. I stream it on my Windows 7 laptop and my new Windows 8 set-up on my desktop.

WORD 2013
I've worked in WORD before, but never any of the other Microsoft software. The great thing is that my subscription includes free training via video tutorials, tech support, and even a community where I can go for help from peers. I have to say that instead of being MORE complicated, that the software seems to have gotten even more user friendly.  I used to have to search in my photos or documents through all sorts of garbage when I wanted to find a document. Now it's ALL at my fingertips along with a tour of the software, and an amazing array of templates for everything from invitations to resumes. No matter what your style, you'll find something you love tucked into the catalog.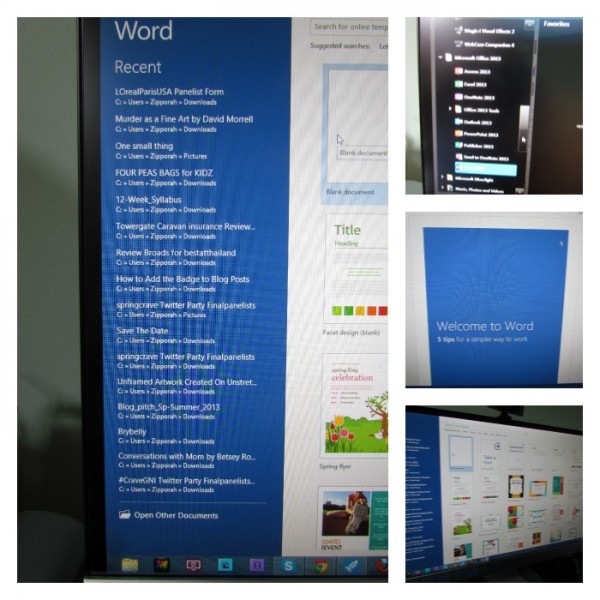 Also at my fingertips is
Excel 2013
PowerPoint 2013
OneNote 2013
Outlook 2013
Access 2013
Publisher 2013
and more
I'll be writing about these as I use them more.
Subscription based
That's right. Rather than buy a box with all of the programs included, you simply sign up for a SUBSCRIPTION. That way you're the FIRST to have the newest version of any of the included software. Nothing will ever be out of date again. Office 365 Home Premium
All the Office applications: Word, Excel, PowerPoint, OneNote, Outlook, Access, and Publisher.*
Ability to use Office on up to 5 PCs or Macs shared among all users in the home. Subscribers also have flexibility to change their 5 devices at any time, and full featured Office applications are available for temporary use on any PC.
Nearly 3 times the amount of SkyDrive storage with an additional 20GB over the 7GB you get for free.
60 minutes of SkypeTM world calling per month to keep in touch with family anywhere.**
Premium licenses that are always up-to-date with latest new features and services released regularly. With the new Office, new capabilities will be added multiple times per year
Pricing
At under $100 per year, I find that Office 365 cost averages to a very reasonable $8.33 per month, and I'm always connected to the latest software versions.
Try It
Right now you can download Office 365 for a free 30 day trial. I have the feeling that like me, once you try it you'll love it. Or just take the leap and get Microsoft's best – at your fingertips no matter WHERE you are.