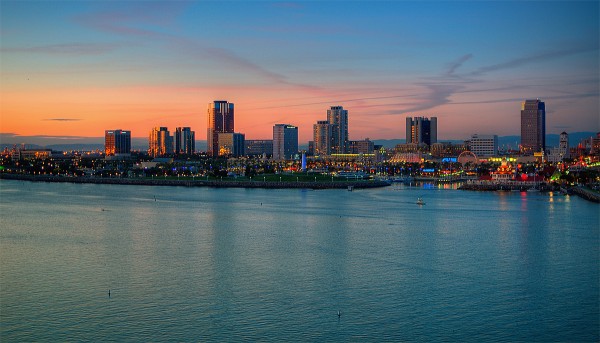 I'm less than one week away from my next trip. This time, I'll be joined by my dear friend Rachel of Tools2Tiaras. We'll be exploring Long Beach, California, for four days of food, fun and finds. While the itinerary is still being worked out, I do know that the area offers
Whale, Dolphin, and Sea Lion Watching cruises
The legendary Queen Mary
A rich history of the arts & culture
Amazing dining experiences
and more
It's been over a month since I've hit the road, and when I pack I do it based on factors like the weather, activities, and dining and theater experiences. Since I don't know exactly what we'll be up to, I'm pre-packing a few traveler's essentials that will take me through no matter WHAT is thrown at me.
1. A backpack
If we are trekking ANYPLACE, be it on a cruise or city shopping, keeping all of my things with me is essential. I hate taking up extra room in my luggage, since with only four days this will be a medium sized suitcase trip, so I'm tucking in a LiteGear City Tote (my purple one) to use as a handbag and borrowing Mr. S' LiteGear Mobile Pro for my extra bag on the plane. It will easily hold and protect my Lenovo Yoga and my mobile phone along with the "usual" handbag stuff.
2. Wardrobe
We arrive in Long Beach on Monday evening and leave on Friday. The plan is to bring a change of lingerie for each day, yoga pants & a t-shirt for any morning workouts, something to sleep in, one colorful dress, a black maxi-skirt that can be mixed & matched with my striped shirt, a gray dolman sleeve top, and even a t-shirt. I'll also have 1 pair of jeans, a pair of black slacks, and a pair of shorts, along the shirts mentioned – and just in case the weather breaks – a bathing suit & coverup. Shoes will include my favorite walking shoes that look great with my maxi, a pair of "fancy" flip-flops, and one pair of ballet flats. My emergency pack of meds, my toiletries, and extra camera lenses, etc.
3. My Go Puck 5X for Wearable Power
I've got a new cell phone, and the battery is just not what I had expected. Plus, with the possibility of being out on the open water for a whale watching cruise and all day away from any outlets, I need to have a GOOD back up source of power for my equipment. There are power sources and then there are MOBILE POWER SOURCES that never let me down. The Go Puck allows me to not only charge TWO mobile products (phone, iPad, GoPro, etc.) at once, but it also has a sweet active mount that I can strap my GoPro, but it's also able to clip onto my CityTote or whatever I'm carrying.
4. The "others"
We all have MUST HAVE'S in daily life, so you'll also find me toting a Contigo coffee mug, because my day doesn't begin without coffee, and I like it HOT! I also travel with a small bag of extra K-Cups from Cross-Country Cafe, because they NEVER have the flavors that I like in hotel rooms.
What are your MUST HAVES when you travel?