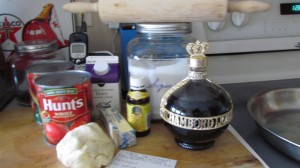 One of my favorite songs by the Mama's and the Papa's (and an earlier version by the Shirelles in 1961), was "This is Dedicated to the One I Love." If you're under the age of 40, you're probably scratching your head, but for those of us who grew up in the 60's it was one of many songs that stood the test of our generation.
Today I'm dedicating a recipe to my brother. We're extremely close and as you probably know if you are a regular reader, we spend time together on weekends, travel together and more. As a matter of fact, he's my FAVORITE traveling companion. Why? Well, we both have a travel styles that complement each other. For example, the last time we visited Paris together… He woke up early and explored, while I languish before heading out to see the city, visit my favorite stores and cafés, and just walk – taking it all in. We meet for lunch on some days, other days we would simply "run into each other" at a local store or patisserie. There were days when we'd make definite plans and others that allowed us to do our "own thing." One thing we BOTH enjoy doing, is eating at our favorite brasserie "Les Philosophes" in the Marais.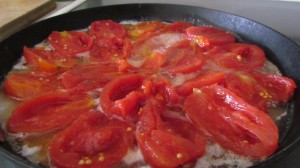 One of the specialties at Les Philosophes is their Tarte Tartin de Tomate, a wonderful appetizer in puff pastry made of tomatoes. I ate my first tomato tarte tartin there, as did  my brother and we continue to order it on each visit.  It is something that reminds me of both my brother and Paris, and while I have to wait until September to go back, I figured that I'd take the day and make a dessert version of their wonderful appetizer, since Hunt's asked me to create a #HuntsHealth! recipe.
So, Rob – this is dedicated to YOU.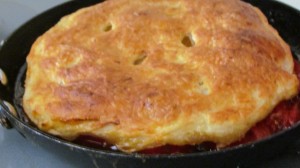 Tomatoes are such an important staple in our diet. Loaded with the goodness of potassium and fiber and the POWERFUL antioxidant lycopene,  this low calorie, nutrient rich food is great for heart health.  We use tomatoes in salads, and pasta sauce, but did you know that you get 7 times more lycopene from CANNED TOMATOES than from the raw version? That's why I used Hunt's canned tomatoes to create this treat…hey, why not harness the nutrition of these 100% natural, California grown tomatoes?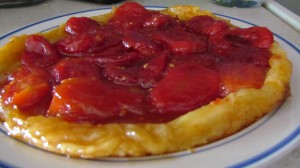 Keep in mind, that I've created a DESSERT version (complete with whipped cream), and while it looks difficult, it really is a simple recipe consisting of just a few ingredients. I figure that if we're going to splurge on a dessert, enjoying the healthy benefits of Hunt's tomatoes takes a little bit of the sting out of it.
Dessert Tarte Tartin de Tomate
Ingredients/Tarte
2 cans Hunts Whole Plum Tomatoes
3 tbsp. unsalted Butter
¾ c. Sugar
1 sheet – Puff Pastry (or you can make your own from scratch) – THAWED
Ingredients/Chambord Whipped Cream
1 pt. heavy cream (keep refrigerated until it's time to use it – or put in the freezer for 10 mins.)
¼ c. powdered sugar
½ tsp. Vanilla extract
1 ½ tbsp. Chambord liquer
**You will need a skillet that goes from the stovetop to the oven. I used a ScanPan, but cast iron works very well too.**
Preheat the oven to 425°
Tarte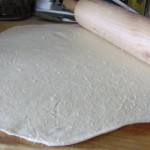 1. Slice tomatoes in half lengthwise
2. In skillet – melt butter
3. Add the sugar evenly around the pan
4. Place tomatoes round side down and close together
5. Cook over medium heat until the butter & sugar get thick and syrupy (will be an amber color), making sure to move the tomatoes as needed so that they don't stick to the pan.  Approx. 30 mins.
6. Remove skillet from stovetop & drizzle vanilla on top.
7. Top with the puff pastry (I re-rolled it out to make it round, you can also just cut it), tucking it into the pan.
8. Make a few cuts into the dough
9. Place on the bottom shelf of the oven and bake until the puff pastry gets flaky and a golden color – Mine took about 20 mins.
10. Remove and cool for 10 mins.
11. Place platter over the skillet and invert (I ran a knife around the edge first, to be sure it was loose enough) **I had to replace some of the tomatoes to make it even, since they moved around when I inverted the skillet.
12. Top with whipped cream or ice cream (serve warm)
Chambord Whipped Cream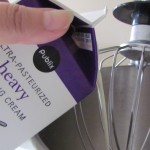 1. Pour chilled heavy cream into chilled metal bowl of mixer (or chilled metal bowl if you're doing if by hand)
2. Add sugar, vanilla and Chambord.
3. Whip until soft peaks form
ENJOY!
For more information about the benefits of eating Hunt's Tomato products go to Tomato Consumption and Health: Emerging Benefits and the 2010 dietary guidelines (by the US Gov.).
Would you like to dedicate a Hunt's Tomato recipe to someone special in your life? Please comment below with YOUR dedications to the one YOU love.
I received compensation for this post. All opinions are strictly my own.