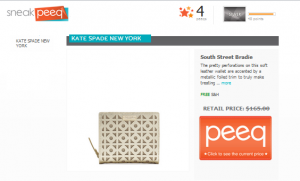 There's a new reverse auction site on the web starting today and while I'm scratching my head trying to figure out the logistics of this auction, I do know that I LOVE the fact that they're opening with a
Sneak peeq showcases the cutting edge brands and sells them with a bit of a  tech savvy twist. You'll be able to shop for the hot fashion products (brands like Kate Spade, Halston Heritage and True Religion) with friends in real time on facebook! YES – you'll actually be able to SEE your friends picking up items off the rack and bid  for the most fabulous items at the best prices.
Ready, set, peeq!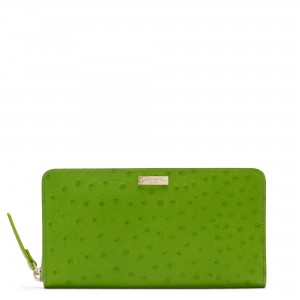 Every day, every minute, every second, they bring you a selection of  products and experiences from all your favorite brands. Find the product that catches your fancy and peeq away!
Each day you have 10 peeqs (you can gain more peeqs as you use the game and move up in status!) and those peeqs expire each night. As you move up in status, you will receive more peeqs (i.e., more than 10 peeqs) every 24 hours plus perks like free shipping and exclusive peeqs at special items.
When you see an item you love simply peeq and a special price is revealed to you. Each time someone peeqs the price goes lower!
The more people peeq, the better the price! Players play for the item until someone decides to purchase- it's like a reverse auction!
If you like the price, buy it quickly before someone else snags it! You only have 15 seconds after the price is revealed to make your decision and click "Buy". Remember, It's not your item until you secure it at checkout!
I'm on their RIGHT NOW, Peeqing at a few beautiful bags (and if you go RIGHT now you'll see my Peeqs).  Check them out on FACEBOOK and see what it's all about.  Kate Spade not your thing? Next week they'll be featuring California original brands and they've promised a surprise for Champagne Living's readers!