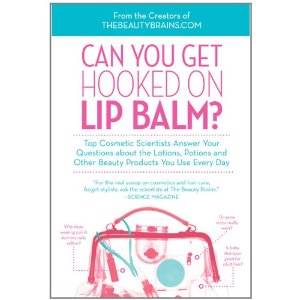 C+C Music Factory aside, do you ever wonder about the beauty and cosmetic products that you use every day? Do they work? Are they safe? Can you get "hooked" on them? Well, for starters – I can tell you that I am HOOKED on concealer, of course it's totally psychological and I can QUIT that habit any time that I want (I've been saying that for about 35 or more years now).
Can You Get Hooked on Lip Balm?
answers the questions that we need to know but may have been afraid to ask (or never realized how important they are). Subjects like:
Are salon products better than what you can buy at a "regular" store?
Why does shampoo have meat tenderizer in it?
Are more expensive products worth the price? – One that I know I struggle with when shopping.
But Can You Get Hooked on Lip Balm?
offers more than just the questions with scientific answers…MUCH MORE. There were times while I was reading it that I had that "too much information" feeling (I like burying my head in the sand),  and in some cases I won't change the way that I shop, because I'm a visual shopper and am easily enticed by beautiful packaging, etc. Still, there was important information that I knew I should heed like
5 Ways Beauty Products Can Go Bad
1. Change in odor
2. Color shifting
3. Change in texture
4. Microbial contamination
5. Physical separation
By the way – the question "Can you get hooked on lip balm?" is answered and I was fascinated by the answer. You'll have to turn to page 106 to find out.
I enjoyed the style of this book, as I was comfortable flipping through or just looking up the items that I am interested in. This is one of those resource books that I know I'll find myself going back to time after time just to CHECK when I'm thinking about trying a new product.
If you're concerned about what you put ON your skin and not WASTE your money. This is a book you'll want to refer to time after time.
I received a copy of this book to facilitate this review. All opinions are strictly my own.
GIVEAWAY
Extra Entries
Click HERE to Tweet this giveaway – it auto fills your tweet and you get credit each time you twitter and report back (unlimited entries)
Follow Champagne Living- on the sidebar
Subscribe to Champagne Living for FREE
Link to this giveaway on your Facebook page
Follow Broad "Z" on twitter.
Grab our badge from the sidebar and add it to your site.
* Be sure to leave a comment letting me know if you've done any of these (if you already subscribe or have our badge – please note that in the comments as well).
* This giveaway is open to US residents, 18 and over and ends on May 27, 2011
* Good Luck