When it comes to planning a wedding, finding the dress of your dreams is likely perched at the top of your to-do list. However, crafting the perfect wedding day outfit doesn't end once your white dress hangs in your closet. Choosing the right accessories to complement your dress will complete your look on the biggest day of your life. From your veil to your shoes, every finishing detail matters as you walk down the aisle. If you're struggling to accessorize for your wedding day, here are six unique statement pieces you can use to curate your dream wedding day look.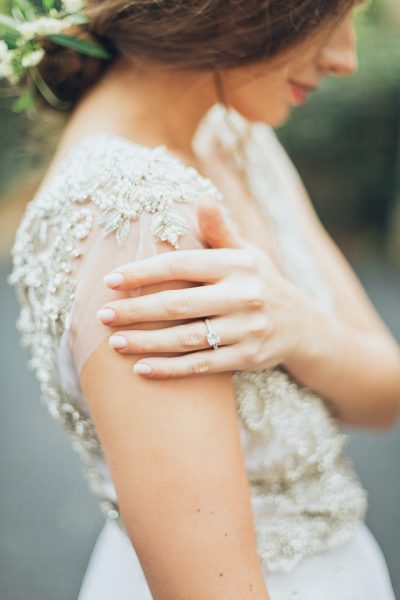 A gemstone wedding ring
For years, brides-to-be have donned diamond rings on their left hands as a sign of never-ending love and commitment to their partners. While diamond wedding rings are still widely popular today, jewelers note a rise in less traditional gemstone rings among their newer clientele. Gemstone wedding rings still convey the same values of love and commitment but allow for some personalization that isn't possible with a traditional diamond band. 
Not only are gemstone rings an excellent alternative to the classic diamond ring, but they also cost less, allowing you to purchase a larger stone for your money. However, before handing over your credit card, ensure you're buying your ring from a reliable gemologist like Diamonds Forever San Diego. You want a durable ring that will last you a lifetime, and only an expert jeweler can make sure your wedding rings are as strong as the vows you'll recite on your wedding day.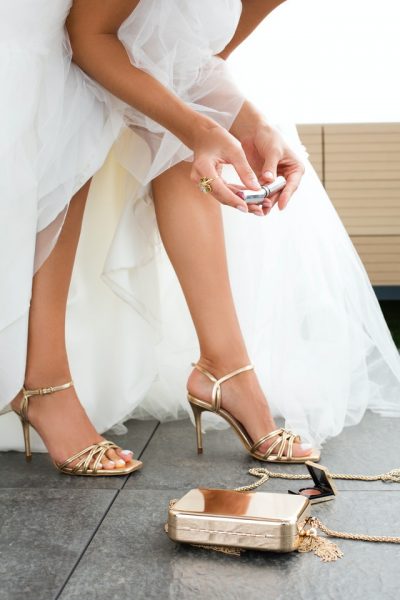 Stylish wedding shoes
One of the most vital accessories to decide on before your first dress fitting is your wedding shoes. Whether you prefer stilettos or flats, you'll hem your dress to your height in the shoes you choose to wear as you walk down the aisle. It's vital to consider your comfort when you pick your shoes. You'll likely be standing for quite a while, and if you plan to tear up the dance floor later, properly fitted shoes will ensure your heels won't go flying off as you're twirling around. If your dress falls below your ankles, consider going with a plainer pair of shoes. Beading and other embellishments can snag on your dress fabric and ruin it. If you're devoted to a particularly elaborate pair of shoes, make sure they won't ruin your wedding dress when the big day arrives.
A delicate veil
The veil is a classic wedding accessory with an endless variety of styles, from a dramatic embroidered cathedral-length veil to a romantic pearl-embellished fingertip-length veil. Keeping your dress's aesthetics in mind, mix and match different elements until you find a veil that perfectly complements your wedding dress for the trip down the aisle. 
The color of your veil should complement your dress hue. When flipping through bridal catalogs for that one-of-a-kind wedding-day headpiece, consider the extent of your ballgown embellishments when deciding how elaborate your veil should be. Of course, opting to forgo the veil is also a popular option. Should you choose to bend bridal traditions, hairpins, halos, and hats can help any modern bride achieve that widely-coveted star power.
An eyecatching hairpiece
If you've decided to leave the traditional veil behind, consider adding a hairpiece to your wedding day look instead. For a boho-chic vibe, consider adding flowers and greenery to your flowing tresses. A classic tiara can cap off a more traditional bridal look, while a crystal headband can add some sparkle to your messy updo. Your hairpiece will act as a focal point for your wedding day hairstyle, so keep your desired look in mind as you choose this accessory.
A pair of complementary earrings
When accessorizing, don't neglect your neckline. A lovely statement necklace can add an exciting twist to a simple, strapless dress. However, if your dress's neckline has some intricate detailing, a pair of dangling earrings is an excellent way of adding to your look without going overboard. For those with a looser wedding day hairstyle, a pair of sophisticated studs can go a long way.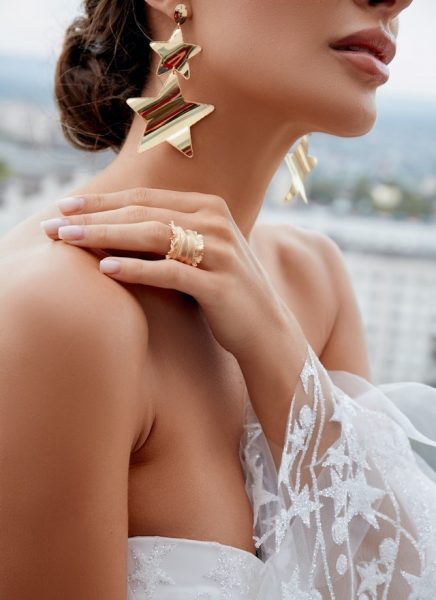 Your own unique touch
Your wedding day is a special day in your life, so don't be afraid to make unique choices that reflect your and your partner's personalities and values. Don't be afraid to buck a few traditions in favor of your own preferences. 
If you're a bride who loves color but doesn't want to ditch the all-white look altogether, add a pop of color with some bold heels. Walking down the aisle in a pair of high-tops may be more your style for those who prefer sneakers to heels. Whether you prefer tradition or embrace the untraditional, your wedding day is your day, so don't be afraid to make it your own.
The bottom line
As you search for your wedding accessories, make sure to decide on pieces that will make you feel beautiful and confident as you walk down the aisle on your wedding day. A few well-chosen accessories can go a long way in completing your look, so take your time as you search for the perfect finishing touches for your wedding day.