The items in this post were sent to us by the brand. We do not charge them for consideration or placement as we prefer to retain the right to not place an item that we don't truly love.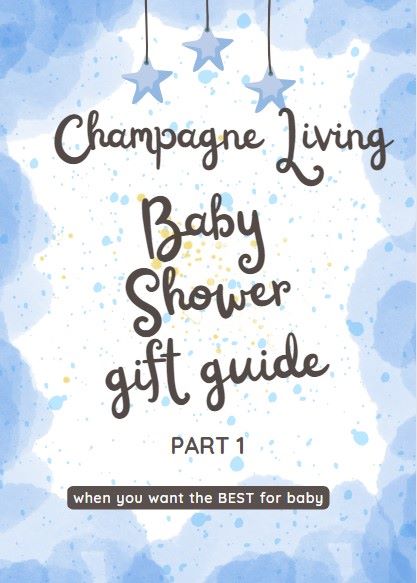 Welcome to our ultimate baby shower gift guide part 1. A precious bundle of joy is on the way, and there's no better way to celebrate this momentous occasion than by showering the expectant parents with thoughtful and practical gifts. Whether you're a close family member, a friend, or a colleague, we understand the joy and excitement that comes with finding the perfect present that will bring smiles and comfort to the little one and their parents. Our curated 3-part guide includes a delightful array of gifts that cater to all tastes, budgets, and needs, ensuring that each gift is not only cherished but also a valuable addition to their new journey into parenthood.
So, let's explore these heartwarming gifts and make this baby shower a truly memorable and unforgettable experience!
PARTY TIME/THE BABY SHOWER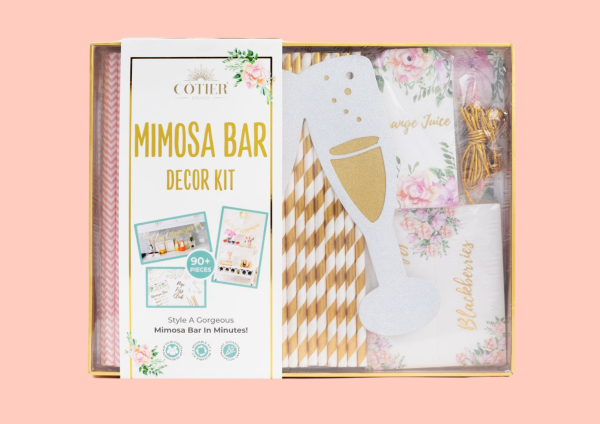 This 97-piece mimosa bar decoration kit is sure to elevate your baby shower and make it unforgettable. Allow your guests to gravitate towards your elegantly decorated mimosa serving station and enjoy each other's company. This convenient 90+ piece Mimosa Bar Decoration Kit, is designed to effortlessly transform your drink station into a stunning Mimosa Bar in a matter of minutes! With this all-in-one kit, you can achieve an elevated and sophisticated look without the hassle—don't worry, your secret is safe with us!
Your guests will be captivated by the exquisite gold foil printed signs and personalized topping cards included in the kit. It's time to add a touch of elegance and indulge in delightful mimosas, so why wait any longer? Make a statement with this Mimosa Bar Decoration Kit and enjoy the convenience of creating a memorable and visually pleasing drink station effortlessly. With all the essential elements at your fingertips, it's time to embrace the fancy vibes and let the mimosas flow. Cheers to a celebration filled with style and sophistication!
The kit includes a "But First Mimosas" Banner, Mimosa Bar Sign, Pop Fizz Clink Sign, 50 Paper Straws, 25 Juice Tags, 12 Topping Tents, a Threading Needle, and Gold Strings.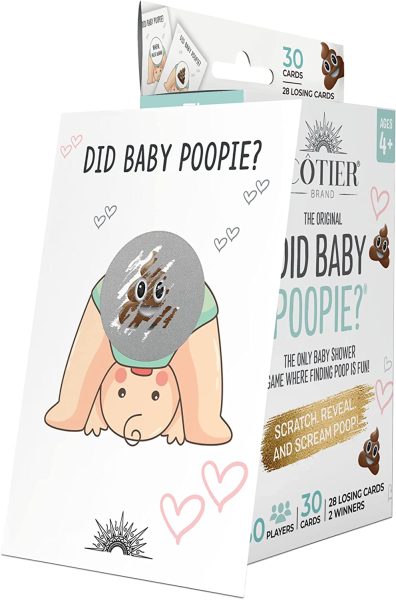 Get ready for endless fun with our one-of-a-kind baby shower lottery scratch-off game, complete with 30 cards, including 28 losing cards and 2 winners. The game kicks off as your guests scratch the silver circles on the lottery cards, unveiling their fate. Upon discovering a winning card, they'll reveal our delightful poop emoji and gleefully exclaim, "I got the poop!" In case of a losing card, they'll reveal the amusing phrase, "Whew, false alarm!" For added convenience, the winning poop cards are discreetly placed in a separate pink sleeve, allowing you to customize the game setup to your liking.
These scratch-off cards, designed to be the same size as traditional playing cards, can be easily passed around or cleverly hidden, making it a perfect activity for gender reveal parties, baby showers, baby sprinkles, diaper raffles, or ice breakers. Furthermore, the gender-neutral design ensures seamless integration with any theme, effortlessly enhancing the overall ambiance.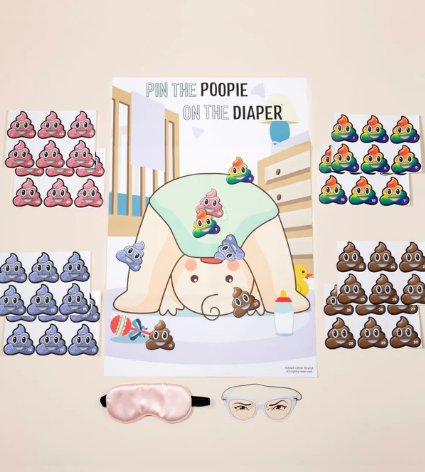 Get ready to play the ULTIMATE kids' party game…with a TWIST! Nope, this is not your classic "Pin The Tail On The Donkey Game." Prepare for laughter and excitement as players, blindfolded and armed with poop emoji stickers, embark on a mission to stick them as close to the baby's butt as possible. This game comes in two different skin tones so no matter who plays everyone feels seen which is a gamechanger regarding mainstream baby shower games. Available in Brown and Fair Baby.
You'll have a variety of poop-themed choices that will leave your guests cracking up. They can select from rainbow poop, regular poop, blue sparkly poop, and sparkly pink poop, adding an extra dose of fun and creativity to the game. But wait, there's more! To truly amplify the enjoyment, they've included a bloodshot, teary-eyed cartoon eye mask because, let's face it, poop can really stink! It's all part of the experience that will have everyone engaged and bursting with laughter.
GIFTS TO DECORATE THE NURSERY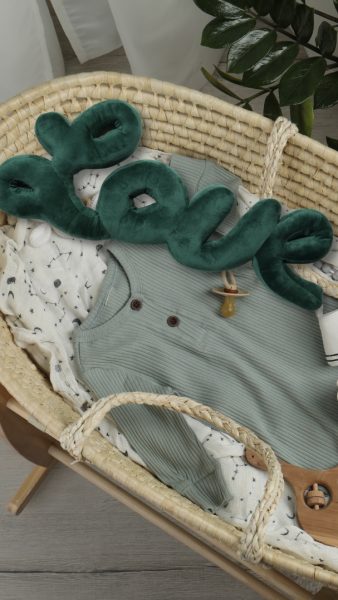 Lavish in the luxury of our sumptuous velvet Love script throw pillow for the utmost in softness and style. The perfect addition to any nursery, this LOVE Pillowscript is pre-filled velvet. At 25.5″ long it is a great size for mama's chair, as a throw pillow on a bed or crib or to hang from the wall as a piece of art.
Light Blue
Coral Pink
Royal Green
Gray
If you're looking for something a little more personal, Pillowscript is now taking orders for PERSONALIZED PILLOWS. Order one with the baby's name for the ULTIMATE gift that will be cherished for a lifetime.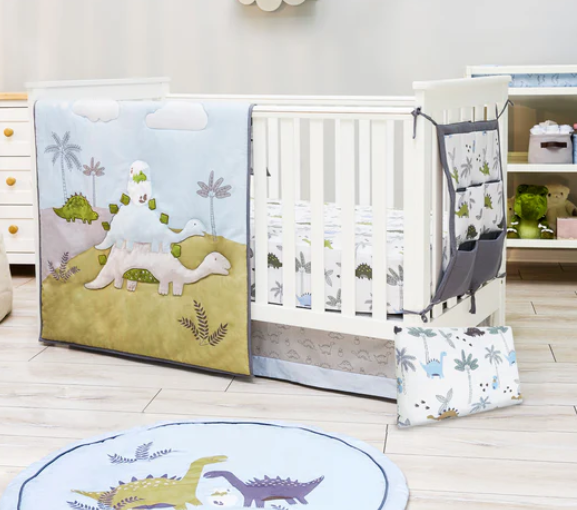 Experience the enchantment of this adorable 6-piece Dinosaur Crib Bedding Set, thoughtfully curated to create a captivating nursery theme for the dinosaur lover in your life. This adorable set includes 1 soft quilt, 2 cotton fitted crib sheets, 1 pillowcase, 1 crib skirt, and 1 hanging crib organizer—all beautifully coordinated in a natural blue, green, and grey palette. Every piece complements one another flawlessly, ensuring a harmonious and visually appealing nursery decor.
Designed to fit standard-size cribs measuring 52×28 inches, the dinosaur nursery set offers a perfect fit. The baby crib fitted sheets feature an 8″ deep pocket for a secure and snug fit, while the comforter measures 42″x33″, the baby pillowcase measures 13″x18″, the nursery organizer measures 22.5″x20.86″, and the crib skirt boasts a 13″ drop length all made from 100% cotton. Rest assured that every element is carefully crafted to cater to your baby's comfort and safety.
Check out My Little Zone, your adorable and high-quality baby textiles destination. The brand is built on the values of safety, design, quality, and functionality, ensuring that your baby receives the utmost care and comfort, and they take pride in offering stylish and captivating designs, inspired by the wonder and innocence of childhood.  Their mission is to create a peaceful and comfortable environment where you and your little one can cherish precious moments together.
Check out the cute sheets while you're shopping as well
MOMMY'S MUST-HAVES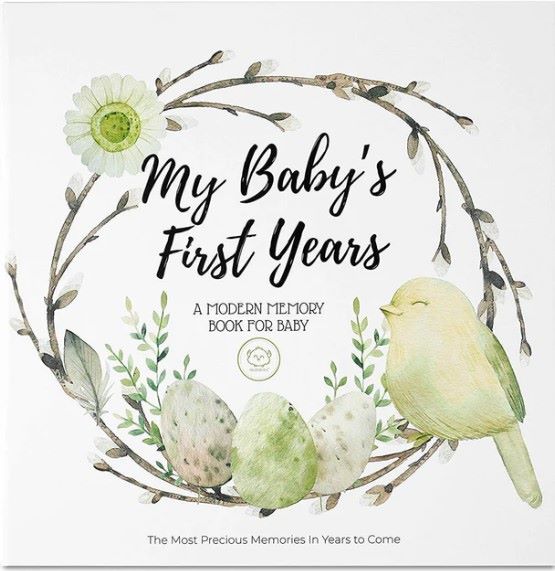 What sets KeaBabies My Baby's First Years Memory Book apart is the inclusion of Whimsical WonderLand Characters on every page. These adorable and engaging characters make the memory-creating process enjoyable for both parents and little ones alike. Suitable for boys and girls, this book becomes a shared journey, creating lasting memories together. So, step into a story-like journal where your baby takes center stage. Reading these special memories with your child as they grow not only strengthens your bond but also aids in better brain development through creative storytelling.
The Baby Memory Book includes a Keepsake Envelope, perfect for storing your baby's special little treasures. Sized at 5.7″ by 5.7″ and secured with a string closure, it's ideal for keeping locks of hair, hospital bands, heirloom jewelry, and so much more. Embrace the joy of capturing your baby's journey with our delightful and thoughtful Baby Memory Book, a treasure you'll cherish for a lifetime.
Introducing the Nozebot by Dr. Noze Best, a revolutionary device designed by a pediatric ENT, Dr. Steven Goudy. This unique nosepiece occupies two fingers, freeing up the other fingers to stabilize your child's head, making nasal suctioning a breeze for a single caregiver. With three levels of instant hospital-grade suction, it provides quick and efficient relief from congestion and runny noses without the need for gross mouth suction or wrestling with your child.
The cordless and rechargeable design makes it perfect for on-the-go use, and it can be easily cleaned in the dishwasher, thanks to its dishwasher-safe nosepiece and tubing. It also includes three replacement filters and a micro-USB charging cable, and it's eligible for HSA/FSA reimbursement, giving you an opportunity to use your healthcare spending dollars to help your baby breathe comfortably.
The Nozebot is portable and lightweight, so you can even throw it in your diaper bag!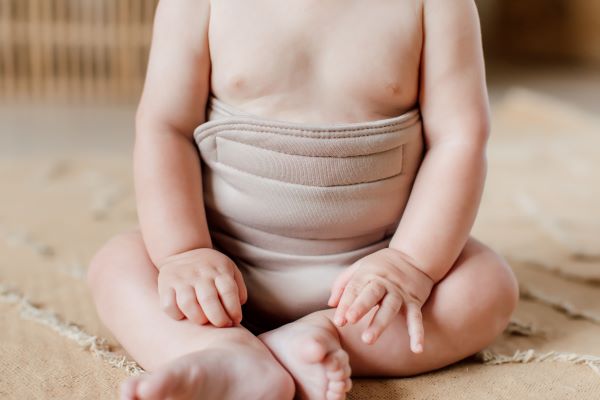 Introducing Whimzy Baby – a woman-owned brand dedicated to easing the path for new parents and their newborns. Their luxury belly bands offer a simple yet effective solution to help soothe babies experiencing discomfort and belly pain. These baby belly bands, made from soft bamboo cotton, have been used for centuries and are still used worldwide today.
Providing support for both parents and baby, the bands mimic the benefits of tummy time, releasing built-up gas in the abdomen. A must-have item for your hospital bag, these belly bands come in various soft colors and patterns, making them a standout and essential baby shower gift. Visit their website for more information and check out their range of cute accessories like scratch mittens and bonnets.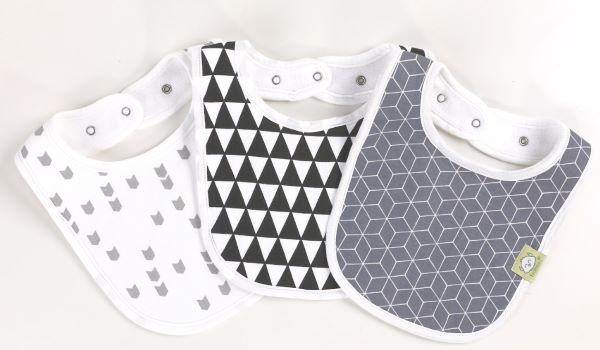 Introducing URBAN Drool Bibs – the perfect solution for keeping your baby clean and dry all day long! These large bibs come in a rounded squarish shape, providing extensive coverage from your baby's neck to its belly. No more worries about drool or messes soaking through clothes.
The thoughtful design includes snaps at the back of the baby's neck for easy wearing, while the slim arms towards the bib's closure ensure utmost comfort and breathability. With three adjustable sizes, these bibs grow with your baby, making them suitable for newborn to 24 months. Say goodbye to constant outfit changes and embrace the convenience and style of URBAN Drool Bibs!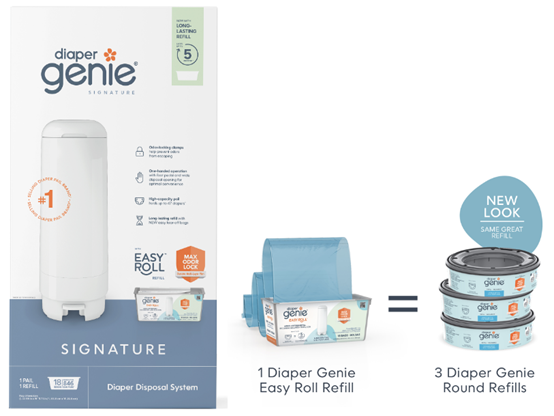 The Diaper Genie Signature Pail is a staple in every new parent's nursery. This pail comes with 1 refill and holds almost 5 months of diapers and uses 70% less cartridge plastic. The refills are long-lasting, easy-tear with a durable multi-layer film to help keep odors from escaping and keeping your nursery baby fresh! 
This NEW Signature Diaper Genie Pail has ~
A foot pedal for hands-free operation, a wide disposal opening, and odor-locking clamps that help prevent odors from escaping.

Comes with 1 refill and holds almost 50 newborn 

diapers

 and uses 70% less cartridge plastic.

The refills are long-lasting and easy to tear with a durable multi-layer film to help keep odors from escaping.
Why didn't they have these when my son was a baby? This is as essential as the diapers for ANY mom & baby.
Availability at Walmart, Amazon, and

 

Target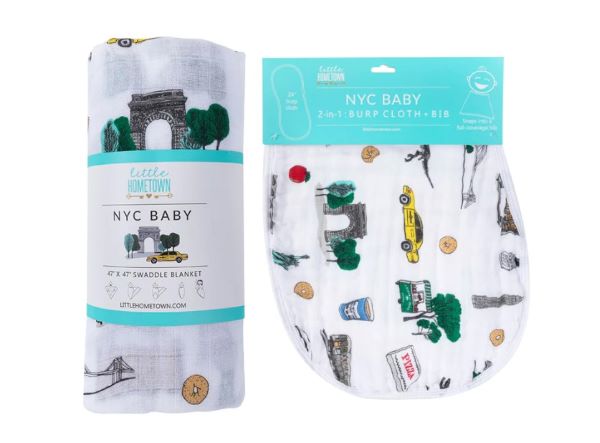 Wrap your little one in the softest, coziest swaddles made from premium, breathable materials, ensuring a comfortable and snug sleep for your baby. These state-themed swaddles celebrate your love for your home state or the state you cherish most, adding a touch of personalization to your baby's nursery. And if you prefer timeless patterns, they have a variety of lovely designs that complement any nursery decor.
But the cuteness doesn't stop there! The matching bibs are equally charming, making mealtime a delightful experience for both you and your baby. Crafted with care and attention to detail, these bibs are not only adorable but also highly functional, keeping your little one's clothes clean and dry during feeding sessions.
DINNER TIME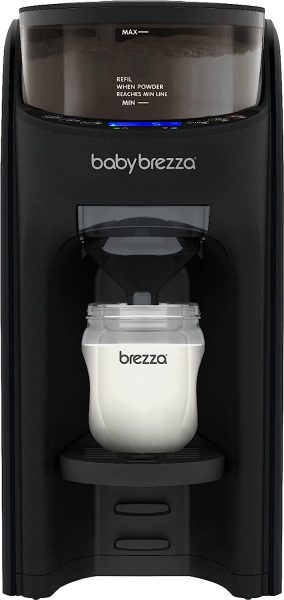 The Formula Pro Advanced automatically makes a warm formula bottle at the push of a button! No measuring, no mixing, no fuss!
Introducing the revolutionary Automatic Formula Dispenser, a cutting-edge device that allows you to prepare a warm formula bottle instantly right from your phone. This game-changing dispenser comes with a host of incredible features to make your life easier and worry-free. Not only does it offer a 6-month extended warranty, on top of the standard 12-month warranty, but it is also BPA-FREE, ensuring the utmost safety for your little one.
With its patented mixing technology, the dispenser ensures that formula and water are blended to perfection, guaranteeing the ideal consistency every time*. The convenience continues with the Baby Brezza App, which allows you to preset five different bottles, choose from three temperature settings, and dispense between 2-10 oz or water only. Compatible with virtually all formula brands and bottle types, this dispenser is easy to set up and use with both IOS and Android devices.
Gone are the days of hand scooping, as the Automatic Formula Dispenser proves to be more accurate, consistent, hygienic, and faster. With formula dispensed from an airtight powder container, you can rest assured that your baby's nutrition is in good hands. Furthermore, the dispenser keeps you informed with timely alerts on your phone, notifying you when the bottle is ready, formula or water is running low, or when there's no bottle present. Say goodbye to the hassles of manual preparation and embrace the future of baby feeding with this groundbreaking automatic formula dispenser. Head to BabyBrezza.com to experience the ultimate in formula-feeding convenience.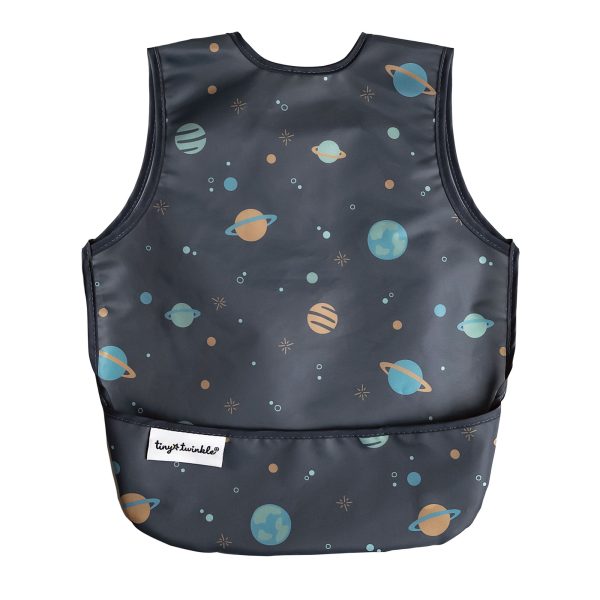 The Tiny Twinkle mess-proof baby bibs are made from 100% recycled polyester that is treated with a special waterproof back coating. We all know how many bibs there are for parents to choose from, but Tiny Twinkle bibs are in a class all their own when it comes to quality and sustainability.
The other difference that parents will instantly notice is how well the bibs stay on, keeping babies and toddlers perfectly clean.  The apron bibs are designed to catch spills with a bottom pocket and feature a tug-proof closure that keeps it in place without getting caught in your little one's hair. The sleeveless bibs come in two main styles, with tons of fun designs!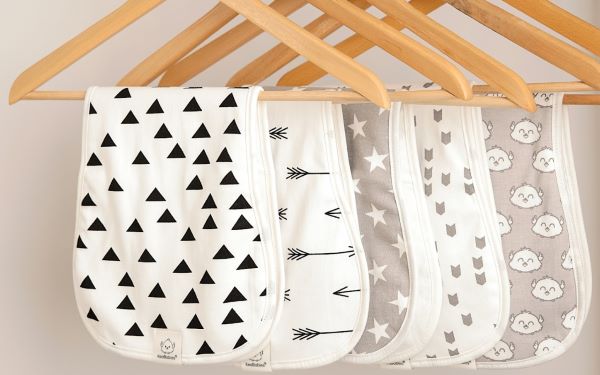 Made with organic cotton for baby's sensitive skin, KeaBabies Organic Burp Cloths are a must-have for feeding, spit-ups, and messes! Sized generously and larger than most burp cloths on the market, they provide full shoulder coverage to protect clothing from being soiled from spit-ups and messes. Available in 15 adorable prints and color patterns. Machine washable.
The Nurse-Sling from Humble-Bee not only supports healthy nursing posture, but mothers can also position baby for better digestion. It also keeps arms relaxed and reduces strain. Perfect for feeding on the go, baby can nurse anywhere and with privacy! After your baby has moved beyond breastfeeding, the Nurse-sling turns into a sling bag that both mommy and daddy can use for a lifetime.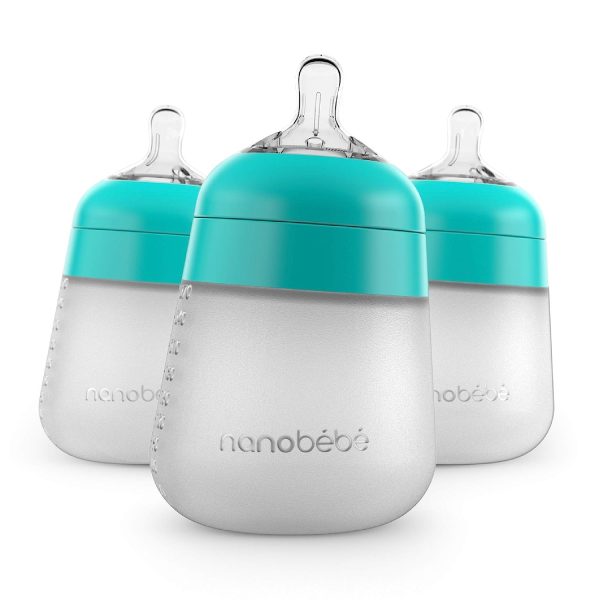 Introducing the Nanobébé Flexy Silicone Baby Bottle, an award-winning, advanced feeding solution designed for a seamless transition between breastfeeding and bottle-feeding. The bottle features an anti-colic system with a triple-vented silicone nipple, ensuring a smooth feeding experience and reducing post-feeding fussiness. Crafted from soft, breast-like silicone, it offers familiarity and prevents nipple confusion.
The Flexy Bottle's stable, non-tip base prevents spills, and the easy-to-read volume scale allows precise measurement of milk or formula. It is easy to clean, dishwasher and microwave safe and comes in two sizes, 5 oz. and 9 oz., suitable for newborns to toddlers. Made of premium, BPA-free, non-toxic silicone, it ensures your baby's safety and health. The package includes the Flexy Silicone Baby Bottle in your preferred size, a slow-flow silicone nipple, and a travel cover for on-the-go convenience. Experience the future of baby bottle-feeding with Nanobébé's Flexy Silicone Baby Bottle – combining innovation, functionality, and safety to nurture your baby's growth and development.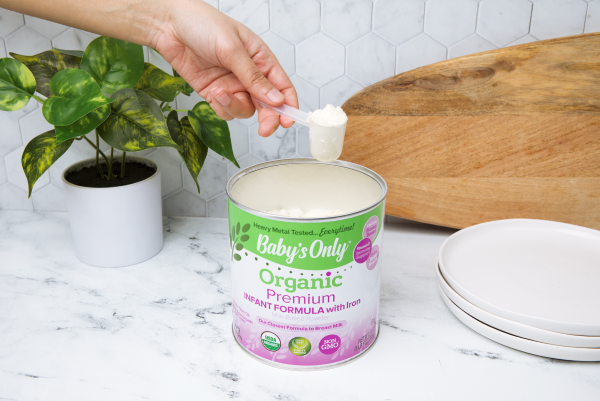 Are you a mom in need of baby formula, but can't afford it? SimpliFed, the telehealth service dedicated to providing inclusive infant feeding support, has recently announced a significant distribution partnership with Nature's One, the renowned makers of Baby's Only® Formulas. This collaboration marks a historic milestone, as SimpliFed takes a stand to fulfill its vision of ensuring every parent feels confident in how they nourish their baby, regardless of the feeding method they choose during the early weeks and months of life.
Research shows that a significant number of SimpliFed patients supplement their feeding journey with a combination of expressed breast milk, donor milk, and/or infant formula. SimpliFed firmly believes in empowering parents to make informed decisions about what's best for their family members' health and bodies, respecting their choice of how to feed their precious little ones. Through this partnership, SimpliFed will provide families in need with access to organic infant formula, furthering their mission of democratizing access to inclusive infant feeding support.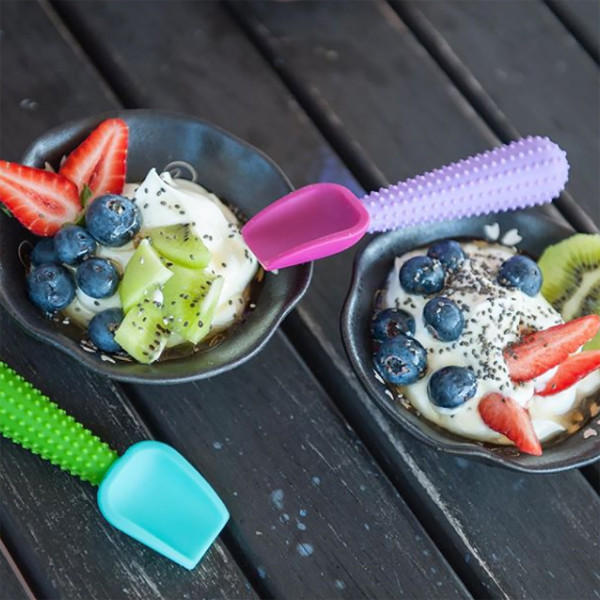 Discover the smart choice with GoSili Silicone Baby Spoons! Made from 100% European-grade platinum silicone, these spoons are the ideal feeding solution for your growing baby and toddler. The soft, textured grip promotes self-feeding and provides added support for little hands. Gentle on delicate mouths, the spoons also offer relief for sore gums, making mealtime a soothing experience. Plus, you can put the SiliSpoon in the freezer before use for an extra comforting touch.
At GoSili, sustainability and eco-friendliness are at the core of their values. That's why they crafted these SiliSpoons from premium silicone, which is safe, non-toxic, and free from harmful chemicals. These silicone spoons are resistant to extreme temperatures, ensuring they won't melt, break, or warp. Clean-up is a breeze as they are dishwasher safe, but you can also wash them by hand or sterilize them by boiling them. By choosing GoSili, you're not only making a smart and safe choice for your child but also supporting the health of our planet.
So, join them on this journey to reduce waste and embrace a greener lifestyle.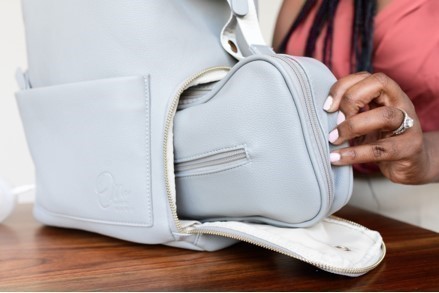 Introducing the MINIMALIST BREAST PUMP BAG – where functionality meets style to cater to the needs of modern moms. No longer do you have to settle for mundane pump bags; this chic and fashionable accessory is designed with you in mind. Embrace your amazing style while effortlessly carrying all your pump essentials without feeling overwhelmed by chaos. The bag's thoughtful design ensures it remains spacious enough to accommodate everything you require, making it perfect for your breastfeeding journey.
One of the standout features is the PATENT PENDING REMOVABLE BREAST PUMP POUCH, which adds unparalleled versatility to the bag. As you progress in your breastfeeding journey, you can remove the pouch, freeing up space without compromising on style. Plus, the bag includes a set of practical accessories such as stroller straps, a mat for pump parts, and a pump accessory holder that even doubles as a wearable pump holder. This bag is truly a breastfeeding mama's dream come true.
Crafted from premium vegan leather, the MINIMALIST BREAST PUMP BAG exudes a sense of sophistication. It boasts a well-organized interior with three pockets, including an insulated one, and five exterior pockets, including two at the back for easy access. The gold hardware and zippers add a touch of elegance to its design. Thanks to the circular zipper opening, accessing your items becomes a breeze. With adjustable straps, you can carry the bag on your shoulder or crossbody, while the convenient top grab handle offers an additional carrying option. Comfortable padded shoulder straps ensure your comfort throughout the day, making this bag a stylish and practical companion for every breastfeeding mom.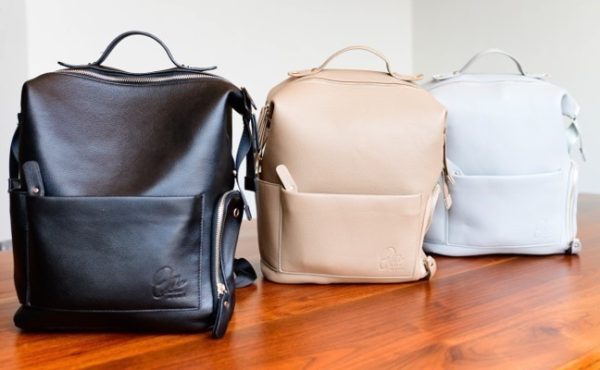 One Pumped Mama also offers the MAXIMALIST bag, a stylish way to carry pump parts and more, featuring a 15-17" laptop sleeve, removable zipper pouch, zipper luggage sleeve, stroller straps, a mat for pump parts, a pump accessory holder and patent-pending wearable pump holder, 3 interior pockets (one of which is insulated), and 5 exterior pockets.  Colors include black, latte, and cloud.
TOY TIME GIFTS
Keeping it Organized with Creative QT
Creative QT puts chaos in its place. It's a fun and practical source for organizational products and toys that inspire play, learning, and clean-up.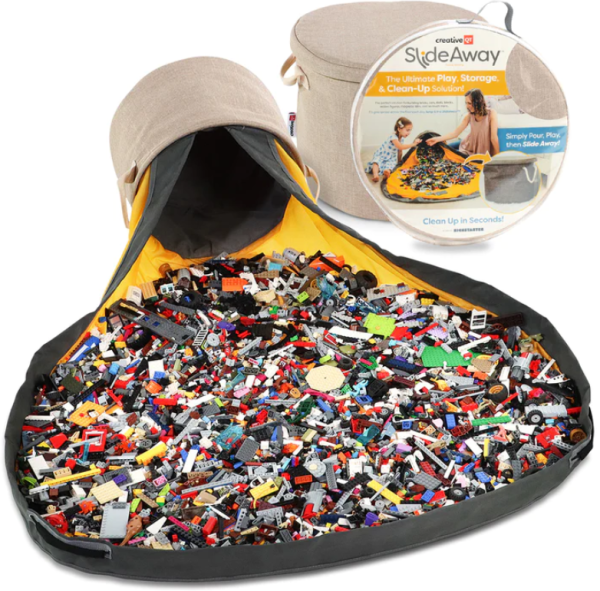 Believe it or not, home toy storage can be stylish and easy with the NEW patent-pending SlideAway by Creative QT!  This revolutionary toy basket doubles as a play area for sorting toys and a storage container to keep toys hidden while they aren't in use.  Pour toys like building bricks, doll accessories, and cars right onto the playmat where they stay corralled in a play area with a surrounding lip.  When the kids are done playing, a quick pull of the built-in handles and Mom can "slide away" the toys right back into the attached basket making clean up a breeze.
This stylish toy storage solution looks great in any room of the home and can also be carried to other places with its sturdy handles.  SlideAway has a durable design that comes with a Lifetime Workmanship Guarantee.
Play all day, then SlideAway!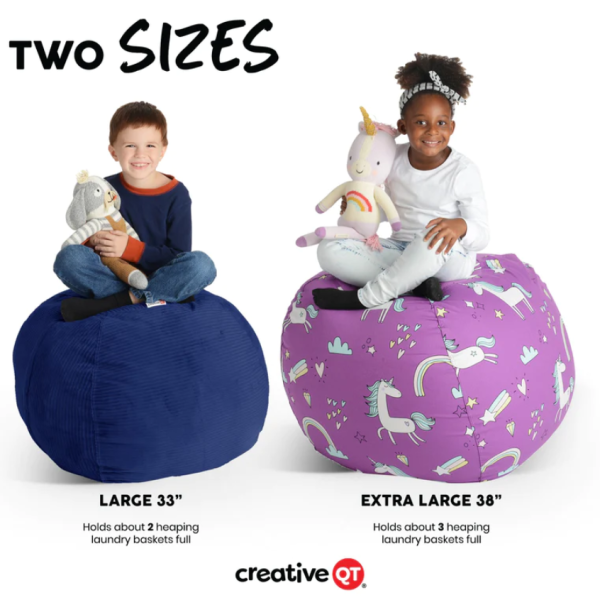 There will be no more fighting with them about picking up ALL of those stuffed animals. Now you can keep your sanity and your kids can keep all their fluffy toys into one comfy, sturdy bean bag to instantly clean up the room! That's because the Stuff 'n Sit holds a MOUNTAIN of stuffed animals. That's right…the Extra Large Stuff 'n Sit over 90 of them, which is enough to cover your kids' bed or fill three heaping laundry baskets.
If there's still room in the bag, you can store extra pillows, blankets, dress-up clothes, and snow gear — if it's soft, you can use it for stuffing.
Don't know which size to get? Use our handy "Laundry Basket Test." Two heaping baskets? Get a Large. Three heaping laundry baskets? Get an Extra Large or maybe two Larges. All of their products are safety & 'kid-approved' testing before production.
Concerned about durability for spills and stains? Don't be! Simply machine wash on a gentle cycle and hang to dry.
BABY'S SLEEPY GIFTS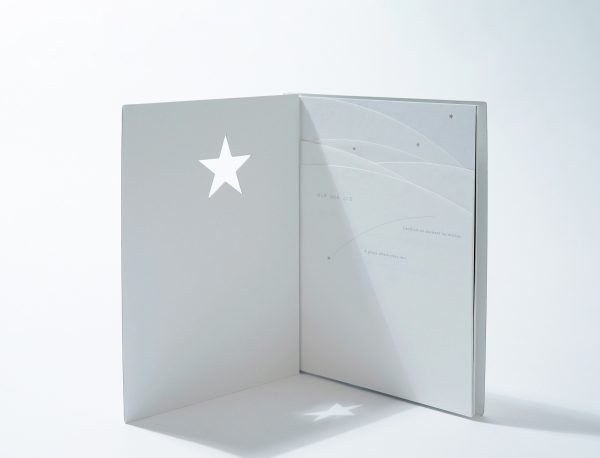 Read to the baby as they fall asleep! This whimsical cut-out paper book, made with the texture and shape of paper, gently describes the night sky and the community of
stars
 that live and 
rest
there. The perfect scenario for sleeping.
Internationally praised Japanese artist and designer Katsumi Komagata tells a tender and simple story on the nature of 
stars
. Each page is complete with text in English, French, and Japanese.  The book was originally produced as a gift from the city of Grenoble in celebration of all the babies born that year.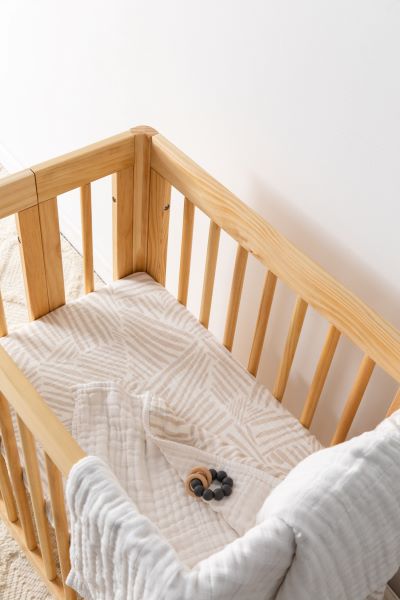 Babyletto crib sheets are consciously crafted from breathable and soft GOTS-certified organic muslin cotton in partnership with bedding designer Clementine Kids and feature 7 distinct patterns to choose from for any nursery style. They are made entirely of preferred cotton fibers grown without chemicals, pesticides, or GMOs which are durable and soft. The muslin weave is lightweight and breathable, allowing for air to flow freely to reduce the risk of overheating.
On a personal note, I recently purchased the Babyletto Sigi Chair and Naka Round Storage Ottoman as a baby gift to go with the Babyletto Crib and Dresser that they had also received. If you haven't guessed yet, this is our FAVORITE baby furniture brand.
Shop til you drop for these crib sheets and more at Babyletto.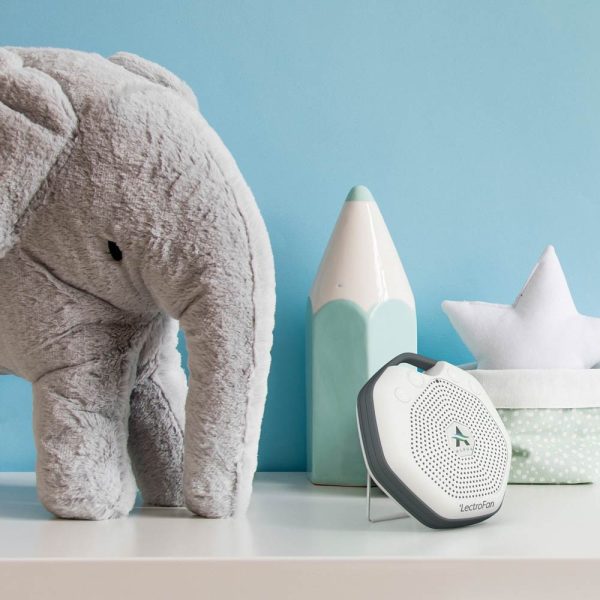 From the airport to the hotel room, and beyond, Lectrofan Alpha is the small wonder that will help your little one sleep soundly, day or night. It plays your choice of seven gentle, calming sounds, including a heartbeat, two different fans, two white noise variations (pink noise and brown noise), and two variations of ocean waves. It recharges with the included USB cable, so there's never a need to bring batteries, and it plays for up to 40 hours per charge at normal volume. Plus the included clip makes it easy to attach to car seats, cribs, strollers, or just about anything. 
Available on Amazon, LectroFan, and Target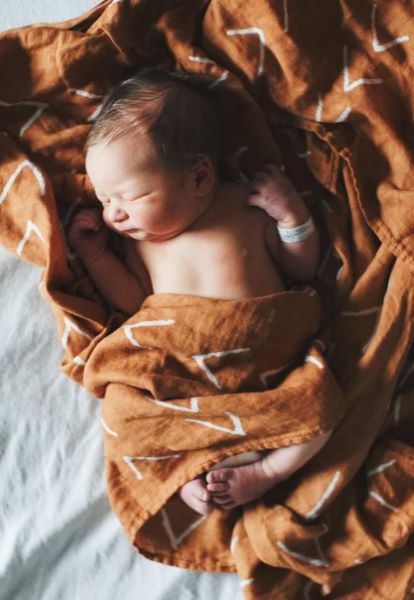 Experience the peace of knowing your little one is enveloped in love with Sweet Ellie Sue blankets. These incredibly soft and gentle blankets are crafted with a special blend of bamboo and cotton, hand-selected for their supreme softness and durability. Your child will cherish the comfort and modern design of these blankets for years to come.
Mothers rave about their exceptional softness, vibrant colors, and exquisite beauty. Versatile in use, these muslin blankets serve as swaddles, nursing covers, stroller covers, play mats, and, of course, perfect companions for cuddling moments.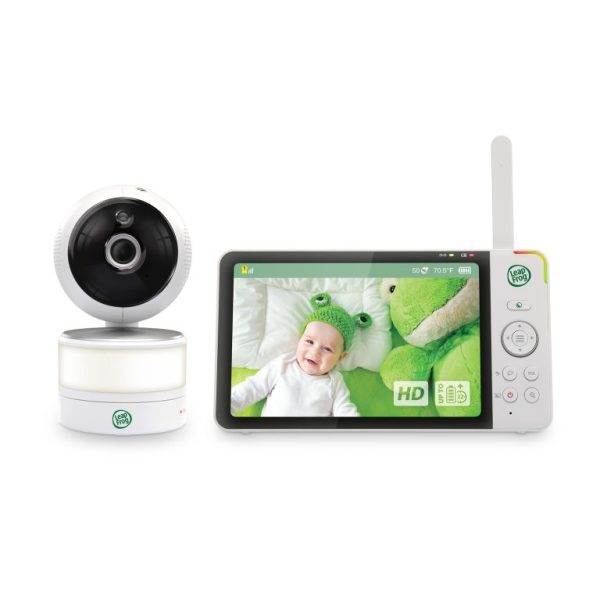 Now parents can admire a detailed view of their precious little ones gracefully displayed on the industry's largest 7-inch parent unit in 720p high-definition with premier color and viewing angles. With the 360 Degrees Pan, Tilt, and Zoom, parents have full control over how they view their baby using the pan and tilt features of the built-in, 110 degrees wide-angle lens. Pan 360 degrees from side-to-side, tilt up to 80 degrees, and zoom up to 8x for enhanced details with ease.
With advanced color night vision technology, parents can see their baby with vivid clarity, even when the lights are low or off. An adaptive, dimmable night light is built into the camera unit and adjusts to the brightness of the room, illuminating a dark nursery for the baby. Parents can control the night light remotely from the parent unit or directly on the baby unit.
Additional Features include a two-way, talk-back intercom and a temperature and humidity sensor that will alert parents when the room climate is outside a comfortable range and it has an all-mountable camera unit. It even plays soothing sounds and lullabies to the baby. With a range of up to 1,000 feet and a long-lasting rechargeable battery in the parent unit, they'll never be far from checking on the little one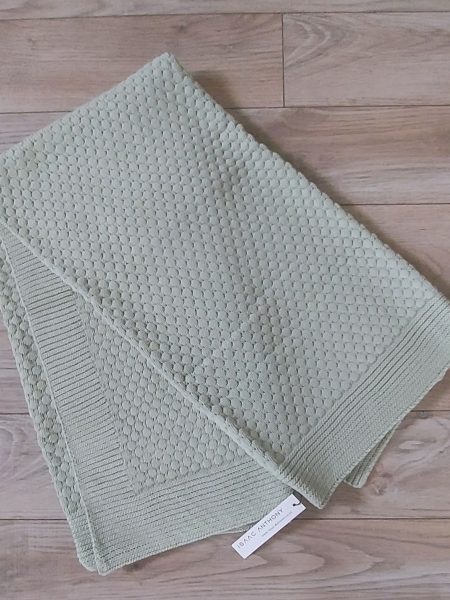 Introducing Isaac Anthony's exceptional sage green baby blanket is a perfect gift for new parents. Whether you're seeking a thoughtful baby shower gift or a welcoming present for a newborn, this blanket is guaranteed to bring joy. Crafted from 100% organic cotton, it embodies a remarkable blend of softness and gentleness, ensuring your baby's delicate skin is well cared for. Its exquisite design, practical size, and enduring quality make it an irresistible choice that will be treasured by both baby and parent alike. Experience the comfort, breathability, and durability of this organic baby blanket, as it becomes a cherished part of your journey into parenthood.
This and other luxury baby blankets are available at

Isaac Anthony

Get 10% off your first purchase with code WELCOME10 at checkout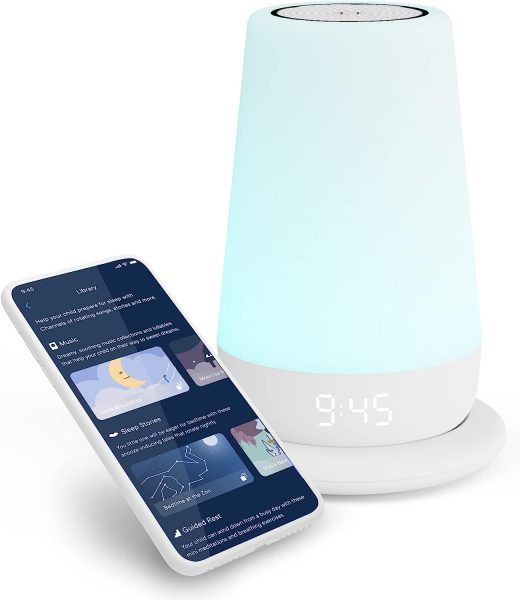 Make sleep magically simple with the portable dream machine that grows with your child. Keep your little one dreaming throughout the night with continuous sounds like white noise, wind, rain, and lullabies
Built with purpose – We created Rest+ to help make naptimes, bedtimes, and nighttimes more joyful for everyone.
An ally to parents – Rest+ will support you along your kids' sleep journey, to share expert-backed tips, and celebrate wins.
Grows with your little one – You'll have expert-approved content for every age and tips to help you navigate new milestones.
Portable around the house – Quickly grab Rest+ off its charging base and bring quiet time to any room.
Pick one up at

Hatch.co
Pixsee is a revolutionary AI baby monitor that keeps new parents at ease by helping them keep an eye on daily activities. The device plays music to soothe and console babies when needed, helps them deal with the dark and is the perfect companion for traveling with the additional camera stand. The Covered Face Detection alerts you when something is covering your baby's face and the Area Detection lets you set a safe zone to know when your child's moving in or out of it. The 5MP and six-layer optical lens provide clear videos, with the camera's 160° ultrawide view letting you see all corners of a room with zero distortion. Playback the video in a heartbeat or watch the 24-hr livestream in sharp, high-definition resolution. The Smart Music Box automatically detects cries and plays calming sounds. The Smart Capture automatically takes 6 to 12 quality images a day for a digital keepsake. See your baby's growth and have a visual diary to look back on for years to come! This baby monitor does it all to make parenting easier.
GIFTS FOR ON THE GO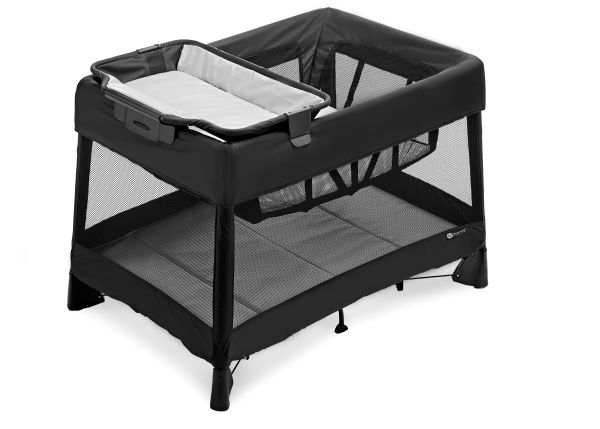 Playards are hard to use. The 4moms breeze plus is easy. Just push down on the center hub to open and pull up to close – the latches are automatic and there's no tricky sequence of steps.