OMG, they say that fashion never takes a vacation…at least that's what I was told by Gray Chandler  Murray as she gave me my Jane by Design style challenge number four JUST before the holiday weekend. There's nothing like opening an e-mail from your potential (fictional) boss on the Friday before Christmas with instructions to revamp and ugly….and I mean REALLY ugly holiday vest and make it WEARABLE and FASHIONABLE, in other words…she wanted me to take a fashion don't and make it a do, do, do.
Taking the vest from THIS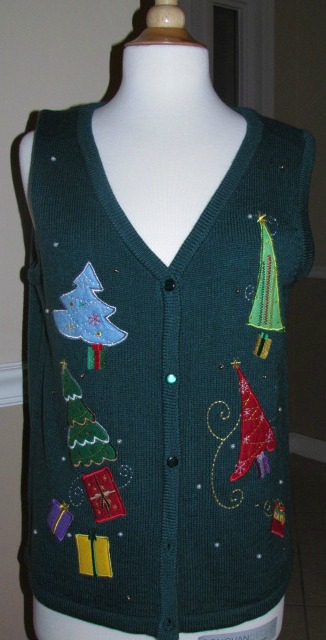 To THIS….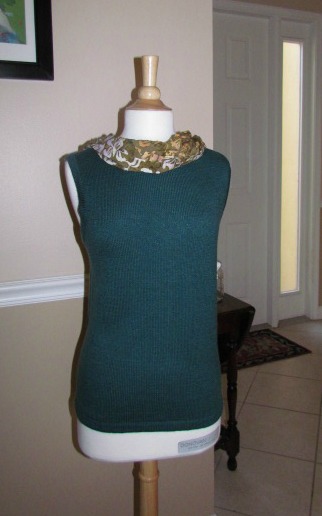 a cute bateaux neck sleeveless shirt that can be worn with some black tights and a either ballet flats or heels.
I simply grabbed one of my many scarves and a needle and thread and went to work. Turning the vest around was key, as the neckline was PERFECT when presented back to front like that. I simply re-aligned the buttons by pulling the center button holes over to the side, for a slightly off-center v-neck back. Draping the scarf and stitching it to the neckline and continuing the drape down the back created a more flowing look. So, if Aunt Mable tries to pawn her ugly sweater off on you this year…you know what to do. Grab a pair of scissors, some needle, thread and go scavenging through your closet to see how you can go from FRUMPY to FAB.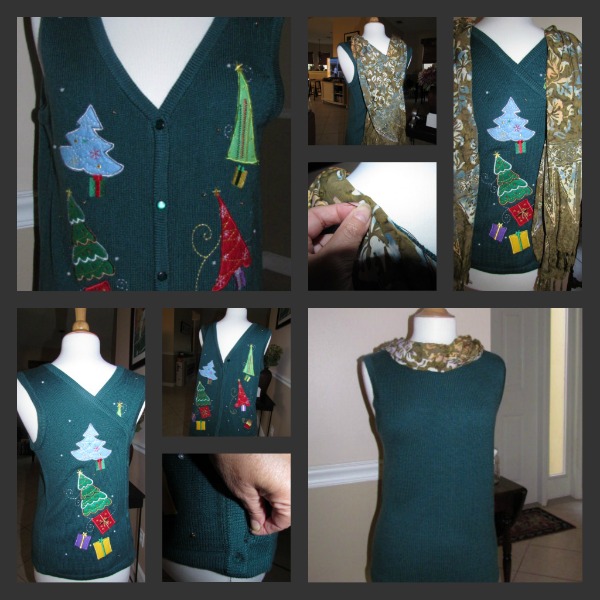 Think you have the talent to revamp and create something FABULOUS? Go ahead and do it and share it on https://www.facebook.com/JaneByDesign! Don't forget to add that Champagne Living sent you and you may have the opportunity to be the ABC Family Trendsetter of the week and get a sweet spot right on the abcfamily.com website!
Don't forget to mark your calendars and catch Jane by Design on ABC Family – coming on January 3rd at 9pm EST!
I wrote this as part of my "interview" process with the fictional Donovan Decker agency and the new TV show Jane by Design. All opinions are my own.