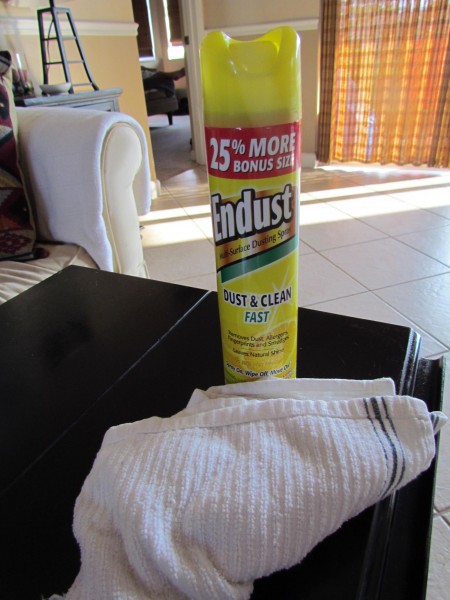 The holidays are always so much fun (even if I have to cook and clean a bit), but it's the week or weeks after that seem to be consumed with getting the mansion back in order, so I've been on a cleaning and straightening binge (well, maybe it's not exactly a binge – more like a little here and a little there cleaning). Just like everyone else, when it comes to doing something I don't really like to do, I cut corners.
You'd never know it by the way house sparkles and smells. A quick wipe of the furniture with Endust and the house gets that delicious lemony smell and not only have I dusted, but I've also CLEANED. Gone are the rings on the coffee table (yes, there are coasters but my family seems to think they're for decor rather than a useful object). I have a LOT of black furniture in the house and Endust leaves it with a great natural shine, and because both Ben and Mr. S have asthma I have to dust often.
With Endust it's a simple
Spray On, Wipe Off, Move On!
That's MY kind of cleaning. I just wish that Mr. S would dust, but unfortunately he's more like Doug Dusterson in the new Endust Video. I'd rather be going out to events, having dinner at my favorite restaurants, well I'd rather be doing just about ANYTHING other than cleaning, so the fact that Endust works quickly (with just one step), means I can get it done FAST and get on to some Champagne Living.
Want to get your housework done quicker for less? Watch The Dustersons Video and you can save $2 on Endust. Simply watch, like and share ! After you finish the video you can immediately get a $1.00 off coupon for Endust, and if you "Like or Share" it, you can receive a $2.00 coupon.
For more information on Endust follow them on
I participated in a campaign on behalf of Mom Central Consulting for Endust. I received a product sample to facilitate my post and a promotional item to thank me for participating.