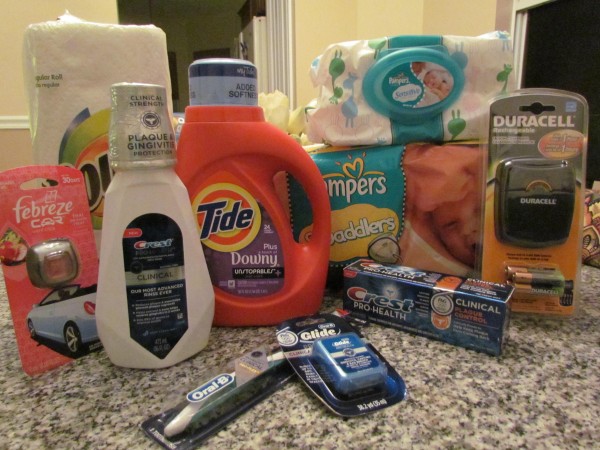 One down, one to go. It's been less than a week since the mayhem of Thanksgiving. MAYHEM? While my dinning room may be set with  the good china and silver, and linen graces the table, the truth of the matter is that while I may look cool, calm and collected on the outside…I'm a HOT MESS underneath it all….and here I am ready to do it all over again for Chanukah in less than two weeks. Thankfully I'm more comfortable making latkes, than a Thanksgiving feast.
That being said, I'll have more guests visiting both for our 8-day celebration each evening, and out of towners who've come to see the family, so I need to prepare for the LITTLE things. Yes, the dinners and being together are fun, but when Evan needs a diaper and wipe and there's none in the house…it can be a disaster.
So, I'm getting prepared and have stocked up with more than just extra sour cream and applesauce for those potato pancakes. I also have these GREAT P&G products like:
Bounty – OK, my latkes can be a little greasy (**cough**cough**). My mom told me to always buy Bounty paper towels in WHITE (no pattern) to absorb the extra oil and no one would be the wiser.
Tide with a Touch of Downy Unstopables Lush Scent – With an extra crew visiting the mansion, there will be LOADS of extra laundry and using this 2 in1 formula will cut down that extra step.
Crest Pro-Health products – because you KNOW someone will forget theirs (& I hate running to CVS at 10PM)
Oral-B® Pro-Health® Clinical Pro-Flex Manual Toothbrushes
Oral-B® Glide Pro-Health® Clinical Protection Floss
Crest® Pro-Health® Clinical Deep Clean Mint Rinse
Crest® Pro-Health® Clinical Plaque Control Fresh Mint Toothpaste
Febreze® CAR™ Vent Clip – to cover those last minute fast food run smells (hey, I'm busy….don't judge me) before airport pick-ups.
Duracell® Rechargeable Quick Charger – this baby will charge 2 AA batteries in an hour….it's the holidays…we're overrun with things that run on batteries – cameras, toys, that cheap plastic Menorah in the window.
Pampers ® Swaddlers® Diapers with Pampers® Sensitive Wipes™ – the girl scout in mean says "be prepared" there are BABIES visiting. Once they're gone, the Pampers Sensitive Wipes become quick cleaners for my dog. His groomer claims that these are the BEST for keeping canine ears their cleanest and wiping dirty paws.
To learn more about the P&G products listed visit: http://www.pgtryit.com where you'll also find coupons and free samples for some of the products listed.
I received product to facilitate this review. All opinions are strictly my own.