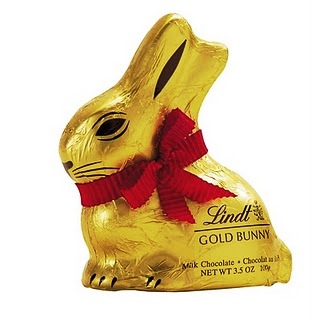 My goodness, where has the time gone? Did you realize that next Sunday is Easter and it 's going to be Passover in a couple of days? If you haven't yet bought and filled those Easter baskets there's ONE CHOCOLATE BUNNY that you DON'T want to forget.
In Champagne Living style the Lindt GOLD Bunny comes wrapped in a luxurious looking gold foil and is made of that incredible chocolate that Lindt is so famous for. This milk chocolate bunny didn't stand a chance.
A tradition for over 50 years, the Lindt Gold Bunny has become an Easter staple in homes around the WORLD. The story goes that on one spring morning, when the ground was covered with a blanket of crisp white snow, one of the Lindt Master Chocolatiers saw a little bunny in his garden. The Master Chocolatier's young daughter was mesmerized when she saw the little bunny, but began to cry as soon as it disappeared into the bushes.
Touched by how upset his daughter was, the Master Chocolatier suddenly had a great idea: "I will make a bunny like that out of chocolate…" He made the bunny from the finest Lindt milk chocolate and wrapped it in golden foil. Then, as a special mark of recognition, a red ribbon was placed around its neck. And so, the very first Gold Bunny was born.

That was DECADES ago, and the bunny has come to be adored by children and grown-ups in over 60 countries.
For a third year now, Lindt has partnered with Autism Speaks to raise funds and awareness in support of the autism cause during the Easter season. Through Eater, April 24, Lindt is donating 10 cents to Autism Speaks for every Lindt Gold Bunny purchased in the U.S. through Easter, up to $100,000, and $1 for every free e-card sent from LindtGoldBunny.com. Yes, this bunny gives back…. He also tastes delicious and makes for the perfect center piece for any Easter basket!
So, when you're out shopping to fill your Easter baskets this week, remember the story of the Lindt Gold Bunny, and how he's giving back to help fund Autism Speaks.
I received product to facilitate this post, all opinions are strictly my own.