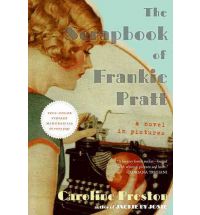 The Scrapbook of Frankie Pratt: A Novel in Pictures
As a child we all loved picture books. The story needn't be complicated, and although they had words, the artwork could tell you just what was happening. It was an important piece of understanding (especially before we learned to read). I still love them, although my taste runs more towards beautiful photographs and artwork that gives me a warm feeling.
The Scrapbook of Frankie Pratt is just that. Created by Caroline Preston, you are swept off of your feet by the vintage ephemera from her collected, cut and pasted together into a charming story of Frankie, a young woman of the 20's who is full of dreams. Watching her life unfold in a scrapbook style makes it all the more fun. From work, to boyfriends and leaving home to find her way in the world we are treated to the visual treasures of Ms. Preston's collection of vintage memorabilia and a retro dime-store novel feel.
This is a quick read, however you'll find yourself going back again and again to soak in the pictures of flappers, old Valentine's and photos of Paris.
The question I have is...when did I STOP "reading" picture books? Truly a visual arcade.
The Scrapbook of Frankie Pratt: A Novel in Pictures
is available in bookstores and at Amazon.com

I received a copy of this book to review from the publisher. All opinions are my own.