Since early this morning, I've had "Pomp and Circumstance" whirling around in my head. I suppose it's because of this ring that I have on my finger.
Yes, that's the "same" ring that Kate Middleton
and Princess Diana wore.
Well, maybe not the EXACT ring, but can you REALLY tell the difference from where you're looking? OK, so my fingers aren't thin and slender and the ring looks like it's taken over my whole hand, but HEY, I look like a million bucks (more like $137,770 – after using a currency converter and plugging in the approx. worth of her ring today).
While no one in their right mind would believe that Mr. "S" would buy me the real thing (this is a man who bought me 2 York Peppermint Patties for Valentine's Day), it is FUN to wear this replica of the royal wedding to be.  Especially since Kate's ring has so much historical significance, as it was the same engagement ring worn by Princess Diana when she married Prince Charles in 1981. Prince William chose this ring to honor his late mother and to include her in the wedding in spirit.
The U.K. Gift Company (which is where I got the ring) not only offers this FUN collectible, but they have all sorts of Royal Wedding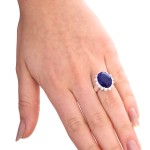 Commemoratives available for those who want a piece of what is going to be the WEDDING OF THE CENTURY.  Thankfully this British company ships quickly and has all of the prices written both in pounds and dollars, making your shopping experience an easy one.
The Royal Engagement Ring is available for purchase at The U.K. Gift Company for approximately $50.
I received product to facilitate this post. All opinions are strictly my own.