We received a product to facilitate this post. All opinions are strictly our own.
Baby, it's cold outside
But I'm toasty warm. Winter mornings are tough. I don't know about you, but there are days that I just want to curl up under the covers and spend the day being hugged by my blanket, and I just discovered the way to do JUST THAT and still get out of bed.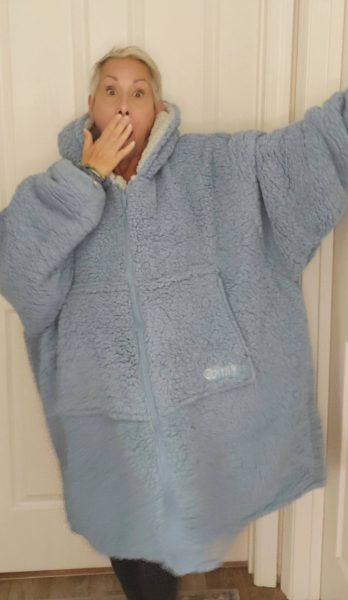 Snuggle up in total comfort all winter long on the couch or in your recliner.
If you're looking for a cozy, cuddly blanket that you can wear around the house or as you order through the drive-thru, look no further than the Comfy Teddy Bear full zip blanket. This blanket is made from soft, plush fabric and is lined with a comfortable fabric that feels like you're being hugged by a teddy bear. It's the perfect size to throw on when you're watching TV or taking a nap, and it's sure to keep you warm all winter long. Plus, it comes in a variety of colors to match any outfit. Read on to learn more about the Comfy Teddy Bear full zip blanket.
Like a big wearable bear hug
The Comfy Teddy Bear full zip blanket is made from 100% polyester teddy bear fur and lined with 100% polyester fleece. The teddy bear fur is extremely soft and cuddly, and the fleece lining is exceptionally cozy. Together, fabric makes for a blanket that is warm, cozy, and oh-so-huggable. Never worn one before? Then you're in for an experience of total huggable coziness. When you buy The Comfy, you're getting the patented wearable blanket that made wearable blankets a thing! If you don't see its embroidered logo on the ginormous pocket and The Comfy Panda on the zip,  it's not a Comfy.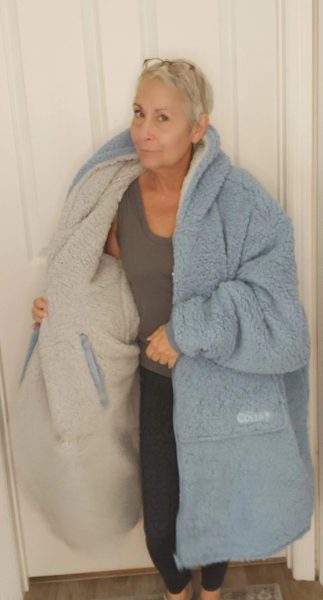 My husband complained that I won't take it off when I'm home
Not only is the Comfy Teddy Bear full zip blanket supremely cozy, but it's also FUN to wear. The full zip design makes it easy to throw on over anything from your jammies to loungewear (or even all by itself). Plus, it's reversible! Made with high-quality sherpa in the famous Comfy size, the quality is impressive, and the range of colors means there's sure to be one that's perfect for you. Best of all, this wearable blanket is machine washable for easy care (but, taking it off to wash it is a struggle because I never want to take it off).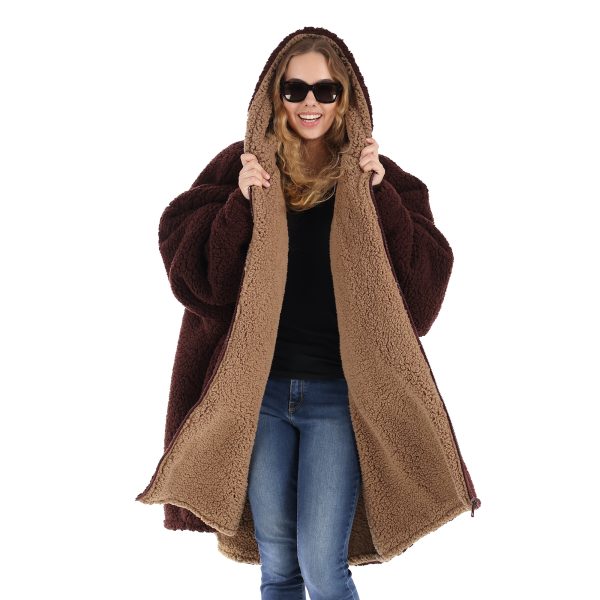 Best of all
It's ultra-cozy and will keep you warm all day long.
The teddy bear fur is so soft and luxurious, you'll never want to take it off.
The full zip closure makes it easy to put on and take off.
It's machine washable for easy care.
It's available in four different colors: brown, black, grey, and cream.
Every

Comfy

product comes in packaging that is 100% recyclable.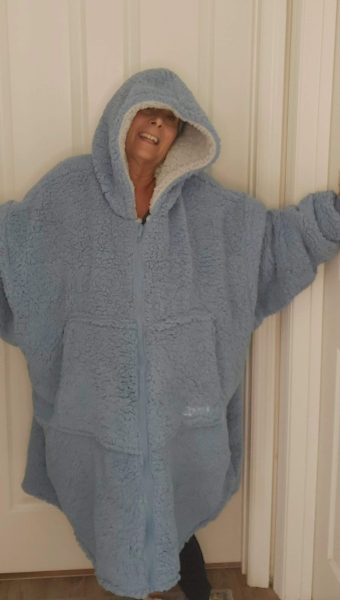 Looking for a warm and cozy blanket to wear?
Look no further than The Comfy Teddy Bear Full Zip! This soft and cuddly fleece pullover is perfect for keeping you warm on those cold winter days. Made from 100% polyester, The Comfy Teddy Bear Full Zip is also machine washable and dryer safe, making it easy to keep clean. So why not snuggle up with a teddy bear of your own? Order your Comfy Teddy Bear Full Zip today!
Oversized comfort
It's giant, and it's supposed to be! The brand started with a men's 5XL and has only gone bigger. One size fits all men, women, and even kids! Top to bottom, it's 38" in the front and 42.5" in the back. The high-low hem also means it's longer in the back for extra comfort—and style. The GINORMOUS marsupial pocket—with its giant size and unique shape—keeps your hands warm and can store all your essentials.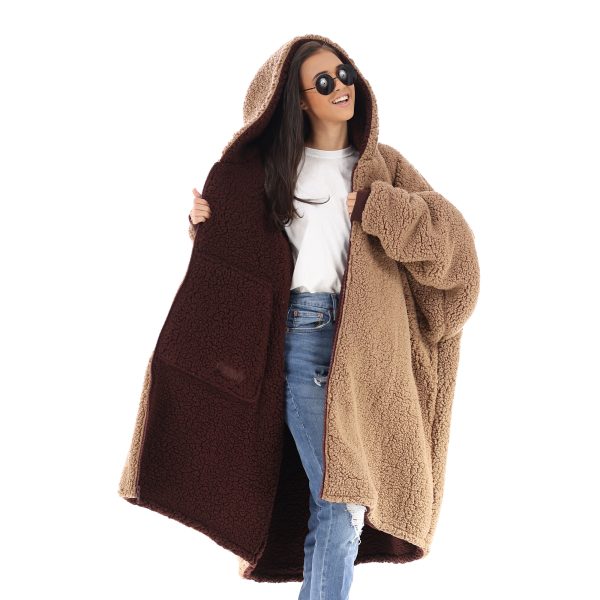 Great for holiday gift giving
Whether it's mom or dad, your better half, sisters, brothers, cousins, friends & that college student of yours who's always complaining about how cold the dorm is, they will love being cozy in The Comfy for Hanukkah, Christmas, Kwanzaa or Festivus!
Look for The Comfy® Teddy BearTM  Full Zip on www.thecomfy.com for holiday gift giving.
The

Comfy

Black Friday Deal: 20% off Sitewide with code Happy20 11/21-11/29
It's time you started living #TheComfyLife!