I received products for this post. All opinions are strictly my own.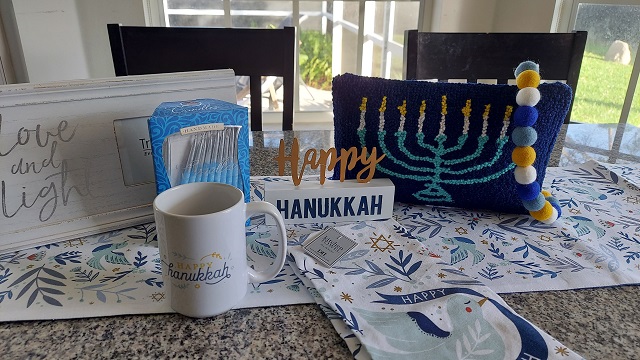 There are 16 ways to spell Chanukah
It is because there are no letters in the English language that recreate the sound of חֲ in Hebrew. While there are a LOT of spellings, when it comes to buying decorations for the house, I find just the opposite. When I learned that Ready Festive, a holiday and seasonal decor subscription box offered a Hanukkah box, I HAD TO CHECK IT OUT.
If like me you love decorating for the holidays or seasons, you'll love subscribing to this great home decor box. With boxes for 10 holidays and 4 seasons, you can pick and choose the ones you love, as long as you order a minimum of 3 per year. Every item is chosen based on your style and preferences based on a questionaire that you fill out.
Holidays include
Valentine's Day
St. Patrick's Day
Easter
Memorial Day
July 4th
Halloween
Thanksgiving
Hanukkah
Christmas
New Year's Eve
Imagine opening a box each holiday or season (they offer boxes for winter, spring, summer, and fall as well) and decorating your home in minutes without having to scour the stores, only to be disappointed like I was when I couldn't find more than 1 or 2 Chanukah decorations on the shelves.
You can choose the size of your box:
Choose Mini with 4-5 items – $69
Standard with 7-9 items – $99
Deluxe with 10+ items – $159
The 2022 Chanukah Box
It seemed perfect. 8 nights of Chanukah, 8 Home Decor Items in my Ready Festive Box (this would be the standard size box). I was so excited to unbox the items and immediately started putting things around the house.
FOR THE KITCHEN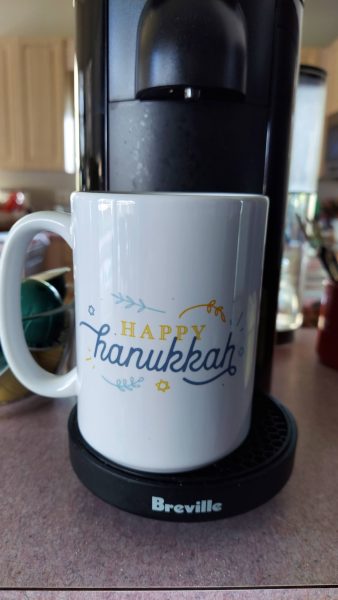 Happy Chanukah Mug – great for starting those 8 days of having to give gifts to EVERYONE in the family. Whether it's a mug of hot chocolate for the kids (with a little chocolat Chanukah gelt melting on top) or mom's morning must-have, this cheerful mug is a reminder to celebrate the holiday from morning through candle lighting time.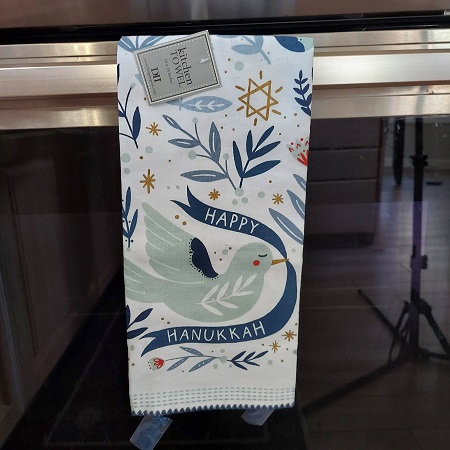 Happy Hanukkah kitchen towel – with a dove of peace and a beautiful design on high quality fabric. This is a beautiful way to add some Chanukah cheer as the brisket goes into the oven.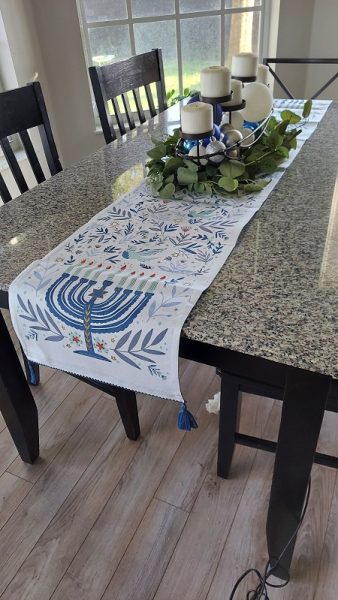 Table Runner – with a menorah at each end and blue tassels hanging at the corners this table runner is a festive way to enjoy your latkes at the table. It would be beautiful on a coffee table or hallway table as well (or even at the foot of your bed).
THE LIVING ROOM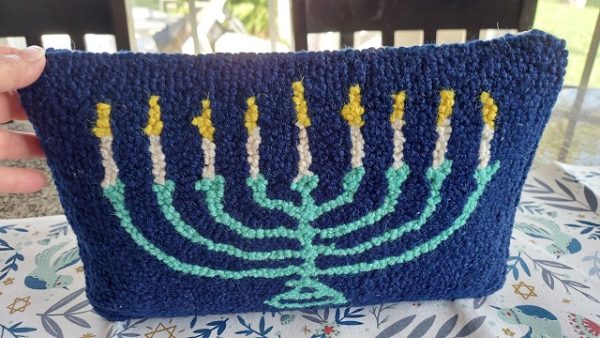 Menorah throw pillow – a beautiful small latch hook pillow that's perfect on your sofa, a chair or your bed. Made of vibrant yarns, the menorah is lit for all eight nights.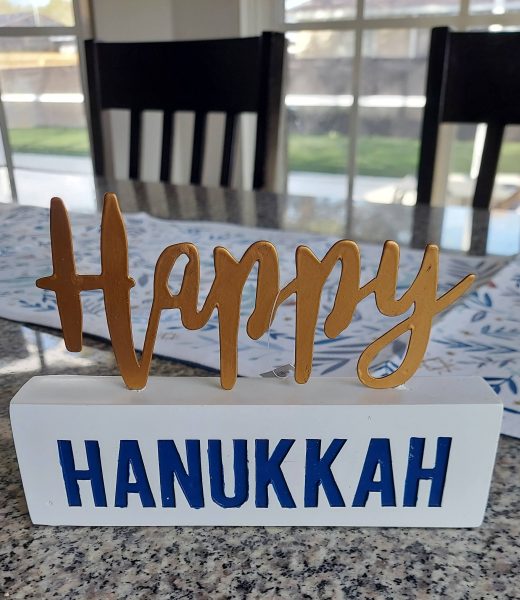 Wood Happy Hanukkah Sign – great for your mantle, bookcase or entry table. The gold cut out letters on top, put the HAPPY in Happy Hanukkah and can be placed anywhere you need a piece of art for the holiday.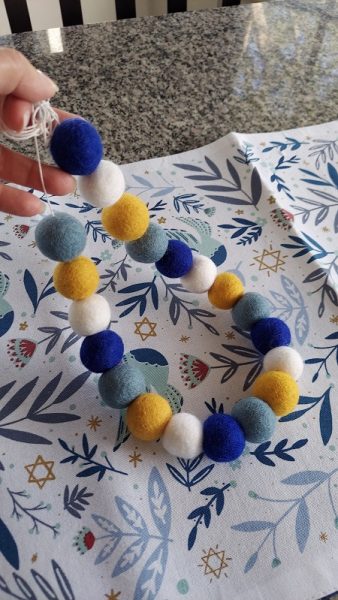 Blue, white & gold garland – great for hanging wherever you want a splash of Chanukah colors. Wrap it around the base of your menorah, fill a small bowl with it, or hang on the mantle or bookcase.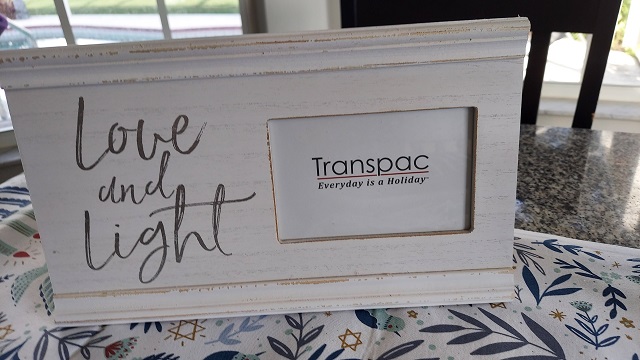 Love and Light photo frame – great for those Chanukah memories. Take a photo every year to display next Chanukah or switch the photos up every night to relive the memories of Chanukah's past.
FOR CELEBRATING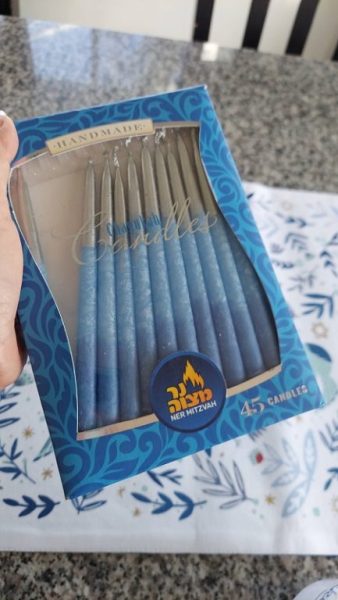 Handmade Chanukah Candles – to celebrate the festival of lights beautifully. The most important part of the holiday is commemorating the 8 days of oil lasting in the temple and what better way than with handmade candles that go from silver to shades of blue as they burn in your window.
Unbox the Festive
Ready Festive makes a great holiday gift for family, friends, and your son or daughter in their first apartment or house. It's an easy way to make sure that your home reflects the joys of the season, and your favorite holidays.
What holidays would you choose to decorate with Ready Festive?