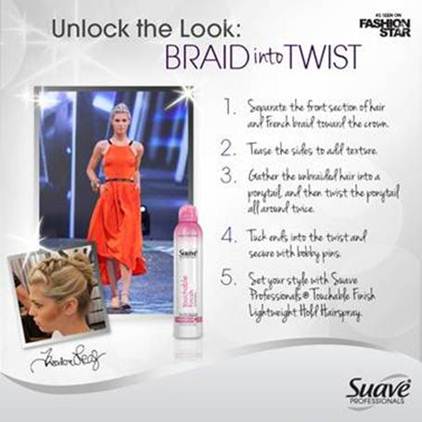 Today, Champagne Living and  Suave Professionals brings you the "how-to" from the runway of NBC's "Fashion Star". The break out style from Friday's premiere episode was Suave Professionals Celebrity Stylist Theodore Leaf's "braid into a twist."
While I don't have the locks for this type of updo, I'd LOVE to see YOU get your hair ready for your big night out!
For more insider tips to create your shining moment at the Suave Shine Suite and enter to win one of many prizes.
Beginning today, fans can visit the Suave Pinterest page to enter the Suave Professionals Fashion Star Style Sweepstakes. Simply follow Suave on Pinterest, create your Suave Fashion Star Style pinboard and enter it for a chance to win one of two $500 Express gift cards.
Tweet with them during the show @SuaveBeauty #FashionStar #Suave.  "Fashion Star" airs Fridays 8/7c on NBC.