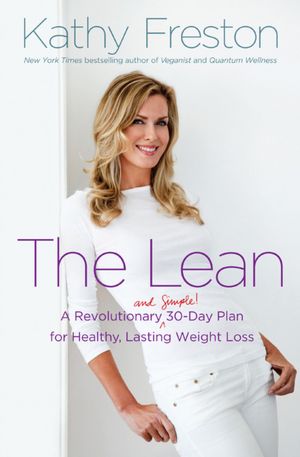 Each time I review another diet/weight loss book I swear it will be my last. It's like trying to pick out wallpaper. You look and you look and they all start looking alike. I made my decision last month. I know how I want to eat and I know WHY as well. BUT, I realize that what might work well for ME, might not be the right program for YOU.  Then again, each time I read a new one, I seem to learn something, or get a SPARK under me to actually get going.
Kathy Freston's The Lean did BOTH of those for me.
With 30 days of small changes, at the end of a month's time (if you made the ONE small change each day), you'll be eating healthier and feeling a LOT better. It's all about making SMALL changes that add up to BIG results. The bottom line is to LEARN not to seek comfort in food, and do it with "ease" as Ms. Freston believes that you should do "things with the least amount of effort to get the biggest possible payoff." What I love is that she doesn't bombard you with the negatives, and frankly after reading her ideas her method of getting LEAN would work not only with her own plan, but ANY way of eating that you choose.
By taking these 30 small steps over a 30 day period, you allow yourself to create habits that are both SIMPLE and POWERFUL.
As I stated above, I'd already decided on my "plan" (which is less of a diet, and more of just a way of living), but I believe that The Lean is a GREAT companion to what I've chosen.  Ideas like
Have a little fun – especially when the mindset of dieting feels so serious
Clean out your cupboards – something you should do when you start a plan ANYWAY
Add in some exercise
Schedule your day – OK – I REALLY love this idea
and 26 other lifestyle changes – one for each day
If you're considering checking out Kathy's book, take a look at her website as you can earn BADGES and get the added support via daily email that you might need.
Whether you're looking for a way to EASE into healthier eating, a long lasting weight loss program, or just need some support keeping up the plan you're on now – The Lean: A Revolutionary (and Simple!) 30-Day Plan for Healthy, Lasting Weight Loss
 is a great companion to support a healthier you.
I received a copy of this book to facilitate my review. All opinions are strictly my own.