This post was written by our roving travel reporter, Kathy Chin Leong who as always makes me wish I was a stow-away with her. 
Whether it be waves smashing against ancient sea stacks or redwood forests flourishing with mushrooms and monkeypod blooms, The Inn at Newport Ranch is the ideal haven to nestle in, to tap those creative juices.  For whatever endeavor you are pursuing or wish to pursue, those desires will be stoked here. For some folks, it may be writing, for others painting.  Some guests need to simply be given permission to reinvent themselves in new ways.

The private 2,100-acre preserve along the Mendocino coastline on which the inn sits inspires one to reflect, to observe, to delight.  This is a bed and breakfast like none other.
But first, a little backstory.  The inn's energetic owner, 93-year-old Will Jackson, snapped up this chunk of coastline and forest back in 1985 after seeing a FOR SALE ad in the Wall Street Journal. After the acquisition, the former East Coast finance guru and investment advisor patiently envisioned what he would do with the land.  The thought of building an inn did not occur until later, but the guy really wanted the property, and as the years went by, he bought more and more adjacent parcels until he had all 2,100 acres in his back pocket.  He fell in love with its potential.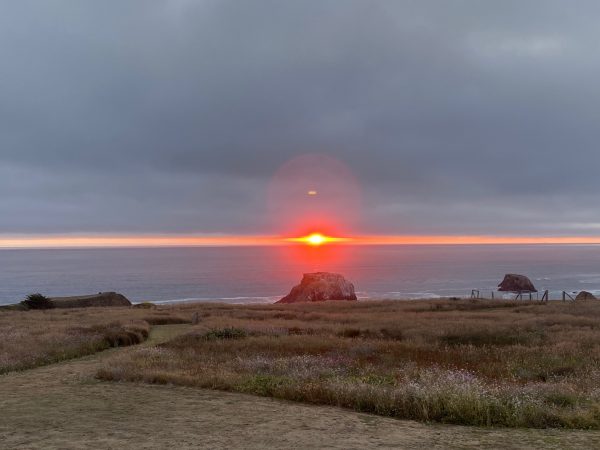 Soon enough, BING! A flicker, a seed, a spark for the inn fell upon him like a lead brick.  This would be a respite with sunset views, be built with repurposed old growth redwood timber and one-ton stones, and be able to support, not harm the landscape. It took eight long years to get all the permitting and okays from the California Coastal Commission.  Next, Will hired Vermont architect Dave Sellers, a former Yale professor whose expertise happened to be in sustainability and collaboration with nature.  Once the sketches were completed,  many changes required by the Powers That Be meant it would take another five years to build the lodge.
By late 2015, The Inn at Newport Ranch at last opened to the public.  The ten-room inn with four buildings consists of a single guest house (Will's personal home that is available when he is not in town), a two-story main lodge with the living room, dining area, and kitchen, and third and fourth buildings for guest rooms.
What is the interior ethos in the wild, independent Mendocino coast?   Let's call it "rustic luxury." Rooms are each unique, but there's a recurring theme of handmade, hand-loved design in every stick of furniture, wall, door, floor, cabinet, handle, closet, and ceiling.  The rooms are alive with wonder, and each seems to serve as an artistic palette for Jackson, who has filled every room with authentic art, memorabilia, and antiques.  But not to the point of over cluttering.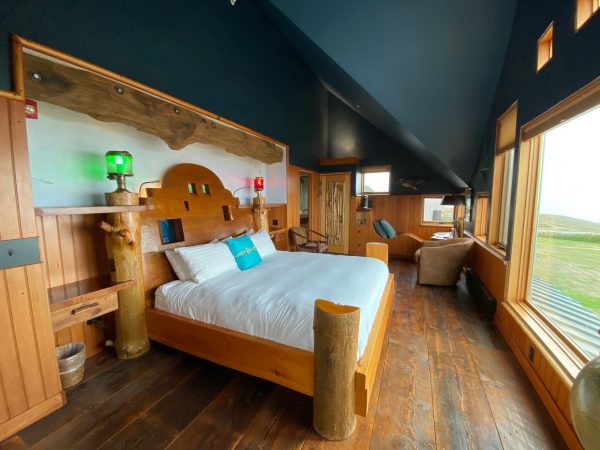 The Captain's Room, where I stayed, boasts a strong nautical sense anchored by an original ship's helm.  What looks like a pair of lighthouse lanterns are stationed on each side of the headboard as reading lights.  This is in addition to the walls adorned with whale carvings and paintings of ships. The ceiling is a dark emerald, mimicking the ethereal midnight sky. One section of the wall above the bed is sky blue with hand-painted seagulls flapping at a distance.  A panel of windows spans the Captain's Room facing grassy walking paths, 25 miles of them, many of which lead to the dramatic Pacific Ocean.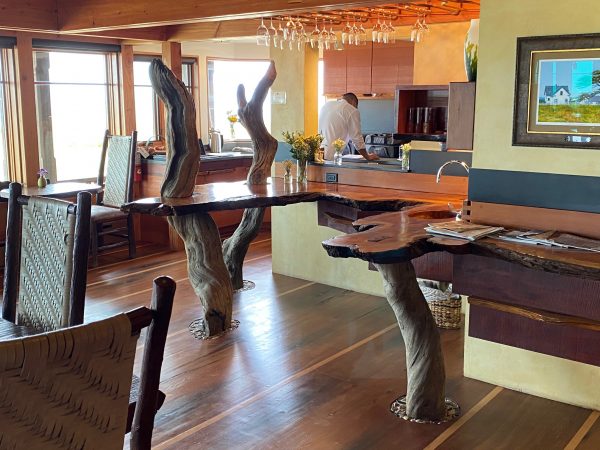 It turns out that the Mendocino region is filled with intellectual artisans who can carve, forage, and mold anything out of anything. Here, however, Will utilized many artisans from Vermont where he also operates Shelburne Farms, a luxury inn based in Shelburne, Vermont with an emphasis on sustainability and education. In the Captain's Room, the platform bed features repurposed knotty wood stumps on each corner. It was the first time I encountered closet doors created with sticks of raw wood so I could see and feel the bumpy textures and grains.  The side tables are made of wooden sticks for legs with a smooth, raw wood slab for the top.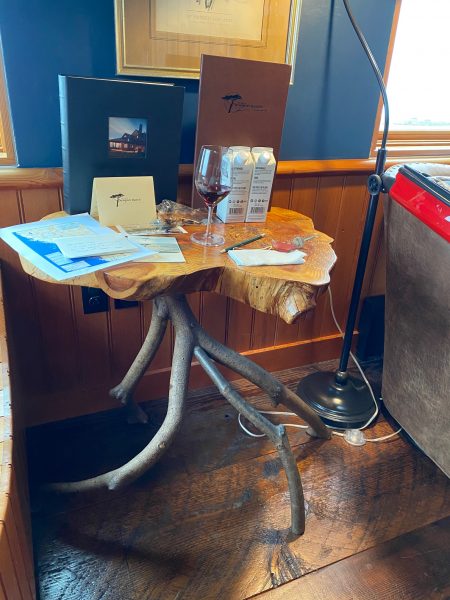 The natural beauty of the interiors blends with the splendor of grasses, flora, and cows in the pasture.  Perhaps that is what has drawn the staff and guests to these hallowed grounds.   Says general manager Blair Foster, "I've known Will since I was a little girl of five, and he was an investment consultant to my grandfather. Our paths crossed again when I was an adult working as a land-use consultant, and I share the love of the land and the importance of stewardship. For Will, this place is truly a labor of love."
With so much land at his disposal, Will has also leased out the property. On the acreage are a timber business, cattle ranch, and rock quarry.  And speaking of rocks, one of her most favorite spots in the lodge is the rock fireplace in the formal dining room. "It is so large you can sit in it!" Blair says.  And speaking of fireplaces, the lodge features several fireplaces for huddling and conversation in the library, the main lodge, and outside on the patio.
The place is so popular and unique in design that a sign posted in the front gate specifies that if you want a tour, call in advance.
UNIQUE OPPORTUNITIES
A ten-minute hike from the main lodge is Council Bluff where you face the ocean in front of an enormous metal cauldron circled by large sitting boulders.  And, in case you are wondering, that's where campfires and wine hours, and wedding vows take place.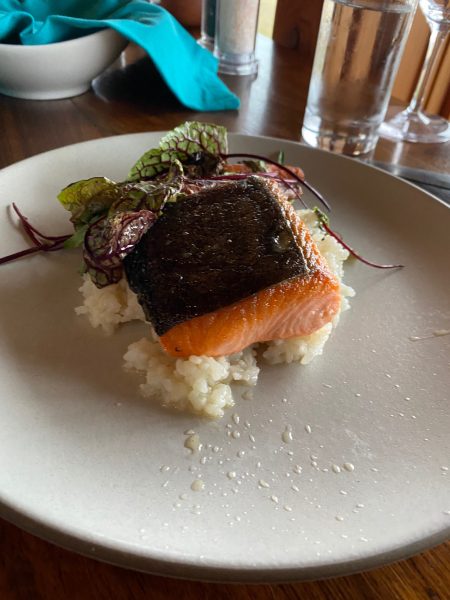 While a complimentary hot breakfast, a wine hour, and afternoon cookies are part of your daily package, be sure to reserve the optional dinner whipped up by the resort's own gourmet chef.  Dining is a treat, for most of the ingredients come from local farmers, fishermen, cattle purveyors, and the ranch garden. That said, it is no surprise the three-course dinner is seasonal, hyper fresh, and as delectable as any five-star restaurant in San Francisco.  The night we stayed, my daughter and I could not get enough of the herbaceous carrot soup, roasted salmon over risotto, and the s'mores pie with marshmallow whip.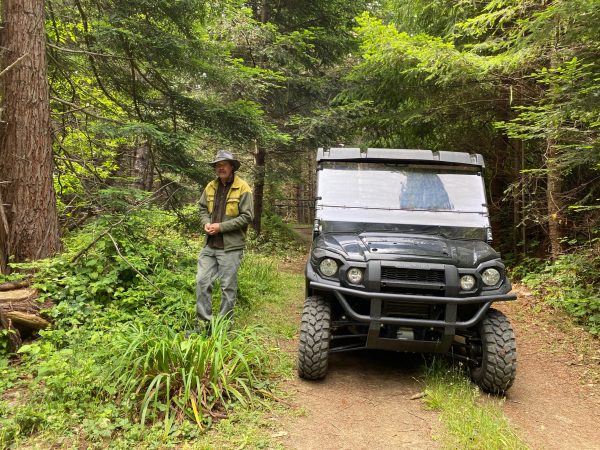 And, while I don't want to get bossy, you should also book a tour with the resort's private driver, Otis Brown, a local resident, whose love for the region is contagious.  The two-hour romp via a jeep-like UTV (utility task vehicle) means an off-road ride around the coastline on one side of the highway and then into the redwood and fir forest, on the opposite side.  This all encompasses Will's property where guests can hike at their leisure later on.  Waxing poetic, Otis gives passengers history of the inn, local lore, and then a forest talk on how redwoods are grown and propagate, how nettle is poisonous but good for tea if you boil the leaves.  On the tour, he will show you the "clarkia whitney"  flower that, he says, grows only in these woods and nowhere else in the world.
Another unique opportunity at the ranch is to immerse yourself in the hot tub. What's so special? The hot tub is found on the second level on an old water tower site. Watch the sunset. Gaze at the stars. Feel the fog on your face in the morning. It is a multi-sensory experience you will want to repeat if you stay more than one night.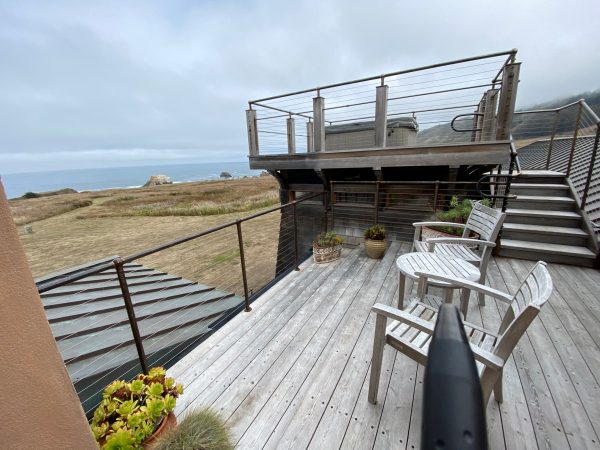 Take time to hike these private trails to find a few of the 14 hand-carved benches perched in front of jagged cliffs and sea caves. Since this is private property, you will find much solitude.  Hikes are contemplative moments where you'll discover wild roses and an old lumber chute and a bench with a heart cutout in the center. In the winter from November to March,  orcas and gray whales come so close that you see them in full glory.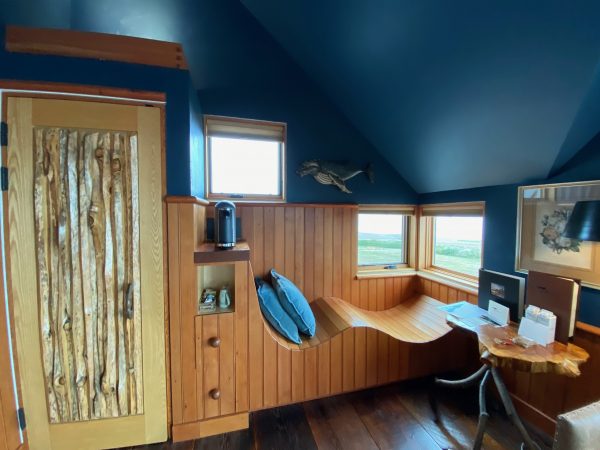 Found on the northern edge of Fort Bragg, the remote inn is still a well-kept secret.  And with only ten rooms, the place does not feel crowded even if it is full, for there is plenty of space to roam and think creative thoughts.  And, don't be surprised if Will's 93-year-old entrepreneurial spirit, energy, and enthusiasm rub off on you while you sleep.
BOOK
The Inn at Newport Ranch
31502 N. Highway 1
Fort Bragg, CA 95437
707.962.4818