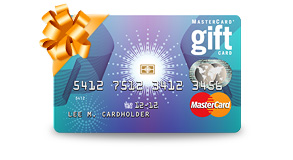 The shopping is DONE, the gifts are all opened, you've loaded the car and are ready to hit the stores once again. Only this time it's going to be DIFFERENT. This time you're going to buying that one gift that they forgot. The ONE thing that you hinted for, left pictures on the fridge of, answered directly each time they asked, but somehow the information never made it from your mouth to their list.
But, you've spent it all on the holidays…how can you buy that (fill in the blank) that you…the mom…has been wanting?
Remember that MasterCard that you registered before the holidays? That site that I sent you to that was just for YOU – MOM? The one where if you spent $200 shopping online with that card between November 15 and December 31, 2011 you'd get a $20 gift card? Well, if you registered…you should be gearing up to spend it, and if you haven't, you've still got a few days left to register the card and shop for New Year's!
I don't know about you, but there's a Chantecaille lipgloss at Saks that I really want (I even told them the color that I wanted – Folly), and while it's a bit more than $20 ($28 to be exact), the thought of saving $20 and getting my favorite for doing nothing more than spending what I normally would on my card (I registered my debit card), makes me feel like I'll get that gift that they forgot.
So, what are you getting with your $20 gift reward card?