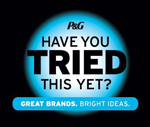 Cleaning up after the holidays….it's the most unglamorous part of the season. Preparing for guests to arrive, cleaning up after they've left, the mess from the kids being home for school break. Even IF you have household help (either the paid kind, or the ones that are SUPPOSED to clean up after themselves), you and I still get stuck. Add to that the fact that we've got to look our best – remember – New Year's Eve parties are coming and it seems like we're constantly buying cleaning products, beauty products, etc.
In the spirit of the season the people of P&G are helping us to reduce the work we have to do and even save money while we're out shopping. With their "Have you tried this yet?" program, you'll get the opportunity to learn about the easiest ways to tackle those chores with the newest Proctor and Gamble products.
Bounce® Dryer Bar Free: Free of dyes and perfumes, Bounce® Dryer Bar Free keeps clothes soft and static under control for up to 3 months* – prepare ahead of time for your out of town guests by washing and drying extra linens in the house before they arrive!
Tide® Stain Release® Free: Also free of dyes and perfumes, Tide® Stain Release® Free is ideal for holiday visitors who enjoy fragrance-free fabrics and it even helps lift off those pesky stains, leaving you worry free this holiday season
Bounty ExtraSoft®: For all those planned/unplanned holiday messes, be ready for the wipe-down before and after your guests enjoy your home with Bounty ExtraSoft®—a paper towel that feels and cleans like cloth but doesn't compromise on clean
Remember though, after you've washed, wiped, swept and polished you STILL have to look great, and P&G want you to know that you can also try.
Crest® 3D White® 2-Hour Express Strips provide adhesion to fit every person's unique smile and comes off clean leaving no mess behind, for a fast & easy, pearly white smile
COVERGIRL® NatureLuxe Silk Foundation's light formula takes the heavy lifting out of achieving that polished natural complexion, keeping you holiday fresh all season long
COVERGIRL® NatureLuxe Gloss Balm gives you the sheer color and shine of a gloss with the soft, lightweight feel of an SPF15 balm to help your lips pop in every picture
How? By heading over to the Have you Tried It? site, you can score coupons and savings from $1.00 to $13.75 on their products. While I'm not a big couponer (I have a story to tell you about that this week), when they're all in one spot like this, I do tend to print and use them.
By the way, I calculated how much you could save if you used ALL of the coupons (and remember you only save money using coupons on products that you USE)…you could save a total of $54. In my world – that's a dress at Loehmann's, lunch at the Capital Grille, or a day at the beach club with cabana and food/service. Hmmm….maybe I'd better get that printer warmed up.
Stay tuned…I'll have a giveaway coming soon!
P&G will be sending me product and hosting a giveaway for my readers, which precipitated my writing this post.