I participated in an Ambassador Program on behalf of Influence Central for Vanity Fair Lingerie. I received product samples to facilitate my review and compensation to thank me for my participation.
I see London, I see France, I see Zippy's….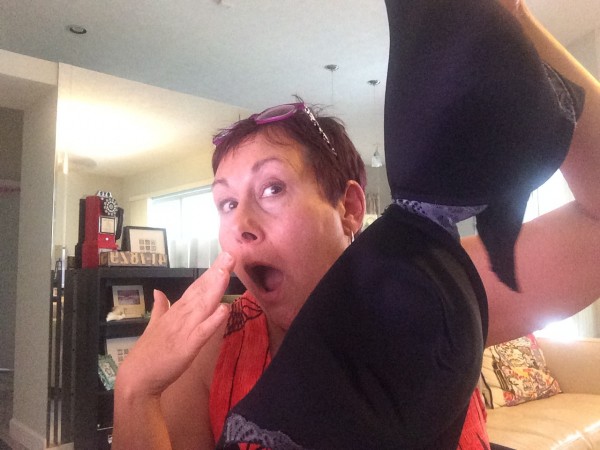 I'm back from touring Europe, and if you've traveled overseas you know, that women take pride in how they dress. They are put together from head to toe, and EVERYTHING underneath. Just step into any lingerie or department store and you'll see an array of gorgeous undergarments. Thankfully I fit right in starting with the foundation of my outfit.
FOUNDATIONS
Do you know why they're called that? Because just like the structure the holds up your house, your personal foundations are important to highlight and hold your shape. Wearing the right size (and style) of bra can give you the support you need PLUS make the clothes that lay on top look flattering. You don't want ugly ripples and panty lines do you? Of course not. Even in your comfy jeans and t-shirt you want to look your best and it all starts with what's underneath.
I'm the first to admit
That my body is not what it used to be. I've gained weight in all of the wrong places, but I still LOVE looking my best. Thankfully the designers at Vanity Fair brands know what it takes to make my clothes look great AND still stay on trend…even underneath it all. I feel confident when I look good.
I packed carefully
Knowing that I could only take a limited amount of clothing I knew it was important to bring bras that would go with the most outfits. I wound up wearing my Vanity Fair Flattering Lift bra the most. It gives me that lift that I need in a cocktail dress and smooths both the front and back so that I could wear a clingy dress or a t-shirt. I love the versitility of this bra, as it gives a natural lift (not one of those overtly "in your face" types of lift) with a "bump pad" for just the right amount of oh-la-la.
WIN ONE
Prize: $100 Kohl's gift card to purchase a

Vanity

Fair

Flattering Lift bra.
Enter: Use the Rafflecopter below (you can tweet daily for extra entries)
Ends: December 1, 2015 11:59pm
Contest entrants are only eligible to win once per sweepstakes, per household as part of a campaign sponsored by Influence Central.
WINNER: A Martin
For more details about the Vanity Fair Flattering Lift Bra