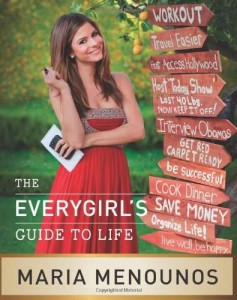 Who'd have thought that I'd be taking advice from Maria Menounos? I mean, I like watching her on television and all…she's beautiful, smart and seems to have it all together, but ADVICE????
It's true! As a lifestyle blogger I am always on the lookout for products, books, and information that will help you (and ME) live the good life, so when I sat down to read Maria Menounos' book The EveryGirl's Guide to Life
I was immediately sucked in by her unassuming writing style, pictures that made me want to see MORE and tidbits of information that are not only USEFUL, but essential.
From Style to business, Maria tackles the "how to" and "why" of creating a life that is easy to manage, and looks on the outside as good as it does on the inside. No faking it here. Whether you need help with your budget (Hey, "B" – I may send this over to you after),  want a workout routine that works at HOME, or just need to find a place to find new friends – The EveryGirl's Guide to Life
will help you through and if you place it in a spot that's convenient…you'll be going back to it over and over again for timeless, good information. You can also look to some great tips online from Atlanta blogger to beauty bloggers, there are GREAT resources for living your life to the fullest.
For example:
The Smart Way to do Fast Food
A few possibilities include:
A salad, veggie burger, or grilled-chicken sandwich at Burger King
A salad, grilled-chicken sandwich, or grilled chicken wrap at McDonalds
Diet Fresco items at Taco Bell
A grilled-chicken sandwich and baked potato at Carl's Jr.
Subway is also a great stop for quick and healthy choices with a vast selection of vegetables to add to your sandwiches. Subway is a place I take out from all the time.
Good reminder, that I can eat on the run and still eat HEALTHY.
I'm giving this a big old flute of champagne. Not only is it good solid information, but it's presented in a fun, easy to read manner.
The EveryGirl's Guide to Life
is available in bookstores nation wide.
I received product to facilitate this review, all opinions are strictly my own.